President Uhuru Boosts Skaters Ahead Of Continental Showpiece
Oct 24 - by Erick Ochieng for SportPesa News
Team hoping to improve timings in Egypt with focus on Tokyo 2020 Olympics qualifiers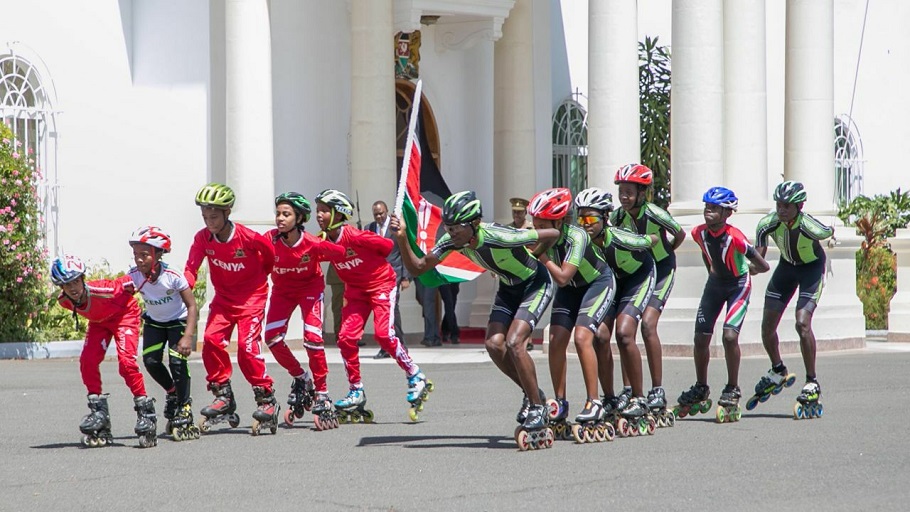 Kenya has started the journey to qualify a roller skating team for the forthcoming Tokyo 2020 Olympics
Chief Administrative Secretary, Hassan Noor Hassanflagged off a team of 12 players who will represent the country at the Africa Roller Skating Championships in Ismailia, Egypt on October 28 to November 3, 2018
President Uhuru Kenyatta boosted the side with equipment worth KSh3 million ahead of the Africa showpiece

KFRS Secretary General, Lamech Wafula, noted that they missed World Championships in July due to lack of funds
NAIROBI, Kenya- The Kenya Federation of Roller Skating (KFRS) received equipment worth KShs3million from President Uhuru Kenyatta in Nairobi on Tuesday as they continue the journey to qualify a roller-skating team for the forthcoming Tokyo 2020 Olympics.
"The only way to double our Olympic medals is to venture into the rare sports," Chief Administrative Secretary, Hassan Noor Hassan, underlined when he handed over the gears to the association.

Noor also flagged off a team of 12 players who will represent the country at the Africa Roller Skating Championships in Ismailia, Egypt on October 28 to November 3, 2018.
"Skaters face a lot of challenges, among them are lack of gears. We want to thank the President for coming to the aid of the team.
"We are confident that this squad, to depart on Wednesday, will return with gold from Egypt," Noor underscored.
He urged the County governments to avail playing grounds where skaters can easily train and sharpen their skills and said the Sports Ministry would unveil guidelines on how to develop the discipline across the country.
"We must have proper planning for the sport, so we are advocating for this game to be introduced in all public schools in Kenya because that is where there are competitors.
"The Ministry is also challenging Sport Kenya, Sports Fund and the corporates to inject support into the discipline," he emphasized.
Cause upsets
KFRS Secretary General, Lamech Wafula, noted that they missed World Championships in July due to lack of funds.
"I believe Egypt event will give us more tips as we prepare to engage in Olympics qualifiers in Nairobi, our aim is for many skaters to book slots for Tokyo," Wafula accentuated.
Team captain, Joseph Njenga, assured the squad is fit to cause upsets in 100m, 500m, 1Km and 3000m categories in Ismailia.
Other contests they would engage in are the relays, 5000m, 10Km, 15Km, 20Km and the 42Km marathon.
"Kenya is currently ranked better in the continent and we intend to improve our timings in the African championships," head coach Obi Enow, noted.
The squad
Senior Men
1. Peter Kamau
2. Erick Chaulin
3. Joseph Njenga (Team Captain)
Senior Women
1. Tabitha Mumbi
2. Jane Njeri
3. Lucy Achieng
Junior Men
1. Ishmael Imani
2. Jeff Mungai
3. Leroy Onyango
Junior Women
1. Chumbana Omari
2. Silva Wafula
3. Sara Atieno
Officials
1. Obi Enow- Coach
2. Lamech Wafula- Secretary General
3. John Otieno-Assistant Coach