One Of The Best Kenyan Boxers Has Just Quit The Sport. This Is Why
Feb 20 - by Erick Ochieng for SportPesa News
National team 'Hit Squad' captain Nick Abaka hangs his gloves to venture into coaching and mentoring new talent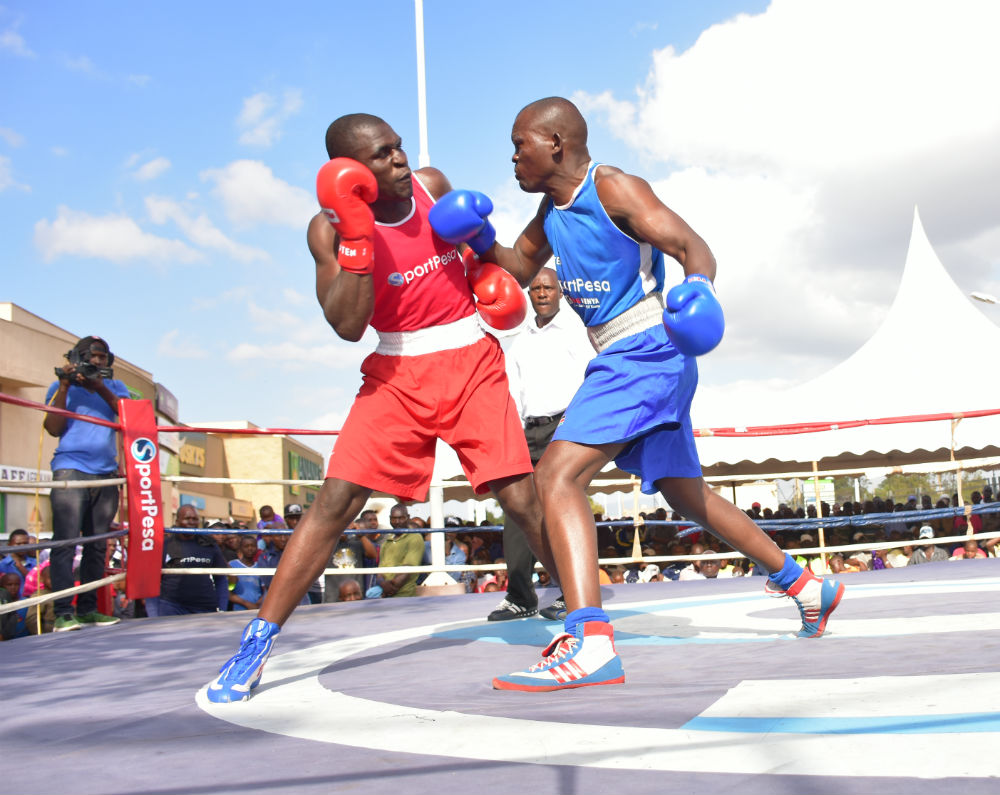 The 2017 Africa Welterweight silver medallist has planned to give back to his community in the sprawling Kariobangi slums in Nairobi where he grew up learning the sport
The former Africa Zone V Welterweight gold medallist qualified for the Beijing 2008 Olympics alongside Nick Okoth, Benard Gumba, Aziz Ali and Suleiman Bilali but failed to take part in the Games after suffering a broken jaw
The Kenya Defence Forces talent is the second high profile local amateur pugilist to call it quits in a year following in the footsteps of Olympian, Benson Gicharu who called time on the sport after the Gold Coast 2018 Commonwealth Games in Australia
NAIROBI, Kenya- National boxing team 'Hit Squad' captain Nick Abaka has finally hang his gloves to venture into the sport as a coach and mentor.

The Kenya Defence Forces talent is the second high profile local amateur pugilist to call it quits in a year following in the footsteps of Olympian, Benson Gicharu who called time on the sport after the Gold Coast 2018 Commonwealth Games in Australia.
"As a boxer, you need to feel your body. You need to be honest with yourself and just do the right thing.
MUST READ: Best Of 2018: Zarika, Waguthii Punch Their Way To Coveted WBC Titles
"I'm now 38-years old and my body is not responding well the way it used to be. So I have opted to retire to give other young fighters a chance in the game," Abaka told SportPesa News on Wednesday.
"I talked to my employers who have lined up a number of coaching courses. I'm motivated to be an AIBA three-star coach," the reigning African Military Games Light heavyweight bronze medalist underlined.
The 2017 Africa Welterweight silver medallist has planned to give back to his community in the sprawling Kariobangi slums in Nairobi where he grew up learning the sport.
MUST READ: Marathon King Eliud Kipchoge Bags Laureus Exceptional Achievement Award
"I feel a time has come to mentor many in the estate who are hoping for a breakthrough in sport. There is nothing so fulfilling like serving other people selflessly," he charged.
Abaka does not regret not joining the paid ranks like his peers including Olympian Rayton 'Boom, Boom' Okwiri who turned professional in 2017.
"If I was young, lets say 26, I would have done so, but I feel old now. My age won't allow me to fight the way i used to. I also wants to protect my amateur track record.
MUST READ: CAF Champions League: Club African Awarded Win, Ismaily Fined $40,000
"I don't think I will miss much not joining the paid ranks as I have achieved a lot with boxing; I have my own home, I'm widely traveled, I have represented Kenya in the Commonwealth, Africa and World championships," he highlighted.
The former Africa Zone V Welterweight gold medallist qualified for the Beijing 2008 Olympics alongside Nick Okoth, Benard Gumba, Aziz Ali and Suleiman Bilali but failed to take part in the Games after suffering a broken jaw.
"Failing to travel to Beijing was my lowest point in the sport, but I still consider myself an Olympian nonetheless as I had punched a ticket to the competition," he stressed.