Olindi Hat Trick Bulldozes Kenya To Welsh Victory, 13th Place
Dec 09 - by Mutwiri Mutuota for SportPesa News
Shujaa end disappointing second leg HSBC World Series outing, the Cape Town 7s outing with 33-26 victory over Wales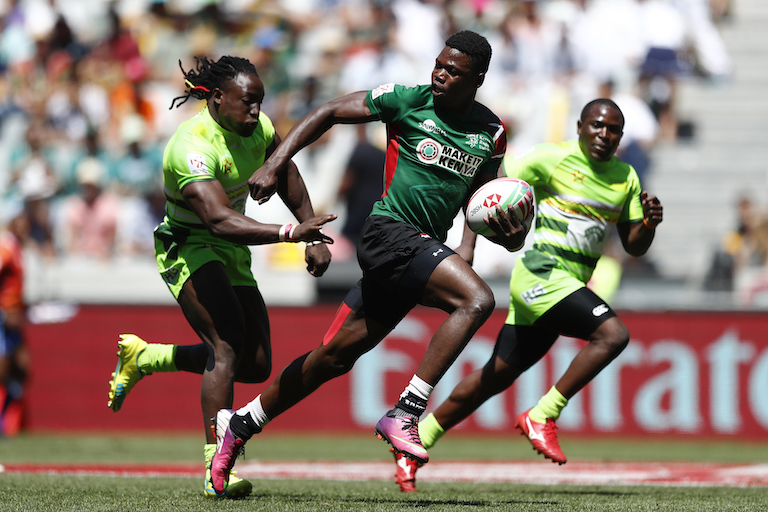 Following their Challenge Trophy quarterfinal heart breaking three point defeat to Argentina earlier in the day, Shujaa who lost all three of their Pool C games on day one needed just 19 seconds for Olindi to drive around the outside of the Welsh defence for the opening try of the 13th-place playoff
Then Olindi spotted a hole in the Welsh rear guard after Jones slipped whilst trying to tackle before powering to the try line in what was a three-on-two situation for Kenya
Wales were not done yet and closed the scoring when Luke Treharne, who came inside Talbot-Davies on the right wing, got a converted try with the hooter gone
CAPE TOWN, South Africa- Kenya ended their limp Cape Town 7s outing on a high when Johnstone Olindi starred in their 33-26 victory over Wales on Sunday evening to finish the second leg of the 2018/19 HSBC World Series in 13th position.
Following their Challenge Trophy quarterfinal heart breaking three point defeat to Argentina earlier in the day, Shujaa who lost all three of their Pool C games on day one needed just 19 seconds for Odidi to drive around the outside of the Welsh defence for the opening try of the 13th-place playoff.
Owen Jenkins hits back immediately for Wales when he raced to an open try line ahead of him thanks to some excellent play from Ben Jones.
Tomi Lewis then managed to shrug off two Kenyan defenders and ran 75 metres to take the ball home and give the Welsh a 12-7 lead.
Shujaa's Charles Omondi was then left clutching his left shoulder beside the touchline after a heavy tackle from Afon Bagshaw from a Wales line out.
Recycled ball
Kenya fell 19-7 behind despite a wonderful cover tackle from Daniel Taabu to bring down Ben Jones when Wales recycled the ball and Jay Jones touched it down.
Paul Murunga's charges then fought back to level the contest 19-19 at half time, with Cyprian Kuto first accelerating down the right wing and around the outside of the Welsh defence to cross the whitewash but the conversion was missed.
Then Olindi spotted a hole in the Welsh rear guard after Jones slipped whilst trying to tackle before powering to the try line in what was a three-on-two situation for Kenya.
Now with their tails up, Shujaa extended their lead to seven points when Olindi completed his hat-trick when he just managing to reach the whitewash after the tackle from Will Talbot-Davies.
Soon it was 33-19 to Shujaa. The referee looked ready to call a turnover to Wales, but Leonard Mugaisi was not prepared to let them have it so easily. He broke out from the ruck and there is nothing to stop him diving across the try line.
Wales were not done yet and closed the scoring when Luke Treharne, who came inside Talbot-Davies on the right wing, got a converted try with the hooter gone.
Shujaa collected three points for the victory to inch their tally to four four in the opening two rounds of the global circuit series.