No Pressure For KCB In Floodies Semis Against Homeboyz
19th October 2018 - by Mutwiri Mutuota
Defending champions to use the tournament to gauge new signings ahead of Kenya Cup kick-off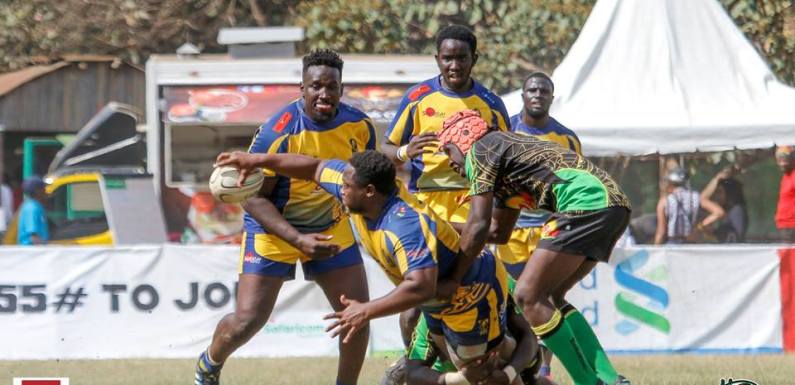 SUMMARY
Kenya Commercial Bank (KCB) RFC head coach, Curtis Olago, has indicated they have no pressure as they prepare to take Homeboyz RFC in the semi-finals of Impala Floodlit Rugby Tournament at Impala Club in Nairobi on Saturday night
Homeboyz head coach, Paul Murunga, is hopeful to crush the champions as he heads to the game buoyed with last month's Christie Sevens victory, which saw his side lift the 2018 National Rugby Sevens Circuit Series with a whopping 122 points
The other Floodies semi-final pits hosts Resolution Impala Saracens against Strathmore Leos at 5.50pm
Olago indicated he would apply the skills he gained at a recent high performance training in South Africa in the match
NAIROBI, Kenya- Kenya Commercial Bank (KCB) RFC head coach, Curtis Olago, has indicated they have no pressure as they prepare to take Homeboyz RFC in the semi-finals of Impala Floodlit Rugby Tournament at Impala Club in Nairobi on Saturday night.

The defending champions will be using the contest to gauge players ahead of Kenya Cup whose kick-off is on November 17, 2018.
"I have new signings and this will be the best time to know their ability, so I will give the players a chance to prove their worth," Olago told SportPesa News on Friday.
He indicated he would apply the skills he gained at a recent high performance training in South Africa in the match.
"The trip down south was awesome; I learnt a lot of things that are not being applied in our league. I'm trying to execute the ideas at the club," he underlined.
Homeboyz head coach, Paul Murunga, is hopeful to crush the champions. Murunga heads to the game buoyed with last month's Christie Sevens victory, which saw his side lift the 2018 National Rugby Sevens Circuit Series with a whopping 122 points.
Apart from Christie, Homeboyz triumphed in the Prinsloo 7s, Sepetuka 7s, and Kabeberi 7s including reaching Dala 7s final.
It was the second time that Homeboyz were bagging the tournament following their feat in 2016.
The other Floodies semi-final pits hosts Resolution Impala Saracens against Strathmore Leos at 5.50pm.
Apart from the Main Cup duels, there will be other clashes in several categories at the venue much earlier.
Black Lions RFC, a franchise of Mwamba Ladies and Northern Suburbs will be up against Ngong Fry RFC, which comprises of Standard Chartered Impala Ladies and Top Fry Nakuru RFC in the women's return leg. Black Lions won the first leg 32-24.
The school semis will run concurrently at RFUEA and Impala grounds. RFUEA Grounds will host Muhuri Muchiri vs Ofafa Jericho while Alliance will battle Mang'u at Impala.
Muhuri Muchiri earned a bye in the quarters while Ofafa Jericho were awarded got a walkover against Lenana who failed to honour the fixture.
Catholic Monks will take on Mean Machine RFC in the varsities category. Monks humbled Technical University of Mombasa 71-0 last weekend to make it to the semis as Machine thrashed Strathmore Leos 65-5 in the other quarterfinals.
Main Cup Semis fixture at Impala Club
Resolution Impala Saracens vs Strathmore Leos-5:50pm
KCB RFC vs Homeboyz RFC-7:30pm
Plate Semis fixture at Impala Club
Stanbic Mwamba vs Nondescripts -2:30pm
Kenya Harlequins vs Top Fry Nakuru- 4:10pm