No Play-Off Farewell For Miami Star Wade, Magic Johnson Quits Lakers
Apr 10 - by AFP for SportPesa News
The 37-year-old three-time NBA champion delivered a 30-point display as the Heat defeated the Philadelphia 76ers by 122-99 at the American Airlines Arena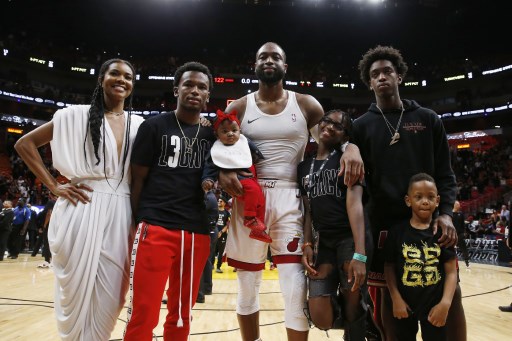 But the Detroit Pistons' 100-93 victory over the Memphis Grizzlies ended Miami's slender hopes of progressing to the playoffs
Wade, a 13-time NBA All-Star, was also honored with video tributes throughout his home finale, with former US President Barack Obama leading the plaudits
Johnson also attracted criticism for an unsuccessful pursuit of New Orleans Pelicans star Anthony Davis, a move which was widely reported to have destabilized the Lakers locker room
LOS ANGELES, United States- Dwyane Wade was given an emotional send-off in his final home game with the Miami Heat on Tuesday night but results elsewhere eliminated the Florida team from playoff contention.
The 37-year-old three-time NBA champion delivered a 30-point display as the Heat defeated the Philadelphia 76ers by 122-99 at the American Airlines Arena.
But the Detroit Pistons' 100-93 victory over the Memphis Grizzlies ended Miami's slender hopes of progressing to the playoffs.
Wade gave a heartfelt salute to his fans in a pre-game ceremony in Miami.
"I love y'all, man," Wade told the crowd. "I thank you guys for dancing with me this year. I thank y'all for your patience this year. I thank y'all for the love.
RECOMMENDED READ: Warriors Top Western Conference, Heat Sweat Over NBA Play-Offs Fate
"I'm thankful for this moment. I'm thankful for this entire season."
Wade, a 13-time NBA All-Star, was also honored with video tributes throughout his home finale, with former US President Barack Obama leading the plaudits.
"D-Wade! Congratulations on a great run. Now, I know what you're going through, because saying goodbye to a career that you love is never easy," Obama said.
"I've been there. In my case though, I didn't really have a choice. My knees were shot so I had to give up basketball forever," he joked.
Detroit, meanwhile, can seal their playoff berth from the Eastern Conference with victory over the New York Knicks on Wednesday in the final round of regular season games.
The Charlotte Hornets also have a slender chance of progression after demolishing the Cleveland Cavaliers 124-97.
RECOMMENDED READ: Nuggets Soar To Northwest Crown, Warriors Star Curry Gets Mojo Back
Charlotte need to beat Orlando on Wednesday and hope that Detroit slip up against the Knicks to leapfrog the Pistons into the postseason.
Against Cleveland on Tuesday the Hornets were led by Kemba Walker and Jeremy Lamb with 23 points each.
The Pistons recovered from a sluggish start which saw them trail by 22 points at one stage before recovering for the win.
Fresh turmoil
Ish Smith scored 22 points off the bench while Andre Drummond added 20 points and 17 rebounds to rescue Detroit.
Blake Griffin was restricted to five points in 18 minutes.
RECOMMENDED READ: Advantage Spurs, Liverpool: Son Punishes Wasteful City, Porto Sunk
Meanwhile, Magic Johnson stunned the basketball world on Tuesday night, abruptly resigning from his management role with the Los Angeles Lakers and plunging the ailing NBA franchise into fresh turmoil.
In a dramatic announcement which came shortly before the Lakers' final game of the season, an emotional Johnson said he was stepping down after a two-year reign as president of basketball operations with the 16-time NBA champions.
The 59-year-old Lakers legend's decision followed a disappointing campaign which saw the once-mighty Los Angeles franchise fail to make the playoffs for a sixth consecutive year.
"Today, I'm gonna step down as the president," Johnson told reporters at an impromptu press conference.
Johnson had been saddled with the task of reviving the Lakers and played a pivotal role in persuading LeBron James to join the team last year in a blockbuster move.
RECOMMENDED READ: Forgotten Chelsea Man Drinkwater Charged With Guess What? Drink Driving
However, the Lakers' revival stalled this season when James was injured, triggering a slump which saw the team fall from playoff contention.
Magic Johnson reacts as he speaks to the press resigning as Los Angeles Lakers President of Basketball Operations before the game against the Portland Trail Blazers at Staples Center on April 09, 2019 in Los Angeles, California. PHOTO/AFP

Johnson also attracted criticism for an unsuccessful pursuit of New Orleans Pelicans star Anthony Davis, a move which was widely reported to have destabilized the Lakers locker room.
He told reporters he was stepping down in order to preserve his friendship with Lakers owner Jeanie Buss, describing her as "like a sister."
The former Lakers star also revealed he had been wearied by the responsibilities of his position, saying he had not enjoyed the process of hiring and firing personnel.
"(Jeanie Buss) and I have such an amazing relationship," Johnson said. "She gave me full power to do what I wanted to do, but I think that with her and I, I want to always preserve our relationship.
RECOMMENDED READ: Gor Mahia Fans Hail Sempala's Arrival, Asike Returns To Tusker
"I had more fun when I was able to be the big brother and the ambassador to everybody. I had more fun on the other side than on this side."
The Lakers meanwhile paid tribute to Johnson in a brief statement.
"There is no greater Los Angeles Laker than Earvin Johnson," the team said. "We are deeply grateful to Magic for all that he has done for our franchise, as a player, an ambassador and an executive."
Johnson was widely expected to swing the axe on Lakers coach Luke Walton on Wednesday following their final game of the season at the Staples Center against Portland.
However, he hinted that Walton may now stay.
"Tomorrow I would have to affect someone's livelihood and their life," Johnson said, without referring to Walton directly.