Murunga Hands Exciting Youngster Edmund Anya Shujaa Debut
20th February 2019 - by Mutwiri Mutuota
Kenya 7s side's head coach makes four changes in the team to tackle the Las Vegas and Vancouver legs of the HSBC World Series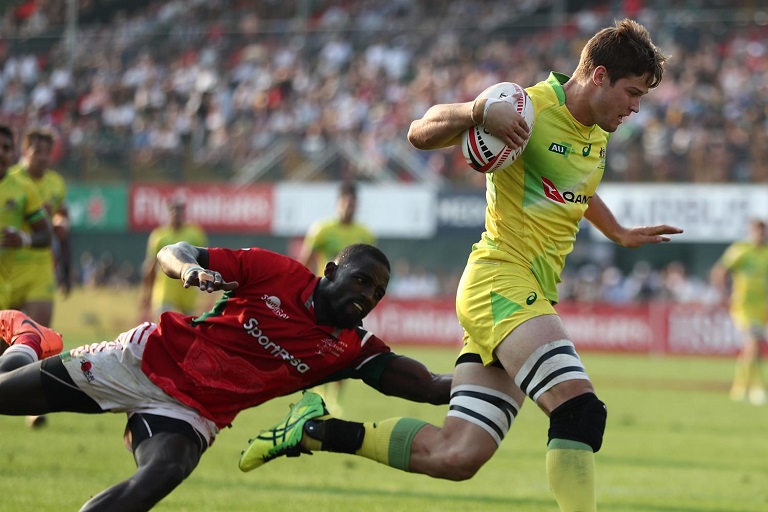 SUMMARY
Herman Humwa and Charles Owino also make a return to the team with the quartet taking the places of injured pair, Harold Aduvate and Mark Wandeto as well as the rested duo of Eliakim Kochoi and Mark Wandeto
Humwa and Owino last featured for Shujaa in the Dubai and Cape Town legs with seasoned Agevi making a comeback since the 2014/15 season. Anya has been rewarded for his consistent performances in the local circuit having played for the Under 19 and Under 20 national sides
Shujaa will take on USA in their opening pool encounter of the March 2 and 3 Las Vegas 7s at 3:50am local time (+3GMT) before locking horns with France (6:29am) and Argentina (11:58pm) in their bid to punch the Main Cup quarters ticket for the first time this season
NAIROBI, Kenya- Former Kenyan Under 19 international and Strathmore RFC youngster Edmund Anya is set to debut for national team Shujaa with Michael Agevi returning to the side in the four changes made in the team by head coach Paul Murunga for the forthcoming HSBC Word Sevens Series legs in Las Vegas and Vancouver.
Herman Humwa and Charles Owino also make a return to the team with the quartet taking the places of injured pair, Harold Aduvate and Mark Wandeto as well as the rested duo of Eliakim Kochoi and Mark Wandeto.
READ ALSO: CAF Champions League: Club African Awarded Win, Ismaily Fined $40,000 
Murunga, who is in his first season in charge of the team, is seeking to improve on their 13th placing in the HSBC Series standings after the opening four legs having picked only 12 points from Dubai (one), Cape Town (three), Hamilton (seven) and Sydney (one).
Humwa and Owino last featured for Shujaa in the Dubai and Cape Town legs with seasoned Agevi making a comeback since the 2014/15 season. Anya has been rewarded for his consistent performances in the local circuit having played for the Under 19 and Under 20 national sides.
Shujaa will take on USA in their opening pool encounter of the March 2 and 3 Las Vegas 7s at 3:50am local time (+3GMT) before locking horns with France (6:29am) and Argentina (11:58pm) in their bid to punch the Main Cup quarters ticket for the first time this season.
READ ALSO: Three Things We Learned From Liverpool Vs Bayern Munich 
Shujaa Squad To Las Vegas and Vancouver 7s.
Jacob Ojee, Vincent Onyala, Daniel Taabu, Johnstone Olindi, Brian Wahinya, Bush Mwale, Brian Wandera, Cyprian Kuto, Edmund Anya*, Herman Humwa, Charles Owino, Michael Agevi