Mughal To Debut New Buggy At Autocross 3 Shakedown
Sep 14 - by SPN Correspondent for sportpesa news
Jamhuri racetrack to host Rallye Sports Club- organised mixed vehicle event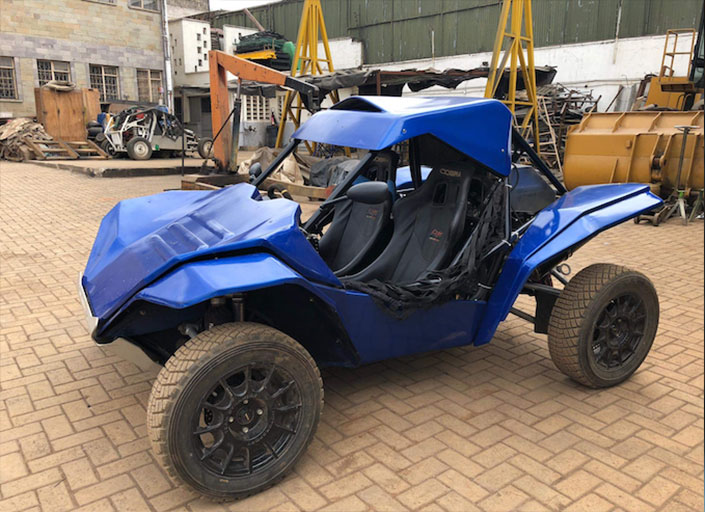 Reigning 4WD T champion, Rehan Shah and Murage Waigwa who will be driving a Subaru GF8 STI are other top draws in action
Former 2WD Rally champion Alfir Khan in a VW Golf STI Hybrid and ex-Safari Coupe des Dames navigator winner Safina Khan in a 2WDNT Vitz will also strut their stuff at Jamhuri
The Bambino category that has attracted five entries has also pooled exciting contests and a mix of cars including Bambino and Polaris buggies
NAIROBI, Kenya- Shalien Mughal will debut her new racing machine at this weekend's KCB RSC Autocross 3 at Jamhuri Park in Nairobi with the event attracting over 25 drivers.
Reigning 4WD T champion, Rehan Shah and Murage Waigwa who will be driving a Subaru GF8 STI are other top draws in action.
Former 2WD Rally champion Alfir Khan in a VW Golf STI Hybrid and ex-Safari Coupe des Dames navigator winner Safina Khan in a 2WDNT Vitz will also strut their stuff at Jamhuri.
The Izmir Racing speedster bought the ex-Sachin Choda rage buggy last year but it had to be stripped down and rebuilt after 'a lot of issues'.
"Now we have finally got it running. The engine and transmission needed major repairs, so had to also redo the whole wiring.
"My Open Class Subaru Hybrid Buggy is still under repairs and will not be ready for this autocross," Mughal told.
Exciting contests

Her elder brother Sarry who participates in the 2WD NT class will skip the weekend's race due to pressing job commitments but is expected to return for the next showdown.
The Bambino category that has attracted five entries has also pooled exciting contests and a mix of cars including Bambino and Polaris buggies.
Second generation drivers including Mc Rae Kimathi, son of 1999 F2 Safari champion Phineas Kimathi and 2WD NT Junior's Rajveer Thethy (son of former 2WD champion Charan Thethy) have also signed up for the event organised by Rallye Sports Club and sponsored by Kenya Commercial Bank.
RSC Autocross 3 Entries
4WDT
MCRae Kimathi (Subaru Impreza GC8)
Gerald Maina (Subaru GC8)
Lovejyot Singh ( Subaru n10)
Murage Waigwa (Subaru Hatchback GF8 STI)
Ken Nteere (Subaru)
Rehan Shah (Evo7)
Sahib Omar (Subaru GC8)
2WD JNR
Rajveer Thethy
2WD T
Zameer Verjee.-Buggy
Mohamed Arfan-Buggy
Junaid Shah - Buggy
Abdul Razak - Buggy
Imran Hakada -Buggy
Deep Patel -Bggy
Kunal Patel -Buggy
Arfan Shah buggy
2WD NT
Savraj Bhui
Sameer Nanji
Albert Kigen
Laban Cliff Onserio
Safina Khan (Vitz)
BAMBINO
Illyun Muhhal
Tsev Soni
Yuvraj Rajput "Yuvi"
Tsorav Soni
OPEN
Shalien Mughal (Subaru Hybrid)
Kirit Rajput (Pepeta)
Alfir Khan (VW Golf sti hybrid)