Mbao Boss Bushiri Pays Respect To SportPesa Cup Semis Rival Sharks
24th January 2019 - by Mutwiri Mutuota
Victory over champions Gor proved there are no underdogs in the 2019 edition going down in Dar-es-Salaam Tanzania, head coach asserts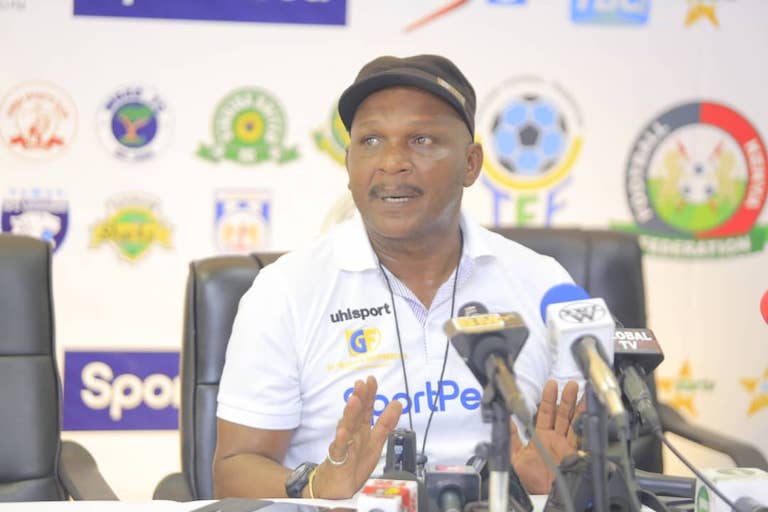 SUMMARY
Sharks produced the first upset of the third edition of the tournament on Tuesday when they outclassed Tanzania Premier League runaway leaders, Yanga FC 3-2 in a dramatic second quarterfinal
Speaking after sending the 2017 and 18 champions back home early, Bushiri noted their monumental victory was testimony that any team in the competition is capable of winning the coveted title
Home favourites Simba will kick off the semi final programme at 2pm when they meet 2018 SportPesa Premier League runner-ups Bandari FC after both knocked out AFC Leopards SC and Singida United FC in their quarter finals with 2-1 and 1-0 victories in that order
DAR-ES-SALAAM, Tanzania- There is no underdog at the 2019 SportPesa Cup. That was the simple message from Mbao FC head coach, Ali Bushiri, ahead of their semi final against fellow giant-killers Kariobangi Sharks FC on Friday at the National Main Stadium in Dar-es-Salaam, Tanzania.
Sharks produced the first upset of the third edition of the tournament on Tuesday when they outclassed Tanzania Premier League runaway leaders, Yanga FC 3-2 in a dramatic second quarterfinal.
Mbao however, manufactured an even greater shock- perhaps the most stunning upset in the three year history of the competition- when they dethroned two-time winners Gor Mahia FC 4-3 on post-penalties after battling from going a goal down to force a 1-1 stalemate at the end of the 90.
READ MORE: Plucky Mbao Depose Mighty Gor From SportPesa Cup Throne
It was a result that echoed across Tanzania and Kenya, dominating conversation on social media through the official tournament hash tag #SportPesaCup.
Speaking after sending the 2017 and 18 champions back home early, Bushiri noted their monumental victory was testimony that any team in the competition is capable of winning the coveted title.
"We were playing against a team with a lot of exposure and we could not them lightly. We had to keep possession of the ball to draw them out of position, that was our secret," the delighted Bushiri said.
Mbao is establishing a reputation of slaying giants in TPL; earning the moniker 'wabishi' (the noisy ones) with the Mwanza-based side adding the Gor scalp to their casualty list.
READ MORE: Sharks Sink Teeth To Topple Yanga Out SportPesa Cup
Bushiri however, warned his side not to dwell on the afterglow of their big victory ahead of their meeting with Sharks for the right to punch their ticket in Sunday's final.
"I have watched Sharks play and I can only say there are no underdogs. 
"Before this tournament, Mbao were labelled underdogs and some bad things were said and we proved at least we can make it," he added.
READ MORE: Simba Cage Leopards, Book Bandari SportPesa Cup Semi Date
BROTHERLY LOVE: A Simba SC supporter displays a banner wishing fellow Tanzania Premier League side Mbao FC success as they took on Gor Mahia FC in the third quarterfinal of the 2019 SportPesa Cup at the National Main Stadium in Dar-es-Salaam, Tanzania on January 23, 2019. PHOTO/SPN

The Mbao boss predicted a keenly contested semi when they take to the pitch against Sharks at 4:15pm EAT at the National Stadium. 
"I respect every team that is in this tournament and each team is aware they are coming to play against at quality side," Bushiri added.
Having won a bunch of admirers in Tanzania for their brave displays, the meeting of Mbao and Sharks promises to up the excitement of the 2019 SP Cup as the race for the USD30,000 and the chance to host English side Everton by winning the tournament gets to its business end.
Home favourites Simba will kick off the semi final programme at 2pm when they meet 2018 SportPesa Premier League runner-ups Bandari FC after both knocked out AFC Leopards SC and Singida United FC in their quarter finals with 2-1 and 1-0 victories in that order. 
READ MORE: Spot On Wadri Kicks Bandari Into SportPesa Cup Semi Finals
2019 SP CUP SUMMARY
QUARTER FINAL RESULTS
Singida United FC 0 Bandari FC 1
Yanga SC 2 Kariobangi Sharks FC 3
Mbao FC 1 (4) Gor Mahia FC 1 (3)
Simba SC 2 AFC Leopards SC 1
SEMI FINAL FIXTURES (EAT) FRIDAY, JANUARY 25
2.00 pm: Bandari vs Simba
4.15pm: Sharks vs Mbao