Marco Silva: Below Par Performance To Blame For Fulham Defeat
Apr 14 - by Everton FC for SportPesa News
Everton manager admits the Blues did not deserve to get anything from their shock 0-2 defeat to relegated side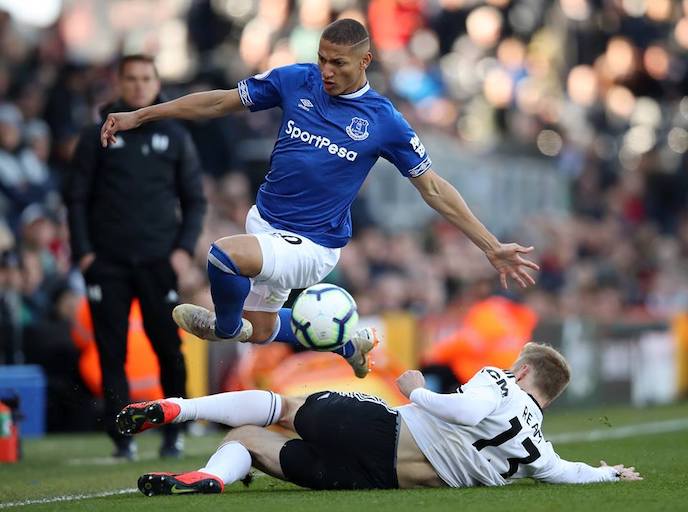 Manager Silva identified the timing of Cairney's strike seconds after half-time and an effort from Dominic Calvert-Lewin which grazed the upright as the contest's key moments
Everton's clearest opportunity came when Gylfi Sigurdsson's reverse pass released Calvert-Lewin one-on-one with goalkeeper Sergio Rico
"Next week will be really tough against a strong side but if we play how we did in the past few weeks, we will be able to achieve a good result."
LIVERPOOL, England- Marco Silva says Everton's performance at Fulham was "not good enough" to warrant taking anything from the game.
Second-half strikes from home pair Tom Cairney and Ryan Babel spelt the end of Everton's three-match Premier League winning run.
Manager Silva identified the timing of Cairney's strike seconds after half-time and an effort from Dominic Calvert-Lewin which grazed the upright as the contest's key moments.
Everton had won home games against Chelsea and Arsenal either side of an away success at West Ham United prior to losing at Craven Cottage.
And Silva insists his side must quickly turn their focus to next Sunday's Goodison Park clash with Manchester United and the first opportunity to hit back from this weekend's defeat.
"We are not happy and did not achieve the result we wanted, we did not perform well," Silva told evertontv.
DO NOT MISS: Saints Go Marching In: Redmond Brace Buries Wolves
"Now is the moment to prepare for the next game and give a different answer from this afternoon.
"We were in a fantastic run and it is up to us to do everything we can to win the next match.
"We knew playing Fulham would be really difficult. Their position in the table was not important, we knew they would play with pride and character and try to achieve something important for them.
"But we did not start the match well, our first half was not good, even if we had one or two moments in attack and created some problems for them.
"But we were not aggressive enough, with or without the ball.
"We were not moving the ball fast enough to disorganise them."
Reverse pass
DO NOT MISS: Rangers Scorch Mount Kenya As Tusker, Ulinzi Notch Crucial SPL Wins
Everton's clearest opportunity came when Gylfi Sigurdsson's reverse pass released Calvert-Lewin one-on-one with goalkeeper Sergio Rico.
The striker prodded beyond Rico but against the outside of the Spaniard's left-hand post.
Fulham led at that stage, Cairney caressing the ball home from Dutchman Babel's cutback within 60 seconds of the restart.
And the home side, who consistently threatened through striker Aleksandar Mitrovic in the opening 45 minutes, wrapped up the points when Babel raced through to dink a finish over Jordan Pickford.
Everton had most of the possession – 59 per cent – and created a few half-chances after falling 2-0 behind.
But Fulham ultimately negotiated eight minutes of stoppage time, leaving Silva frustrated but certain his players' confidence would not be dented by one difficult afternoon.
DO NOT MISS: Steph Curry Sizzles In Warriors Slaying Of Clippers, Magic Shock
"No, the confidence will not be affected, we have to look forward to the next match and analyse and see what we did not do in the right way against Fulham," added Silva.
"The feedback I gave at half-time was to change our approach but we conceded a goal in the first minute, which was really tough, even if we reacted with some good moments and had some big chances.
"One for Dominic, in particular, which could have changed the match. It looked then like we could equalise but we did not score and in one offensive transition when we were not in a good balance they scored the second goal.
"That made everything more difficult for us… and the second half was tough.
"There were a lot of stoppages and that made it hard to put intensity and pace into the match.
DO NOT MISS: Huesca Defy Barcelona: Messi Rested For Man United
"Next week will be really tough against a strong side but if we play how we did in the past few weeks, we will be able to achieve a good result."