Make Way For Brigid Kosgei, The New Kenyan Marathon Queen
Oct 08 - by Mutwiri Mutuota for SportPesa News
Chicago winner's emphatic 2:18:35 victory ushers her to the high table of the country's only five sub 2:19 female ultimate distance runners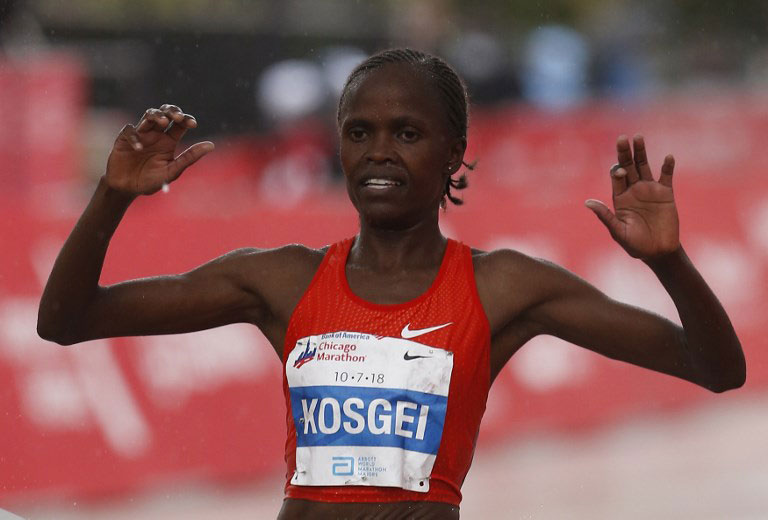 All the above achieved the milestone aged over 30, a factor that makes the latest entrant to the distinguished class, Brigid Kosgei's, victory at Sundays Bank of America Chicago Marathon stand out to be counted
Repeating a similar theme from the past three years, the top contenders in the women's field hit the pavement hard from the start and battled out front for as long as they could
Outshining such a fearsome cast and finishing second to a trailblazing performance inspired Kosgei to come to her own on Sunday where she made everyone stand up and take notice
NAIROBI, Kenya- Prior to Sunday, only four illustrious Kenyan women had legally dipped under 2:19 in the marathon- Mary Keitany, Gladys Cherono, Vivian Cheruiyot and Catherine 'The Great' Ndereba.
A fifth, Rita Jeptoo (2:18:57) saw her performance at the 2014 Boston race erased after she was banned for banned blood booster, EPO use.
All the above achieved the milestone aged over 30, a factor that makes the latest entrant to the distinguished class, Brigid Kosgei's, victory at Sundays Bank of America Chicago Marathon stand out to be counted.
In crushing a big field Kosgei, who is still 24, claimed her seat at the high table of ultimate distance running when she motored to a dominating 2:18:35 victory at the 'Windy City' where she battled through pain and rain for glory.
It was a big payday for Kosgei who earned a minimum of USD100,000 (KSh10m) for cutting the tape first, a figure that excludes time bonuses and appearance fee among other financial rewards she stands to get from the resounding triumph.
Her peers in the exalted class forged successful careers in winning at the Abbot World Marathon Majors (WMM) that comprise of London, Boston, Berlin, Chicago, New York and lately Tokyo city races multiple times but what a way to bag a first victory on the elite circuit for Kosgei, who trains in Kapsabet!
Repeating a similar theme from the past three years, the top contenders in the women's field hit the pavement hard from the start and battled out front for as long as they could.
Solo campaign
Kosgei, a runner-up last year, pounded the competition when she accelerated before the 20-mile mark and embarked on a solo campaign against the clock to collect her first WMM victory and a new personal best.
She ran the third fastest time in Chicago Marathon history to beat 2018 Dubai
Marathon champion, Roza Dereje of Ethiopia who clocked her second fastest career time to finish second in 2:21:18 and compatriot Shure Demise who rounded out the top three in 2:22:15.
"Before I start, I was having knee (pain) but I just swallowed a painkiller that my manager gave me. I just used (it) in order to move," Kosgei, who revealed her knee was hurting after the biggest race of her career so far, told the Chicago Tribune.
"At 5 kilometers (remaining), I saw the other competitors, they were not following me again. I just (kept) pushing myself and looking at the time and I just moved alone and finished like that," the athlete who was targeting to go under 2:19 added.
Kosgei won by running a big negative split as she posted 70:09 for the first half and 68:26 for the second half of her landmark victory.
Five women started the race with personal bests of sub 2:21:00 and by 15K, a leading pack of those five women had developed: Kosgei, Roza, Dereje, Tokyo fourth-placer Shure, two-time Chicago Marathon winner Florence Kiplagat (KEN) and two-time Tokyo Marathon winner Birhane Dibaba (ETH).
Those five would stay together –accompanied by a clutch of sub-elite men– through halfway (1:10:09) and 25-K (1:23:29).
Remarkable course record
The next 10 kilometers would decide the race. Kosgei ran 16:32 between 25K and 30K, fast enough to drop both Kiplagat and Birhane (who then dropped out with a leg injury).
But Kosgei really upped the pace over the next 5-kilometer segment, blasting 15:36 through 35-K to put the race away.
She opened such a big lead that even the long shot of the lead motorcycle's television camera couldn't pick up anyone behind her.
"I was happy, I was able to move today, no struggling, no nothing," Kosgei said in her post-race television interview. She added: "I was okay because of the rain, I enjoy."
Her ability to race against the clock manifested itself when she set a remarkable course record at the 2017 Honolulu Marathon.
Kosgei who came in as the titleholder, having ran 2:31:11 in 2016 and a then lifetime best of 2:20:22, ran aggressively from the start, splitting 10K in 32:45 with company from compatriots Nancy Kiprop, a Honolulu debutante, and Joyce Chepkirui, the 2015 champion.
The rest of the field was already more than two and one-half minutes behind.
By the halfway mark (1:11:50), only Kiprop was bold enough to stay with her.
Chepkirui, who had drifted back by 11 seconds, would soon begin to struggle, and ultimately faded to finish a distant third in 2:33:17.
As rain began to lash the athletes in the Hawaii Kai neighbourhood, Kiprop did her best to stay with Kosgei, nearly matching strides with her through 25K (1:25:13).
But soon she too had to let go, and had to resign herself to second place in 2:29:15, a time which would have won here in all but six of the previous editions of the race.
Time bonuses
Kosgei was clearly hurting, but she forged ahead to the finish knowing that breaking Lyubov Denisova's 2006 course record of 2:27:19 meant a USD10,000 (KSh1m) course record bonus, plus another USD15,000 (KSh1.5m) in time bonuses for going sub-2:28 on top of the winners' purse of USD50,000 (KSh5m).
Upon finishing she immediately crumpled to the pavement, and a medical worker removed her shoes to give her burning feet some air. She chugged two bottles of water before facing the media and posing for her winner's photos.
"Last year was very hot, but today I feel that it is good. Maybe next year, I want to improve to run 2:18 or 2:17. I want to break the course record (in New York, London, or Boston)," she told www.letsrun.com at the time.
At this year's London Marathon on April 22, Kosgei (2:20:13) played bridesmaid to Cheruiyot, the Olympic women 5000m champion who came tearing through the competition in the second half of the race to stop the timer at 2:18:31, as she stormed to the sub 2:19 class in style.
Behind Kosgei, female marathon running stalwarts, three-time Berlin winner, Gladys Cherono (2:24:10), Keitany (2:24:27)- who is the fastest of all time in a women's only race with 2:17:01 and world champion, Rose Chelimo (2:26:03) of Bahrain who trooped home in fourth, fifth and sixth in that order.
Outshining such a fearsome cast and finishing second to a trailblazing performance inspired Kosgei to come to her own on Sunday where she made everyone stand up and take notice, sharing the big stage with British distance running icon, Mo Farah, who won the corresponding men's race.
-Material from www.iaaf.org, official website of the Chicago Marathon, www.chicagomarathon.com and www.letsrun.com used to compile this report