Lionesses Eye Olympics, HSBC Series In New Rugby Season
11th October 2018 - by Louis Kalinga
Team currently ranked top in the continent after victorious performance in the Confederation of African Rugby in Gaborone, Botswana in May, 2018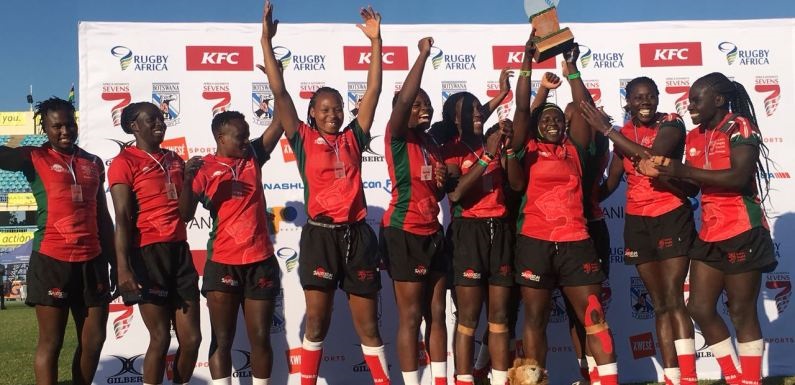 SUMMARY
Continental champions, Kenya Lionesses, are aiming to qualify for Tokyo 2020 Olympics as new rugby season commence next week
The lofty plan has seen Lionesses begins early training this week, as they prepare to feature in the second leg of the 2018/2019 HSBC Women Rugby Sevens Series in Dubai on November 29-30, 2018 on invitation
The provisional squad of 25 players that Wambua has called up for non-residential training at the Kenya Rugby Union Grounds in Nairobi is composed majorly of young players
NAIROBI, Kenya- Continental champions, Kenya Lionesses, are aiming to qualify for Tokyo 2020 Olympics as the new rugby season is set to commence next week.
Head coach, Kevin Wambua, is also motivated to book a berth in the HSBC Women Rugby Sevens Series that has eluded the country for years.
"We narrowly lost to South Africa in the semis on sudden death at the HSBC series qualifiers this year.
"As the new term begins, our focus will be to lift the trophy in Hong Kong in March and book that solitary slot in the contest.
"It would be nice joining our Shujaa counterparts in the global showpiece," Wambua told SportPesa News on Thursday.
The tactician, who led the side to the Rio 2016 Olympics, is optimistic he will achieve the fete once more.
"As you know, the qualifiers for Tokyo 2020 Olympics will be held in July to August 2019, I need to strengthen so many areas after analyzing our performance in Rio.
"My dream is to establish a quality team that can give the opposition from first world countries a run for their money," he underlined.
The lofty plan has seen Lionesses begin early training this week, as they prepare to feature in the second leg of the 2018/2019 HSBC Women Rugby Sevens Series in Dubai on November 29-30.
Rugby basics
It will be Kenya's second appearance in the series, the first being the Clermont Sevens in Paris back in 2016.
"The offer came as a result of our outstanding performance during the Rugby Africa Women's 7s Tournament which we won and were crowned champions of Africa in May this year in Gaborone, Botswana," Wambua explained.
The provisional squad of 25 players that Wambua has called up for non-residential training at the Kenya Rugby Union Grounds in Nairobi is composed majorly of young players.
He said he has mostly given high school students a chance with many expected to report to the camp over the holidays.
"The expanded pool gives a chance for quality selection in the trials. It is also good for player development as I am eager to build a new squad with depth.
"I'm currently taking them on rugby basics this week. The training will intensify in the coming weeks as we prepare to depart for Dubai on November 22," he highlighted.
Kenya Lionesses provisional squad:
Nakuru: Grace Adhiambo, Angeline Apiyo, StanChart Impala: Judith Auma, Diana Awino, Stella Wafula*, Christabel Tata. Homeboyz: Sheilla Chajira Leah Njogu* Camilla Cynthia, Linet Moraa, Sophia Ayieta, Enid Ouma*. Mwamba: Janet Okello, Sarah Oluche, Terry Ayesa*, Celestine Masinde, Agatha Jamary*. Northern suburbs: Philadelphia Olando, Sinaida Aura, Janet Kerubo, Faith Keino*. Shamas: Phoebe Akinyi*, Maureen Atieno*. Comras: Dorcas Akinyi*. Barchando: Lorraine Akoth*