LeBron Lifts Lakers On His Return, Westbrook Named In All-Star Reserves
1st February 2019 - by Louis Kalinga
LaMarcus Aldridge's selection as a reserve extends San Antonio's streak of having at least one all-star to 21 consecutive years, the league's longest active run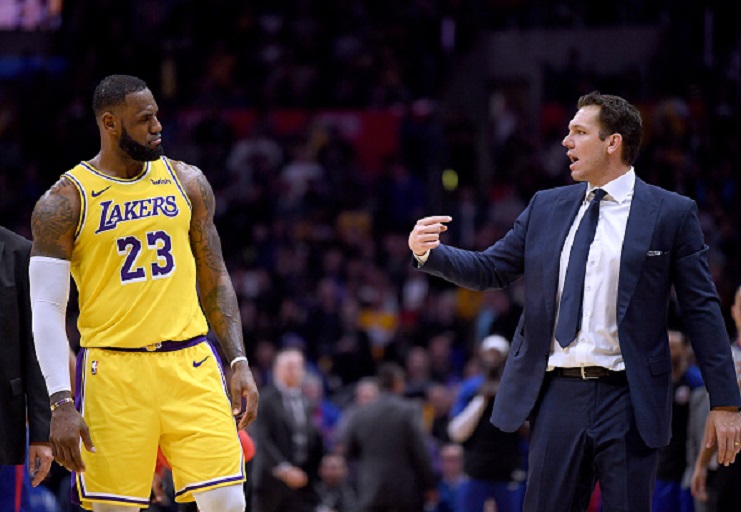 SUMMARY
Former most valuable player Russell Westbrook and Toronto Raptors star Kyle Lowry head the list of reserves announced on Thursday for the NBA all-star game
Oklahoma City Thunder guard Westbrook received his eighth all-star selection while Lowry was chosen to his fifth straight game
LeBron James, who missed 17 games with an injury, will make his return to the struggling Los Angeles Lakers Thursday night against the cross-town rival Los Angeles Clippers

LOS ANGELES, United States- Former most valuable player Russell Westbrook and Toronto Raptors star Kyle Lowry head the list of reserves announced on Thursday for the NBA all-star game.
Oklahoma City Thunder guard Westbrook received his eighth all-star selection while Lowry was chosen to his fifth straight game.
Westbrook was the MVP of the 2015 and 2016 all-star games.
The other reserves named Thursday include four first-time all-stars comprising Philadelphia 76ers guard Ben Simmons, Orlando Magic centre Nikola Vucevic, Denver Nuggets centre Nikola Jokic and Milwaukee Bucks forward Khris Middleton.
The seven reserves from both the East and West Conferences will join the 10 starters who were announced last week.
READ ALSO:'King' James On The Verge Of NBA Return
There is no East versus West format for this year's game. The players' names will now go into a hat and will be selected by captains LeBron James of the Los Angeles Lakers and Giannis Antetokounmpo of the Milwaukee Bucks.
The defending NBA champion Golden State Warriors will have three all-stars, with reserve Klay Thompson joining starters Stephen Curry and Kevin Durant.
LaMarcus Aldridge's selection as a reserve extends San Antonio's streak of having at least one all-star to 21 consecutive years, the league's longest active run.
One all-star missing is Indiana Pacers guard Victor Oladipo, who underwent surgery earlier this week to repair a torn right quadriceps tendon.
The all-star game will be played February 17 in Charlotte, N.C.
READ ALSO:Curry Stars As Warriors Beat Pacers For 11th StraightVictory
LeBron James made a triumphant return to the court on Thursday, breathing new life into the floundering Los Angeles Lakers with a 123-120 overtime victory over the Los Angeles Clippers.
James, who missed 17 games due to a groin injury, scored a team-high 24 points, grabbed 14 rebounds and delivered nine assists in his first NBA game since Christmas Day.
Showing no sign of the injury that resulted in the longest absence of his 16-year career, James played 40 minutes and scored the go-ahead basket with 1:15 left in overtime after the Lakers blew a 14-point lead in the fourth quarter.
James called the 36-day absence some of the darkest days of his career.
"I worked my ass off to get back to this point," James said. "It was the toughest stretch of my career not being out on the floor."
Defending champions
James said he is at "80 percent" fitness and will see how he feels in the morning when he wakes up. He played more than he expected with the game going into overtime.
"I am at 80 percent right now. But I was good enough to feel confident to just keep pushing throughout the game," he said.
"I want to see how my body reacts tomorrow. That's the tell-tale sign for me is how my body feels after having to play 40 minutes unfortunately with the overtime."
Lance Stephenson added 20 points, Brandon Ingram added 19 points, and Rajon Rondo had 14 points and 13 rebounds for the Lakers, who were officially the visiting team but had strong crowd support Thursday because they share the Staples Center arena with their city rivals.
"We got stops and we made some timely shots," said James. "Everybody was huge. It is going to be different guys every night for our team. We are starting to get out depth back."
Lou Williams scored a team-high 24 points and Patrick Beverley added 17 for the Clippers, who shot just 53 percent from the free-throw line.
James' return couldn't come soon enough for the Lakers, who have gone into a tailspin without him.
The Lakers won just 11 of 17 games since James suffered a strained groin in a game against the defending champion Golden State Warriors. The losing skid dropped them to the ninth seed from the fourth seed.
James said he trained just as hard when he was sidelined as he does in a normal season.
READ ALSO: NBA: Rockets Rally From Behind To Beat Orlando Magic