Korir: I Turned My Car To Matatu The Day I Won Mega Jackpot
4th October 2018 - by Mutwiri Mutuota
The latest SportPesa bumper KSh208 winner never let his head drop as he took every opportunity available to him to make it count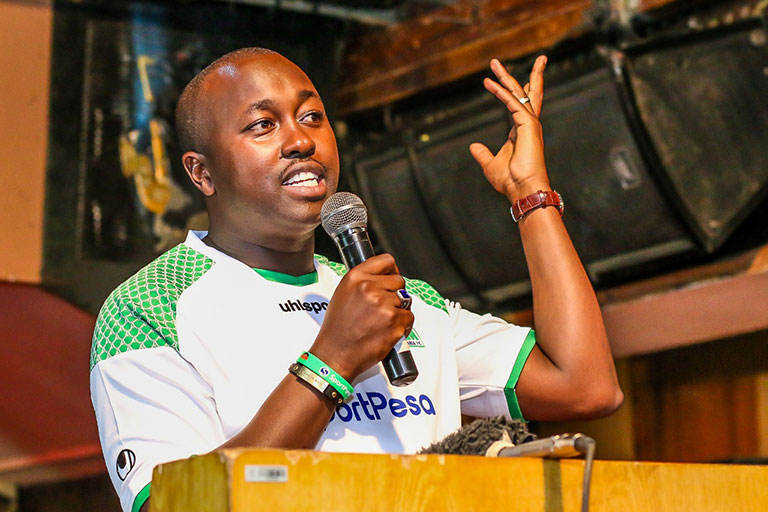 SUMMARY
The financial noose was slowly tightening around Korir's neck as he juggled his responsibilities as a Director of Cash Crops, West Pokot County and family man
Korir swiftly followed his boss into political wilderness after the Jubilee Party once swept all seats in the region when the Deputy President held sway over his opponents
Running out of options, he made the decision to travel back home to Bomet last weekend, to at least enjoy the solace of being close to his family as the walls came closing in
NAIROBI, Kenya- Until Sunday September 30, 2018, Cosmas Kipng'etich Korir was just another local government officer struggling to make ends meet in Kenya, a nation where austerity measures have spiralled the cost of living even among those holding white collar jobs.
The financial noose was slowly tightening around Korir's neck as he juggled his responsibilities as a Director of Cash Crops, West Pokot County stationed in its headquarters, Kapenguria (338km from the country's capital of Nairobi) and family man.
Having transferred to work in the Frontier County in January, Korir left his family in Bomet, some 224.5km away from his outpost having been forced to seek another job when he lost his bid to clinch the Konoin Parliamentary seat during last year's General Election.
Well-educated, ambitious and driven, Korir had risen from Boito Village, Konoin to become one of the brightest stars in his region, earning a place among the senior officials of the administration of Governor Isaac Ruto, the first Governor of his native Bomet County.
Ruto's government engaged his services as the Director of Value Addition, where he was involved in shaping policy in the administration by gauging and advising his boss on the viability of numerous development projects.
Interacting with communities as he executed his role convinced Korir to vie for the Konoin seat with an aim of serving the interests of his people in the National Assembly under the Chama Cha Mashinani (CCM) led by Governor Ruto.
The man who is never shy of taking every opportunity available to him sunk his savings into campaigning for the seat but having fallen out with Deputy President William Ruto, the kingpin of the Kenyan Rift Valley region, Governor Ruto and his CCM candidates never stood a chance.
Korir swiftly followed his boss into political wilderness after the Jubilee Party once swept all seats in the region when the Deputy President held sway over his opponents ending the regime of his erstwhile friend turned foe, Governor Ruto.
Bosom-buddy
With no where to turn, the deflated but not in any way crestfallen Korir started to rebuild his life and in September of last year, was introduced to gaming on the SportPesa platform by his cousin and bosom-buddy Nelson Rotich.
A Manchester United FC fan to the core, the aspiring parliamentarian found a means to channel his love for the game by predicting the outcome of matches as a pastime as he plotted his next move.
His luck changed in January when West Pokot offered him a position as a director of cash crops and he relocated with zeal, focused on reviving his career and possibly in future, re-launch his stalled political career as he paid tribute to his former boss, Governor Ruto.
"I thank him because he believed in me and gave me the opportunity to serve. West Pokot people have given me a huge responsibility to be in charge of cash crops, pyrethrum, coffee, tea, cotton, sisal, miraa and sunflower.
"It's good to see farmers have accepted to cultivate to get an income. People do not realise there is so much cash crop farming in the Frontier District," he emphasised.
Despite holding a senior position and another chance at rebuilding his career, Korir was still a troubled man, with the huge costs of running a campaign and being ostracised by those he thought were his friends still haunting his mind.
At the height of his run for parliamentary office, Korir was used to being referred to as Mheshimiwa (honourable) but after falling in the August 8, 2017 polls, few could pick his calls anymore, fearing he would beg them for cash to offset the expenses he incurred.
"I approached Transnational Bank and they informed me they have no loan facility for County workers. I then turned to Kenya Commercial Banks told me I had an outstanding loan and they could not extend me another," Korir revealed.
Running out of options, he made the decision to travel back home to Bomet last weekend, to at least enjoy the solace of being close to his family as the walls came closing in but little did he know he was about to transform his life for good.
"He called me telling me he was down. We were to meet last week but I advanced him some money to go and visit his family then we discuss later," his friend Rotich divulged.
With this cash, Korir fuelled his vehicle, asked a friend to hop in as they drove the long journey from Kapenguria to Bomet on Friday (September 28) before he woke up the next day and took his family out.
"I'm a family man, my people live in Bomet and I work in West Pokot and with no money, I decided to travel home. On Friday morning, I sought out a friend to travel together with and we drove to Bomet and I did not get a chance to play.
Desperate need
"I travelled the previous day and my salary had not yet been credited. I have been in desperate need for money for a while after engaging in politics exhausted my savings and I sort to borrow a loan without success," he narrated.
Korir left his children to make merry at a hotel and took his vehicle to a car wash were as fate would have it, two former political associates who had also fallen into hard times approached him to share their tribulations.
"They asked me to give them something but I regretted I had nothing, unless they waited until Monday or Tuesday when our salaries would be in. They complained they had fallen into hard times since Governor Ruto left office
"Further, they complained they had no luck in SportPesa either in recent days. I told them, wait, I have some money on my SportPesa wallet, some KSh100 and we decided to sit down and play the Mega Jackpot (MJP)," he recounted.
Done with the first slip, one of the friends had a light bulb moment; sharing with the rest what he saw another possibility to crack the MJP and Korir duly transferred another KSh100 from M-Pesa to his wallet and they played again.
Still not satisfied, the gamers decided to go for another MJP slip with different combinations from the other two and the former parliamentary aspirant withdrew his last KSh100 to throw their last roll of the dice.
After they were done, the two friends curiously inquired from Korir what would happen if he scooped the coveted MJP and how they would share out the windfall since they had all taken part in filling out the slips.
With the prize at the time pegged at KSh 208, 733, 619, the two suggested they would be comfortable with the figure above KSh200m and after the trio laughed it off, they parted ways after he gave each KSh150 for transport back home.
Come Sunday, Korir was up bright and early to attend a church service since he was due to make the long trip back to his workstation before an extraordinary sequence of events turned him into an instant multi millionaire before the day was done.
It all started after church when a friend they attended college with and work together in Turkana called him and requested whether they could drive back together since he was at home as well.
"I told him let me come over right away and I set out for his home since there was a piece of land he wanted me to view and when I got there, his wife and children had left for church
"Shortly afterwards, I received a call from my wife telling me two men had come to my place looking for me," Korir added.
Recognising the men as the friends he had placed his wager the evening before, he told his spouse to tell them he would call them when he found time and some money.
Innovative way
With no money in his account, Korir and his companion came up with an innovative way to earn some spare change as they waited for their salaries to be credited to their accounts.
It was during that journey that fortune smiled at him in a way he would not have imagined after the chance he took on a gaming platform counted in the biggest way he could ever imagine.
"On our way to Kapenguria, we used our vehicle as a mini-matatu, picking and dropping passengers along the way to offset costs for fuel and on approaching Kitale, my phone ran out of power and I bought a car charger
"Midway, my friend advised me not to keep my phone switched off because it is not advisable, anything can happen and he also wanted to charge his devise," Korir highlighted.
He then unplugged his phone and put his friend's and 20 to 30 minutes later, the most unbelievable call in his life came through.
"I received a phone call from what I first thought was a strange number, 0709079079 and after hesitating, I decided to pick it up and a female voice that introduced herself as Rachel told me I had won KSh208m
"I started trembling; I have never received so much money in my life. The most I got was Ksh2.5m that I used to construct my house and it was not even enough, that money slipped through my hands," he recalled.
Shaking, Korir somehow parked his car on the roadside to think as he contemplated what had just happened and after minutes of sheer internal strife, he summoned the courage to continue his journey, perhaps fearing they would be accosted.
"I did not even sleep a wink that night. In the morning, I prepared and went to work and my mates were overjoyed. The moment I received that phone call, I knew got has a purpose for me. I knew I would get something but not that much.
"When I won this thing, I spoke to my family and my eldest son just wants me to buy a black Toyota Prado. My dream holiday destination was Israel but since I have already travelled there, I will think to go to Egypt to see the Great Pyramids," he disclosed.
What of his two friends who helped him fill out the winning slip that happened to be the very first one?
"I listened to them and told them no problem and after the win was confirmed, I got in touch with them and discussed how we will share the windfall since it is God who brought us together on that day.
"I informed me we will sit down and see how these millions benefit our families and the community for many years but for starters, I will give them something little to get them by after a long period of financial suffering," Korir maintained.
Retirement package
Having netted a fortune far beyond the reach of most that can comfortably be a dream retirement package, the newest MJP winner who scooped the third-largest pay-out in Africa gaming history is not about to quit his job in West Pokot.
"After all those years in the university, I still believe I have capabilities to serve the country. We have other big billionaires in this country; the President, Chris Kirubi and they still serve this country. I have the energy, ability and will of God.
"West Pokot is a frontier County that needs to be uplifted, I have that opportunity to serve them and God gave me the chance. I believe I should finish my chance there and if any other opportunity comes, I will consider it."
Hitting the jackpot could not have come at a better time for Korir.
"I will be having my birthday this month, October 11 and I will be turning 37 and I cannot believe it, it was a blessing and I can only say thank you."
As the reality of his momentous win sinks in, Korir desires to follow in the example of his favourite Biblical character, King Solomon, who 'realised the greatest thing is to serve people.'