Kopondo Recalled, Oliech Makes A Comeback In Simbas Repecharge Squad
23rd October 2018 - by Mutwiri Mutuota
Head coach Ian Snook hands Kenya Harlequin RFC's William Reeve a maiden call-up in his 30-man team to battle for 2019 RWC ticket in Marseille, France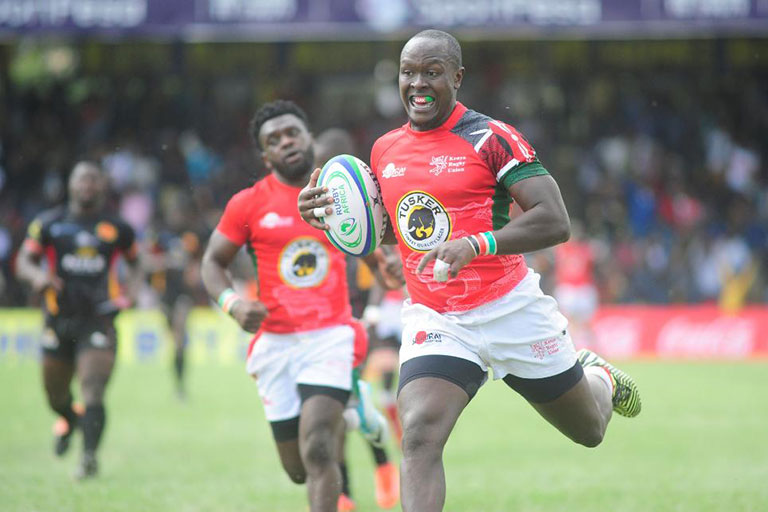 SUMMARY
Kopondo last featured for the national men's 15s team last year during the Regal Hotels Cup of Nations 2017 at Kings Park Sports Ground, Hong Kong
Kenya Harlequin RFC's William Reeve, who caught the eye of the New Zealand head coach during the domestic sevens Circuit and the Impala Floodlit tournaments is the only new face in the side
It will be the first time for Shujaa to take on Canada and third meeting with the Germans since last year following their 29-30 home loss at RFUEA and their clash at the four nations tournament in Hong Kong
NAIROBI, Kenya- Simba head coach, Ian Snook, has recalled former captain Wilson Kopondo and handed sevens star Samuel Oliech a comeback to the side in his travelling squad for the forthcoming Recharge in France that will be Kenya's last chance to make the Japan 2019 Rugby World Cup.
Kopondo last featured for the national men's 15s team last year during the Regal Hotels Cup of Nations 2017 at Kings Park Sports Ground, Hong Kong.
He is included in the squad of 30 unveiled for the final push to make a maiden World Cup at the intercontinental play-off that includes Shujaa 7s regulars Collins Injera, Nelson Oyoo, Andrew Amonde and Samuel Oliech who makes a return to the Simbas since 2015.
Kenya Harlequin RFC's William Reeve, who caught the eye of the New Zealand head coach during the domestic sevens Circuit and the Impala Floodlit tournaments is the only new face in the side.
Kenya kicks off the Repechage campaign against Canada at 6:30pm EAT (+3GMT) before playing Hong Kong at 4pm and concluding their preliminary assignment against Germany at 8pm on November 11, 17 and 23.
It will be the first time for Shujaa to take on Canada and third meeting with the Germans since last year following their 29-30 home loss at RFUEA and their clash at the four nations tournament in Hong Kong.
Snook and his charges will leave the country on October 31 for a friendly with Romania on November 3 before heading to Marseille, France, three days later for the Repecharge.
-Material form www.kru.co.ke used to compile this report
Simbas Squad to The Repechage
Forwards: Patrick Ouko (Menengai Cream Homeboyz RFC), Moses Amusala (KCB), Joseph Odero(Kabras Sugar RFC), Hillary Mwanjilwa (Kabras Sugar RFC), Ephraim Oduor (Kabras Sugar RFC), Colman Were (Kabras Sugar RFC), Philip Ikambili (Menengai Cream Homeboyz RFC), Oliver Mangeni (KCB), Wilson Kopondo (Kenya Harlequins), Malcolm Onsando (Kenya Harlequins), Simon Muniafu (Resolution Impala Saracens), Andrew Omonde (KCB), George Nyambua (Kabras Sugar RFC), Dalmus Chituyi (Menengai Cream Homeboyz), Elkeans Musonye (Strathmore Leos), Joshua Chisanga (Menengai Cream Homeboyz), Davis Chenge (KCB), Martin Owilah (KCB)
Backs: Samson Onsomu(Resolution Impala Saracens), Mohammed Omollo(Menengai Cream Homeboyz), Sammy Oliech(Resolution Impala Saracens), Darwin Mukidza(KCB), Leo Seje Owade(Resolution Impala Saracens), Peter Kilonzo(KCB), Collins Injera(Stanbic Mwamba), Nelson Oyoo(Top Fry Nakuru RFC), Felix Ayange(Kabras Sugar RFC), William Ambaka(Kenya Harlequins), Tony Onyango(Menengai Cream Homeboyz), William Reeve(Kenya Harlequins)
Team Management: Ian Snook (Head Coach), Murray Roulston(Coach), Wangila Simiyu (Team Manager), Christopher Makachia (Team Physiotherapist), Charles Ngovi (Assistant Coach), Dominique Habimana (Assistant Coach), James Ondiege (Team Doctor) Edwin Boit (Team Analyst)
Simbas Fixtures in France (EAT)
Sunday 11th November vs Canada – 6:30pm
Saturday 17th November vs Hong Kong – 4:00pm
Friday 23rd November vs Germany – 8:00pm