Kisorio, Cheromei Scale Valencia Marathon Podium, Ethiopians Rule
2nd December 2018 - by Mutwiri Mutuota
Gebrselassie and Dido set the men and women course records at the IAAF Gold Label event on Sunday in the eastern Spanish city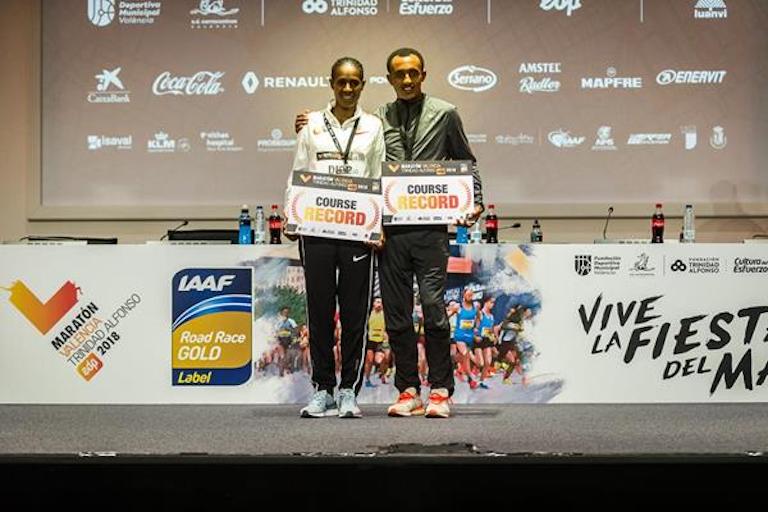 SUMMARY
Kisorio, who served a two-year doping ban finished third in a polished 2:04:03 whilst Cheromei who led the corresponding women's race for long stretches settled for silver in 2:22:10
The decisive moment took place with exactly two kilometres remaining when Gebrselassie moved to the front and quickly opened a winning gap on Kisorio
The winner came 28 seconds shy of his PB set on his debut last January while El Abbassi destroyed his career best to 2:04:43. Kisorio also improved on his lifetime best
At the tape, Dido clocked 2:21:24 to improve on her previous best (2:23:27 in Paris last April) by over two minutes and well under the previous course record of 2:24:48 while Cheromei clocked her second fastest performance
VALENCIA, Spain- Matthew Kisorio and Lydia Cheromei occupied the minor podium places as Ethiopians reigned supreme at Sunday's Maraton Valencia Trinidad Alfonso, an IAAF Gold Label road race, in the eastern Spanish city.
Kisorio, who served a two-year doping ban finished third in a polished 2:04:03 whilst Cheromei who led the corresponding women's race for long stretches settled for silver in 2:22:10.
The headlines were reserved for Ethiopians though, with Leul Gebrselassie, 25, who was running for just the second time over the distance, produced a 2:04:30 effort to finish almost a full minute inside the previous Spanish all-comers record set at this race last year.
In a race of exceptionally strong depth, the top-three athletes dipped below 2:05 and no fewer than six men ran under 2:05:30, a figure only bettered in the Dubai marathon this season.
In the women's race Ethiopia's Ashete Dido obliterated the course record and her previous best in 2:21:14 to take a commanding victory ahead of Cheromei, the leader for much of the race.
Boosted by five pacemakers, the men's opening splits were quite fast with the large heading group going through the five and 10-kilometre points in 14:48 and 29:47 respectively.
By then, all the main favourites – Gebrselassie and the Kenyan pair of Kisorio and defending champion Sammy Kitwara – ran close together in ideal weather conditions of 13C and very slight wind.
The main pacemakers, Kenyans Kilimo Rhonzas and Simon Cheprop, led the lead pack to successive splits of 44:39 for 15 kilometres and 1:02:30 at halfway.
With 11 athletes still in the lead group, hopes were high that the winning time would be well inside the 2:05:15 course record as the leader had built a 16-second margin on last year's split. By then, Kenya's Peter Kirui (2:06:31) was the only major casualty.
The 25-kilometre point was reached in 1:14:13 and shortly afterwards Ethiopia's Deribe Robi became the second notable athlete to fall back while the surprise came from Bahrain's El Hassan El Abbassi, a 2:10:27 athlete who comfortably ran at the back of the leading pack.
Once the pacesetters dropped out, a key movement came in the 33rd kilometre when Kisorio's terrific 2:50-2:52 per kilometre pace could only be followed by Gebrselassie and El Abbassi.
The small Ethiopian incredibly resembled at every step his compatriot Kenenisa Bekele and seemed to travel comfortably at Kisorio's shoulder.
The 35km point was reached in 1:43:39 by the leading trio while Ethiopia's Tsegaye Kebede and the Kenyan tandem of Kitwara and Norbert Kigen ran 15 seconds behind.
With five kilometres remaining El Abbassi lost ground and the race became a fierce fight between Kisorio and Gebrselassie with the long-legged Kenyan setting the pace with the Ethiopian tucked behind.
The decisive moment took place with exactly two kilometres remaining when Gebrselassie moved to the front and quickly opened a winning gap on Kisorio.
While the Ethiopian flew to the finish line to romp home in 2:04:30, a fading Kisorio was overtaken by El Abbassi in the 41st kilometre.
The winner came 28 seconds shy of his PB set on his debut last January while El Abbassi destroyed his career best to 2:04:43. Kisorio also improved on his lifetime best.
Dido prevails
Paced by her fellow Kenyan Simon Kipngetich, 41-year-old Cheromei kicked-off like a bullet in the women's contest as she went through the opening 10km in a quick 33:21 to slice 41 seconds on the previous record split.
On a curious note, the bicycle which travelled alongside the leading woman was piloted by the five-time Tour of France winner Miguel Induráin.
Way back Cheromei travelled with the Ethiopian contingent of Dido, Tinbit Weldegebril, last year's victor Aberu Mekuria, Hiwot Gebrekidan and Meseret Dekebo.
The halfway point took Cheromei a brisk 1:09:32 to strengthen her leadership to 1:20 over the Ethiopians quintet in what seemed to be a decisive advantage as the experienced Kenyan – she was fifth in 5000m at World Championships in Athens 21 years ago! – didn't show any sign of fatigue by then.
However, Cheromei could not maintain her quick rhythm throughout the second half and her margin had dropped to 44 seconds on Dido, a lone second as the rest of her countrywomen had lost ground by the 30km checkpoint.
Dido's chase on Cheromei was thrilling as the gap had reduced to 20 seconds by the 35th kilometre (1:57:14 vs 1:57:34) to secure the course record by a huge margin.
Finally, the 30-year-old Ethiopian caught Cheromei some 37km into the race and by then on she extended her lead on the tiring Kenyan.
At the tape, Dido clocked 2:21:24 to improve on her previous best (2:23:27 in Paris last April) by over two minutes and well under the previous course record of 2:24:48 while Cheromei clocked her second fastest performance.
Ethiopia's Weldegebril completed a classy podium in 2:23:37, a massive career best.
Dido perfectly judged the pace, covering the halves in 1:10:52/ 1:10:22. The same went for Portugal's 36-year-old Ana Dulce Felix who, coming from behind (1:12:50/1:12:32) finished fifth just behind Mekuria, who was fourth in a PB of 2:24:35.
In addition to the main event a 10km road race, an IAAF bronze label event, was held today. Sweden's Jonas Leanderson (28:41) and Ethiopia's Abreha Tsige (32:03) took the spoils and beat the respective event records.
- Report by Emeterio Valiente
Leading results
MEN
1. Leul Gebrselassie (ETH) 2:04:30
2. El Hassan El Abbassi (BHR) 2:04:43
3. Matthew Kisorio (KEN) 2:04:53
4. Tsegaye Kebede (ETH) 2:05:20
5. Norbert Kigen (KEN) 2:05:21
6. El Mahjoub Dazza (MOR) 2:05:26
7. Sammy Kitwara (KEN) 2:06:20
8. Solomon Kirwa Yego (KEN) 2:06:24
9. Deribe Robi (ETH) 2:07:33
10. Benson Seurei (BHR) 2:07:37
WOMEN
1. Ashete Dido (ETH) 2:21:14
2. Lydia Cheromei (KEN) 2:22:10
3. Tinbit Weldegebril (ETH) 2:23:37
4. Aberu Mekuria (ETH) 2:24:35
5. Ana Dulce Felix (POR) 2:25:22
6. Pamela Jepkosgei (KEN) 2:39:45
7. Stephanie Twell (GBR) 2:30:12
8. Valeria Straneo (ITA) 2:30:26
9. Hanna Lindholm (SWE) 2:30:35
10. Demisei Fadisu (ETH) 2:34:21