Kiprop, Chepkoech Rule Stanchart Nairobi International Marathon
Oct 28 - by Erick Ochieng for SportPesa News
Winners of the 42km men and women races master wet conditions, strong fields to take home KSh1.5m each in Kenya's biggest domestic road race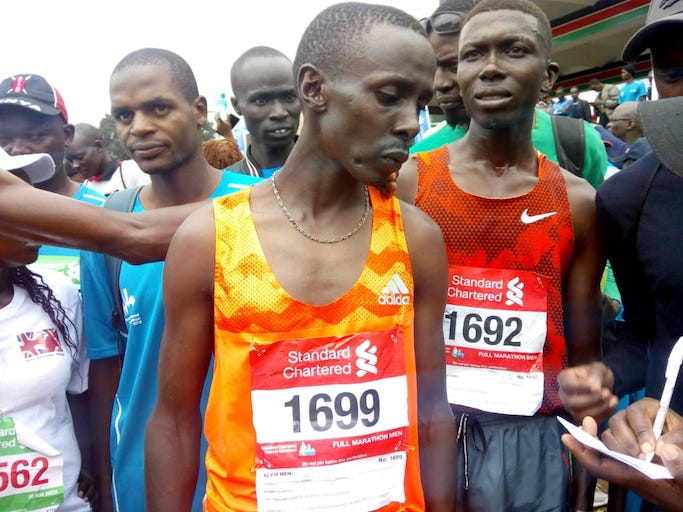 Running under dense clouds and intermittent early morning light showers, Kiprop and Chepkoech took the coveted honours in the unofficial times of 2:17:00 and 2:35:00 in that order to each bag KSh1.5m (USD15,000) in prize money
In the 21km half marathons, Matthews Kiprotich (1:04:57) took the men's victory as Beijing Marathon winner, Valerie Aiyabei (1:12:06) retained her women's title at the event whose start and finish was adjusted due to the unavailability of the Nyayo National Stadium
For Chepkoech, a debut over the classic distance at the country's biggest domestic road race brought home the perfect reward after trouncing a potent field for the top women's crown having finished fourth in the Chemususu Half Marathon this year
NAIROBI, Kenya- The 2017 Los Angeles Marathon winner Elisha Kiprop and Josephine Chepkoech mastered overcast conditions and biting cold to take the men and women 42km titles at the 2018 Stanchart Nairobi International Marathon on Sunday.
Running under dense cloud cover and intermittent early morning light showers, Kiprop and Chepkoech took the coveted honours in 2:14:19 and 2:33:11 in that order to each bag KSh1.5m (USD15,000) in prize money at the event that drew thousands of professional and fun runners in the punishing elevation of the Kenyan capital.
In the 21km half marathons, Matthews Kiprotich (1:04:57) took the men's victory as Beijing Marathon winner, Valerie Aiyabei (1:12:06) retained her women's title at the event whose start and finish was adjusted due to the unavailability of the Nyayo National Stadium.
"I was second in this race in 2014, I'm glad that I won today after four year absence," Kiprop said after his victory that remarkably meant there was no repeat men's winner at the event first run in 2003.
"I shook off my opponents at the 30km mark before leading from then on to the finish line. I felt bad when I came 22nd in 2011, so I promised to win this race one day, this is part of the reason I left US to set base in Eldoret where I trained for several weeks ahead of the competition," the four-time Grandma Marathon (USA) winner added.
"I had seasoned rivals but my determination paid off. I will maintain fitness over the Christmas holidays as I'm looking forward to other races in America next year," underlined Kiprop who broke down after the victory.
For Chepkoech, a debut over the classic distance at the country's biggest domestic road race brought home the perfect reward after trouncing a potent field for the top women's crown having finished fourth in the Chemususu Half Marathon last month.
"Emerging champion today is such a great surprise. I was not expecting victory because of the seasoned athletes who registered. I'm looking forward to defend this title next year," the Kapsabet-based new champion emphasised.
Favourable weather
"I was excited at the same time fearful ahead of the contest. I was not sure if I would cover all the 42km. The victory has proved to me that you can achieve anything as long as we set our mind on it.
"My dream in 2019 is to get a good manager who will help me to secure bigger races abroad," Chepkoech told reporters.
Half marathon winners, Kiprotich and Aiyabei were also basking in the glow of their victories that came with KSh200,000 (USD2,000) each in prize money.
"I retained the title because the weather was favourable and the course was flat and it worked to my advantage," explained Iten based Aiyabei who came first at the Kabarak Marathon early this year before finishing second at Nagoya and Gifu competitions in Japan.
"So, I'm happy to have closed 2018 in style now praying hard to make the national team cut for the IAAF World Championships in Doha, Qatar next year," accentuated Aiyabei.
Aiyabei shook the world when she set unofficial world record in women's 30Km (1:38:19) in Prague, Czech Republic in May last year.
This year's edition of Standard Chartered Nairobi Marathon attracted over 20 elite athletes including the 2016 Verona Marathon runners-up, Abraham Limo, 2017 Standard Chartered Hong Kong Marathon second finisher, Julius Kipyego Keter and Julius Kiplagat Korir.
Others were 2016 Nottingham Marathon champion, Barnaba Kipkoech, 2017 Napoli City Marathon Half marathon winner, Michael Kipkemboi, 2012 Moshi Half Marathon victor, Henry Letting and Kenneth Cheserek who triumphed in the 2015 Nike Discovery Half Marathon.
The races (21km, 10km, 42km, 21km wheelchair (all men and women) and the 5km family run started and ended at the Nairobi Railways Club following closure of Nyayo Stadium that is currently under repairs.
Leading results (Full marathon)
Men
1.Elisha Kiprop 2:14:19
2.Julius Kiprono 2:15:01
3.Patrick Kibet 2:15:09
4.Mathew Kemboi 2:15:43
5.David Kipkoech 2:15:47
6.Kiplagat Birech 2:16:08
7.Wilfred Kirwa 2:16:29
8.Kimayo Cherop 2:16:35
Women
1.Josephine Chepkoech 2:33:11
2.Cynthia Jerop 2:34:12
3.Joy Loyce 2:34:53
4.Rholex Jelimo 2:39:38
5.Lilian Jebitok 2:42:23
6.Naomi Jepkorir 2:47:57
7.Viola Jepchirchir 2:49:25
8.Sylvia Jemeli 2:58:26