Kiplagat To Challenge Ethiopia Teenage Sensation Degistu In Kolkota
Nov 29 - by SPN Correspondent for sportpesa news
Fellow Kenyan Kiptanui out to bounce back to victory at the December 16 Tata Steel 25K showdown in India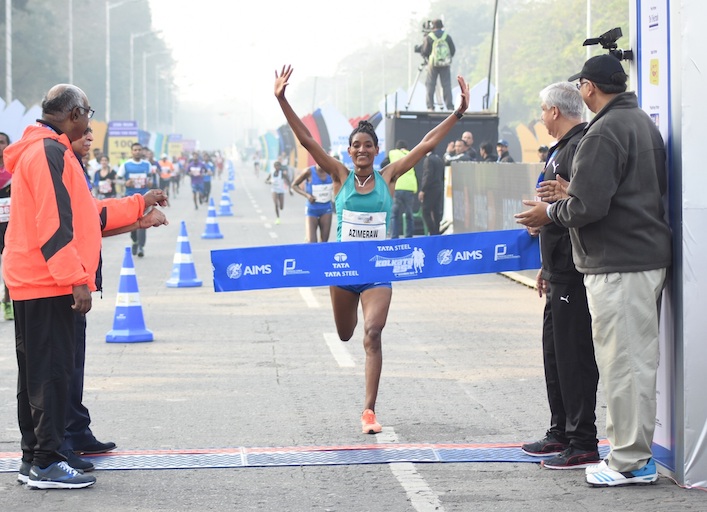 Race promoters Procam International have signed up a high-quality international field for the world's only IAAF Label Road Race over the 25km distance with the young Ethiopian's hold on the women's title expected to face a stern test
Kiplagat brings a rich CV to the field that includes, gold medals at the 2009 IAAF World Cross Country Championships and the 2010 IAAF World Half Marathon Championships besides breaking the world half record twice
The Tata Steel Kolkata 25K is quickly establishing itself, as possibly the most important race over this distance on the international calendar
KOLKATA, India- Former world half marathon record holder, Florence Kiplagat will face-off with reigning titleholder, Degitu Azimeraw of Ethiopia at the Tata Steel Kolkata 25K on December 16.

Race promoters Procam International have signed up a high-quality international field for the world's only IAAF Label Road Race over the 25km distance with the young Ethiopian's hold on the women's title expected to face a stern test.
Kiplagat brings a rich CV to the field that includes, gold medals at the 2009 IAAF World Cross Country Championships and the 2010 IAAF World Half Marathon Championships besides breaking the world half record twice.
Now 31, Kiplagat will come to Kolkata with a burning desire to do well because 12 months ago, she was signed up and intending to run in the TSK25K but was injured shortly before in the Chicago Marathon and not fit enough to be on the start line in
Kolkata.
In fact, Kiplagat did not race for a year until she finished fourth at this year's Chicago Marathon last month.
Although this will be her first trip to Kolkata, it is far from Kiplagat's first time on Indian soil as she is a two-time former winner of the Airtel Delhi Half Marathon but her pedigree will come up against the dazzling Ethiopian teenager.
Last year, the 18-year-old Degistu surprised everyone by taking the honours in a TSK25K course record of 1:26.01 on her first international race.
The question will be, can the prodigious teenage Ethiopian talent improve on that mark when she returns to Kolkata next month?
In 2018, Degistu has shown that her win in the City of Joy was no fluke with three excellent half marathon performances, including improving her personal best to 1:06:47 at the RAK Half Marathon in February and later winning the famous Gifu Half Marathon in Japan.
The target for the men's field is the Indian all-comers best and course record of 1:13:48 set by Ethiopian distance running legend Kenenisa Bekele last year, the first year since the TSK25K was inaugurated in 2014 where top overseas runners came to challenge the leading Indian men and women.
Heading the men's field this year is Bekele's compatriot, Ethiopia's Birhanu Legese, who will be a familiar face to Indian athletics fans as he is a two-time former Airtel Delhi Half Marathon champion and he has run no less than six times in Procam International races, most recently in May this year when he was second in the TCSW10K in Bengaluru.
Kiptanui bounce back
Legese will face Kenya's Eric Kiptanui, who can boast of being the third-fastest half marathon runner of 2018 after his 58:42 run in Berlin earlier in the year.
Kiptanui will be aiming to bounce back to form after injury kept him out of this year's Airtel Delhi Half Marathon.
Into the bargain, the men's field also contains Tanzanian marathon record holder Augustino Sulle who was third in the TSK25K in 2017.
The TSK25K course goes along the historic Red Road that runs through the heart of Kolkata, as well as many other familiar sights of the city including Victoria Memorial and the Eden Gardens.
"Procam International has once again brought some of the best road runners in the world to India, in its bid to put on spectacular races that everyone, everywhere, can relish. After successful events in Mumbai, Bengaluru and Delhi during 2018, it is Kolkata's turn to take to the world stage," commented Vivek Singh, Joint Managing Director of Procam International.
"It's great to have Azimeraw return to defend her title and a privilege to have international stars like Birhanu Legese and Florence Kiplagat back in India again. Like last year, I think we will see some thrilling racing and outstanding performances," he added.
The Tata Steel Kolkata 25K is quickly establishing itself, as possibly the most important race over this distance on the international calendar.
-Report by Procam International
INTERNATIONAL ELITE FIELDS
Men
Birhanu Legese (ETH)
Eric Kiptanui (KEN)
Augustino Sulle (TAN)
Amos Kipruto (KEN)
Samson Gebreyohannes (ERI)
Nathan Ayeko (UGA)
Fentahun Hunegnaw (ETH)
Women
Degitu Azimeraw (ETH)
Florence Kiplagat (KEN)
Failuna Matanga (TAN)
Sutume Asefa (ETH)