Kipkorir, Cherono Romp To Kenyan Singapore Marathon Double
9th December 2018 - by Mutwiri Mutuota
Berlin 2009 women 5000m silver winner, Sylvia Kibet takes bronze at Saitama, Japan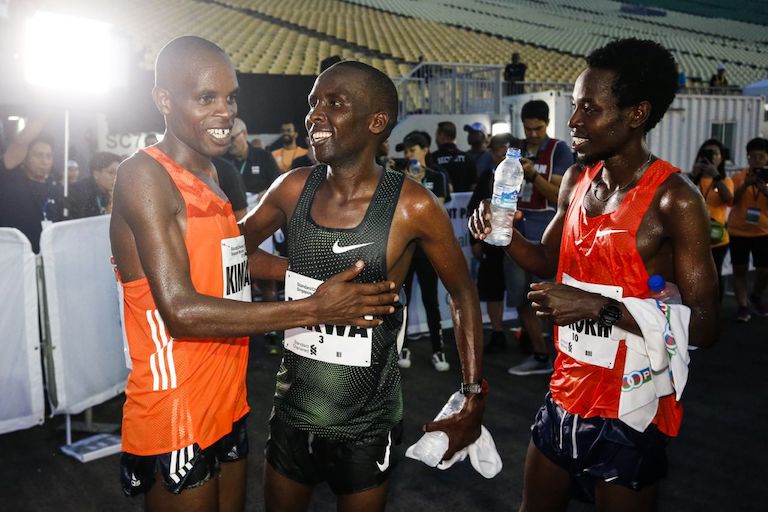 SUMMARY
Kipkorir clocked 2:12:20 to claim a convincing victory, his first in three marathons this year. Felix Kirwa was a distant second in 2:13:43 with Andrew Kimtai third in 2:14:30
Former women 5000m silver medallist, Sylvia Chebet, closed the podium in the Saitama Marathon where Bahrainis took the first two positions
Morocco's Mohammed Ziani and Tigist Girma of Ethiopia beat the rain and cold weather to take top honours at the Guangzhou Marathon, an IAAF Gold Label road race
SINGAPORE, Singapore- Joshua Kipkorir and Priscah Cherono led podium sweeps for Kenya at the 17th running of the Standard Chartered Singapore Marathon, an IAAF Gold Label road race, on Sunday.
Kipkorir clocked 2:12:20 to claim a convincing victory, his first in three marathons this year. Felix Kirwa was a distant second in 2:13:43 with Andrew Kimtai third in 2:14:30.
In the women's contest, Priscah Cherono, 38, reached the line in 2:32:12, well clear of pre-race favourite Stella Barsosio, who clocked 2:33:23. Further back, Jane Jelagat was third in 2:35:38.
Former women 5000m silver medallist, Sylvia Chebet, closed the podium in the Saitama Marathon where Bahrainis took the first two positions.
Sprinting away from Shitaye Eshete in the final few hundred metres, Dalila Gosa claimed victory by four seconds with 2:25:35 against 2:25:39 with the Kenyan further adrift for third in the IAAF Bronze Label race, clocking 2:28:38.
"I wanted to win and as expected I was able to win," said Gosa whose performance was the second fastest on this course.
Major casualty
Three pace makers – Diana Kipyokei, Stacy Ndiwa and Kaori Yoshida – did a good job keeping the pace honest, clocking between 17:20 and 17:30 per each 5km segment in the early stages of the race.
The first major casualty was Ethiopian Fatuma Sado, who, hit by sever discomfort at the 20km aid station, was forced to drop out.
That left five runners --Gosa, Eshete, Kibet and Saki Tokoro and Marie Imada of Japan-- plus three pace makers at the front.
A couple kilometres later Tokoro and Imada fell back, leaving three in contention until the 35th kilometres when Kibet dropped back.
Upping the tempo, Eshete tried hard to leave Gosa behind in the waning stages, but she was able to hang on and a few hundred metres from the finish she unleashed her own sprint to secure the four-second victory and relegate Eshete to runner-up in this race for the second consecutive year.
Morocco's Mohammed Ziani and Tigist Girma of Ethiopia beat the rain and cold weather to take top honours at the Guangzhou Marathon, an IAAF Gold Label road race.