Kipchoge, Cherono Named 2018 AIMS Best Marathoners
Nov 08 - by SPN Correspondent for sportpesa news
Meanwhile, Stanchart Nairobi winners, Kiprop, Chepkoech receive Kibo bikes on Thursday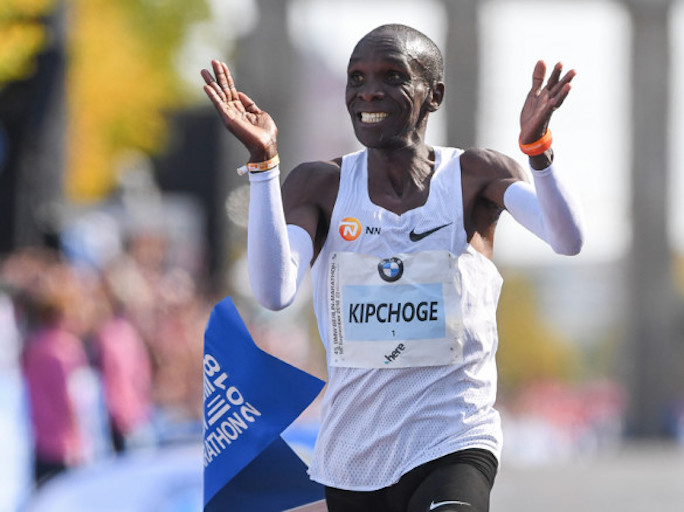 The AIMS athletes' nomination committee has decided that for this year (October 1, 2017 to September 30, 2018) Kipchoge and Cherono were the outstanding candidates for the awards based on their performances over the past 12 months
Cherono won the Berlin Marathon in a world-leading time of 2:18:11. She finished fourth at the London Marathon earlier in the year in 2:24:10
Kiprop who ran 2:14:19 for victory to become the 15th different winner of the event and Chepkoech who stopped the timer at 2:33:31 for the women's crown, walked home on Thursday with Kibo K 150 motorcycles
ATHENS, Greece-The world running organisation, the Association of International Marathons and Distance Races (AIMS), has named Kenya's Eliud Kipchoge and Gladys Cherono as the male and female winners of the AIMS Best Marathon Runner Awards for 2018.
The AIMS athletes' nomination committee has decided that for this year (October 1, 2017 to September 30, 2018) Kipchoge and Cherono were the outstanding candidates for the awards based on their performances over the past 12 months.
Kipchoge is undefeated in the marathon in 2018, winning in London and Berlin. His victory in Berlin was in a world record of 2:01:39, taking 78 seconds off the previous record – the biggest single improvement on the world record for more than 50 years.
Cherono won the Berlin Marathon in a world-leading time of 2:18:11. She finished fourth at the London Marathon earlier in the year in 2:24:10.
The achievements of the two Kenyan athletes will receive global recognition during the AIMS 'Best Marathon Runner' Awards Gala in Athens, Greece on November 9.
Meanwhile, Elisha Kiprop and Josephine Chepkoech who took the top honours in the men and women 42km races at the 2018 Stanchart Nairobi International Marathon have another mobility option after they were each rewarded with motorcycles.
Kiprop who ran 2:14:19 for victory to become the 15th different winner of the event and Chepkoech who stopped the timer at 2:33:31 for the women's crown, walked home on Thursday with Kibo K 150 motorcycles.
They received the keys to their motorcycles from Mark Wanzala the Global Aftersales Manager from Kibo at the Kibo production plant on Airport North Road Nairobi.
"Seeing is Believing which was this year's theme for the marathon is very close to our Corporate Social Initiatives key pillars hence it was very important for us to attend and sponsor.
"We strongly believe in supporting local talent and anything made and developed in Kenya which is quite similar to Kibo Motorcycles that are developed for the Kenyan terrain, if all local manufacturers support each other this country will go far," Wanzala remarked.
The company invested in test-development of its K150 bike in Kenya to ensure it meets the highest safety standards and demands of local road conditions.
"As a result, the bike offers superior performance in safety, durability, reliability, and efficiency to maximize return on investment for the end user," a statement from the manufacturers detailed.
-Additional reporting by www.iaaf.org