Kenyans Hail 'Mashemeji Derby' UEFA Champions League Final
9th May 2019 - by Mutwiri Mutuota
Excitement on social media reaches fever pitch at the prospect of Harambee Stars captain Victor Wanyama facing Divock Origi in June 1 decider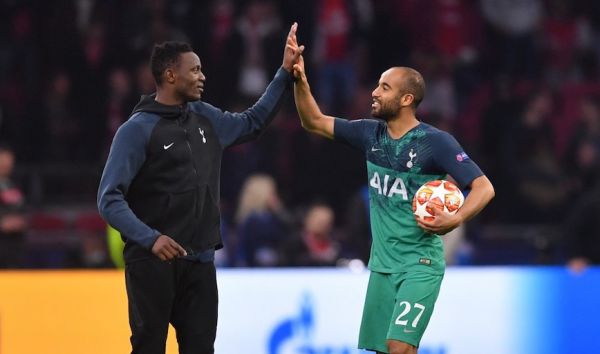 SUMMARY
Immediately, excited Kenyans poured on social media sites to hail the decider of European club football's showpiece as the 'Mashemeji Derby' simply because their son, Victor Wanyama is in line to face Belgian Divock Origi who has roots in the country
Jubilant compatriots took to the same platform to remind the world that the English battle for European supremacy will be a 'Kenyan affair.'
With the excitement on the Champions League final whipped to a crescendo due to the exploits of Wanyama and Origi, you can be sure the country will stop on June 1 when Liverpool take on Spurs
NAIROBI, Kenya- Whenever there is something trending on social media, trust Kenyans to be a huge part of it as one of the most eminent netizens on the planet.
On Wednesday night, the second UEFA Champions League semi final miracle in succession unfolded at the Johan Cruyff Arena in Amsterdam when Lucas Moura sunk a 96th minute winner for his hat trick to send Tottenham Hotspur FC to the June 1 final against Liverpool FC at the expense of Ajax Amsterdam FC.
Immediately, excited Kenyans poured on social media sites to hail the decider of European club football showpiece as the 'Mashemeji Derby' simply because their son, Victor Wanyama is in line to face Belgian Divock Origi who has roots in the country.
Besides that, the Spurs hero of the hour was christened 'Lucas Mwaura' with the new tag trending on Twitter throughout Thursday, many claiming he hails from Kiambu County.
MUST READ: The Origi Magic: Like Father Mike, Liverpool's Divock Stars In Epic Comeback
Wanyama is the Harambee Stars captain while Divock's father; Michael Origi Okoth was the main striker for the national team for well over a decade from the mid 90s to 2004 when he last played at the Tunisia Africa Cup of Nations.
Needless to say, the miraculous qualification of Liverpool and Spurs captured the imagination of local football fans that joined millions of other social media users in dropping their jaws to the floor.
It was not lost to many here that Wanyama is on the brink of emulating his elder brother, McDonald Mariga, who won the Champions League as part of the all-conquering Inter Milan side of 2010 that swept the treble under former Manchester United FC manager, Jose Mourinho.
"God is Great. We did it. UCL Final. COYS (Come on You Spurs)," Wanyama celebrated in two tweets following their dramatic 3-2 victory in Amsterdam that saw them progress to the Madrid final on the away goal rule following a 3-3 stalemate on aggregate.
MUST READ: Moura Hat Trick Fires Spurs To Liverpool Champions League Final
The Stars captain who was withdrawn in the second half before his team staged the roaring comeback decorated his posts with photos of him in action as well as the prized shot where he and Spurs hero Moura pointed to the skies to thank the Almighty.
Jubilant compatriots took to the same platform to remind the world that the English battle for European supremacy will be a 'Kenyan affair.'
"First time for two Kenyans to play against each other in a UCL final. Wanyama versus Origi," Eugene Teddy cheered on Twitter ignoring the fact the latter wears the colours of the Red Devils of Belgium after turning down an attempt to declare for his nation of origin in 2013.
MUST READ: Marathon King Kipchoge Backs Spurs To Make Champions League Final
Higher echelons
"Victor Wanyama of Tottenham Hotspurs will be the second Kenyan in a UEFA Champions League Final after his brother, MacDonald Mariga, who won with Inter Milan in 2010.
"The 2019 finals will be played in Madrid on the anniversary of Madaraka Day," the History KE handle proclaimed in ringing in the fact the showpiece will be held on the day Kenya marks every year to celebrate attaining self rule from Britain in 1963.
"Mariga became the first Kenyan to play and win the Champions League trophy with Inter Milan May 22, 2010 which coincidentally was also played in Madrid.
"Wanyama will become the second Kenyan to play in the Finals on June 1, 2019 in Madrid," the younger sister of the Tottenham midfielder, Cynthia Wanyama tweeted.
The praise caught on even at the higher echelons of the country's power.
MUST READ: Three Things We Learned From Ajax Versus Tottenham Five-Goal Thriller
"Congratulations to Victor Wanyama and Divock Origi for playing starring roles for Tottenham Hotspur and Liverpool respectively in a successful Champions League campaign.
"With the teams facing improbable tasks of reaching the final of Europe's elite competition, the lads, especially Origi, displayed fierce competitiveness, devastating finishing to complete an epic turnaround and crown victory. All the best in the Madrid showpiece," Deputy President, William Ruto wrote on Facebook.
Congratulations Victor Wanyama of Tottenham Hotspur for you and your team's incredible achievement in qualifying for your first ever UEFA Champions League final. Kenya is behind you in this feat.
Go and conquer. UCL final," Kitui Governor, former Cabinet Minister and 1997 General Elections presidential candidate, Charity Karuki Ngilu added.
MUST READ: Durant Injured As Warriors Beat Rockets To Grab Lead
Social media wags branded the Liverpool, Spurs showdown as 'Mashemeji Derby' because the Origis hail from Nyanza where SportPesa Premier League champions, Gor Mahia FC draw most of their fan base with the Wanyamas with roots in neighbouring Western where arch rivals AFC Leopards SC claim as a backyard.
"Champions League this time round will be Mashemeji derby in Spain (Origi vs Wanyama)," Collins Okoth cooed on Facebook.
Moura, sorry, Mwaura was also a hot topic on national social media space as well after the Brazilian attacking midfielder broke the hearts of brave Ajax.
"Kenyans are well represented in the premier league. Lucas Mwaura - Spurs, Victor Wanyama - Spurs, Thuo Walcott - Arsenal, Adrian Mutua - Chelsea, Divock Origi- Liverpool. London clubs have had a thing for Kenyan players for quite a while now," Musambula posted.
"This man Lucas Mwaura should be named in Harambee stars first 11," Sam Nderitu quipped on the same platform.
"We have three Kenyans in champions league final Origi, Wanyama and Lucas Mwaura from Kiambu County," Eddy James Rubani wrote on Facebook.
With the excitement on the Champions League final whipped to a crescendo due to the exploits of Wanyama and Origi, you can be sure the country will stop on June 1 when Liverpool take on Spurs.
Liverpool's Belgian striker Divock Origi (R) celebrates after scoring their fourth goal during the UEFA Champions league semi-final second leg football match between Liverpool and Barcelona at Anfield in Liverpool, north west England on May 7, 2019. PHOTO/AFP