Kenya Ready For Elgon Cup Defence As Kisumu Handed Hosting Rights
29th March 2019 - by Erick Ochieng
Simbas defeated Uganda Cranes on a 72-38 aggregate to lift the tournament at the RFUEA Grounds in Nairobi on July 7, 2018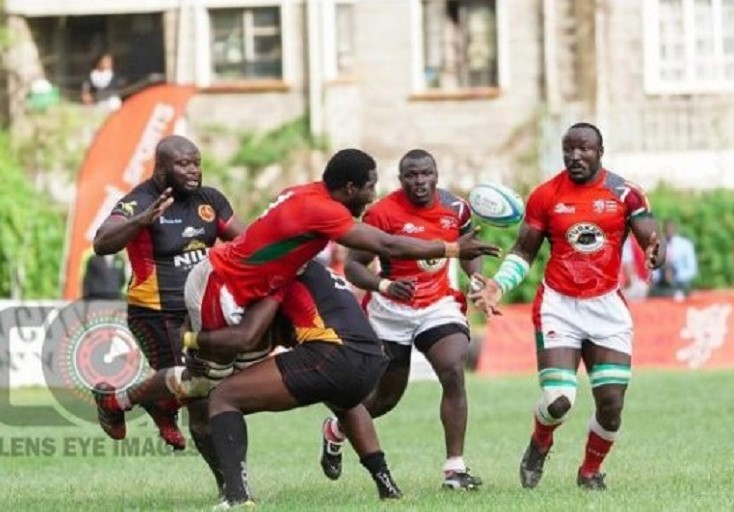 SUMMARY
Kenya Rugby Union (KRU) confirmed on Friday that Simbas will start preparations for the tournament upon completion of Kenya Cup play-offs whose finals will be held on May 11
The federation has given Kisumu City the green light to host this year's Elgon Cup at Mamboleo Show Grounds. Kenya will stage the first leg on June 22 before return leg in Kampala on a later date
While welcoming the kind gesture, Kisumu County Governor, Prof. Anyang' Nyongo said  his government is out to promote sports in the Lakeside City


KISUMU, Kenya- Kenya Simbas are scheduled to start training for the annual Elgon Cup which the country will start to defend in June.

Kenya Rugby Union (KRU) confirmed on Friday that Simbas will start preparations for the tournament upon completion of Kenya Cup play-offs whose finals will be held on May 11.
"We are now headed into the penultimate round of the regular season that will be followed by the last match day on April 6.
RECOMMENDED READ: SportPesa Racing F1 Team Equipped To Make It Count In Bahrain
"We plan to assemble the team to play Uganda in Elgon Cup after the play-off final," KRU Vice Chairman, Thomas Opiyo, underlined.
The federation has given Kisumu City the green light to host this year's Elgon Cup at Mamboleo Show Grounds. Kenya will stage the first leg on June 22 before the return leg in Kampala on a later date.
"In 2018, Kisumu brought forward their bid to host this specific fixture and KRU has given them the go ahead. Having the match take place in Kisumu is part of KRU strategy to decentralize international fixtures," Opiyo highlighted.
RECOMMENDED READ: Big Confed Cup Blow: CAF Suspends 5 Gor Stars, Coach
"Other Clubs are also encouraged to tender in their bids for high profile championships going forward to help boost infrastructures in their counties as we have seen happen with Dala Sevens in Kisumu," Opiyo noted.
While welcoming the kind gesture, Kisumu County Governor, Prof. Anyang' Nyongo said his government is out to promote sports in the Lakeside City.
"I am excited to have Elgon Cup staged in Kisumu in June. I want to warmly welcome Uganda Rugby Union and fans at large here during the event," Nyongo said.
RECOMMENDED READ: Leopards Out To Extend Good Run In SportPesa Shield Round 16
Kenya Simbas defeated Uganda Cranes on a 72-38 aggregate to lift the tournament at the RFUEA Grounds in Nairobi on July 7, 2018.