Kenya Grieves Her Abandoned Pioneering Olympian Nyantika Maiyoro
Feb 25 - by Mutwiri Mutuota for SportPesa News
Athletics legend succumbed on Sunday night in a Kisii hospital as NOCK, former Prime Minister Raila Odinga lead tributes to the fallen legend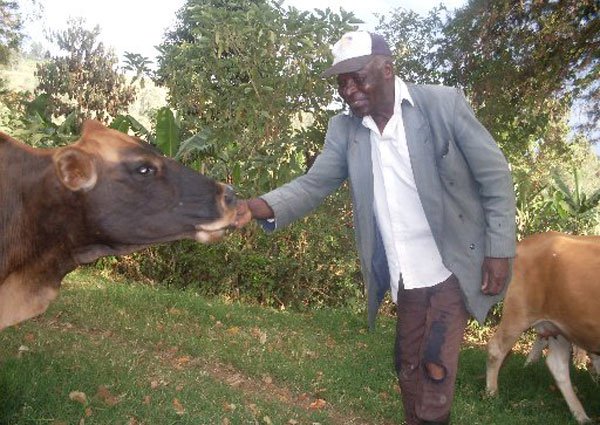 Maiyoro died on Sunday night at the Christamarianne Hospital in Kisii County, after going into a coma earlier in the day when he developed breathing problems according to his son, Kennedy Nyantika
Maiyoro has been ailing for a number of years and pleas to the national and county governments to come to his aid in his latter part of life fell largely on deaf ears, apart from the occasional settling of medical bills
Born in 1931 in Kiogoro, Kisii, Maiyoro made headlines when he won on his international debut at the 1953 Indian Ocean Games in Madagascar, joining the race from behind when other starters had run for 100m before he stormed past the competition to win the 3000m title
NAIROBI, Kenya- As the country continues to grieve the passing of pioneering Kenyan Olympian, Nyantika Maiyoro the sad welfare of national sporting legends has come to the fore yet again.
Maiyoro died on Sunday night at the Christamarianne Hospital in Kisii County, after going into a coma earlier in the day when he developed breathing problems according to his son, Kennedy Nyantika.
Tributes have been pouring in with the National Olympic Committee-Kenya (NOCK) hailing the fallen great as "inspiring athlete who placed Kenya at the global map and opened the way for our athletics and, indeed sporting prowess."
READ ALSO: This Is NOCK's Kind Gesture To Ailing Kenyan Track Superstar
"Just a week ago, when we learnt of his ailment, we had pledged to support him and the family in the medical bills.
"This development, therefore, is a shock to us and assure them that we will stand with them in solidarity during this moment of great grieving," a statement from NOCK President and two-time Olympics silver medallist, Paul Tergat read.
"I join fellow Kenyans in mourning Mr Nyantika Mayoro who passed on today. We have lost a pioneer athlete who put the country on the global sports map through his remarkable performance in Olympics in 1956 and in the years that followed," former Prime Minister, Raila Odinga, mourned.
Maiyoro has been ailing for a number of years and pleas to the national and county governments to come to his aid in his latter part of life fell largely on deaf ears, apart from the occasional settling of medical bills.
Sadly, for a man who broke frontiers for a country to establish unparalleled dominance in distance running, Maiyoro who breathed his last at 88, also embodies the neglect sporting icons of a nation, a fact alluded to by Tergat.
READ ALSO: Football Fans Gitahi, Sumaili, Kirui Split KSh26.4m SportPesa Midweek Jackpot
"It is once again a reminder to us all, particularly those in authority, of the urgent necessity to find a way of addressing the welfare of our athletes and, especially those who have retired from their active careers in the short and long term.
Strategic Plan
"NOCK is already addressing this under our on going Strategic Plan development and hope that all stakeholders will find leadership and collaborate in this urgent area of our athletes' lives," the former world marathon record holder and five-time IAAF World Cross Country champion urged.
Interior Cabinet Secretary, Dr. Fred Matiang'i was among the senior figures in Government who had joined NOCK in pledging to come to the aid of the ailing Maiyoro last week but that may have come too little, too late.
READ ALSO: Oktay Content With Gor Mahia's CAF Confed Cup Home Performance
The photo of Maiyoro dressed in tattered trousers an aged coat and sun beaten cap while feeding his cow published in local media on Monday as tributes poured in perhaps best illustrates how far from glory he had fallen once he retired from athletics.
Yet, he was the captain of the first Kenyan Kenyan team to the Olympics in 1956 when the XVI Olympiad was held in Australia.
Born in 1931 in Kiogoro, Kisii, Maiyoro made headlines when he won on his international debut at the 1953 Indian Ocean Games in Madagascar, joining the race from behind when other starters had run for 100m before he stormed past the competition to win the 3000m title.
READ ALSO: Kenyan Rugby Mourns Passing Of Impala's Richard Sindindi Otieno
He then represented Kenya at the 1954 Commonwealth Games held in Vancouver, Canada as the country competed in athletics for the very first time.
Upon his retirement from the sport in 1964, the year the nation became a Republic, Maiyoro worked as a veterinary scout by the colonial officers, then as Nyamira District sports officer and later as the manager of Kisii Municipal stadium. He completely retired from work in 2002.
It is not too late for authorities in ensuring his legacy lives on by rolling out a welfare programme to take care of his peers who continue to wallow in poverty in a country where architects of grand corruption are feted and often die in ill-gotten wealth.