Kenya Cup: Champions KCB Out For Blak Blad, Nondies Face Kabras
Jan 16 - by Erick Ochieng for SportPesa News
The bankers head to the encounter buoyed by a 50-3 thrashing of newcomers Mean Machine last weekend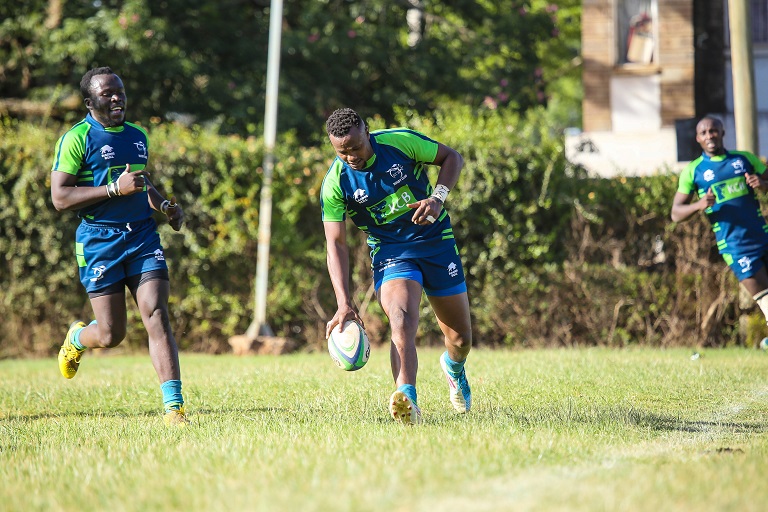 Defending champions, Kenya Commercial Bank RFC (KCB), are looking forward to extend their good run in the Kenya Cup as they plan to take on hosts Blak Blad
KCB captain, Curtis Lilako says their aim is to defend the title unbeaten, a reason which has made them concentrate on one fixture at a time
Nakuru Athletics Club will be the location for the crunch tie between 10th placed Menengai Oilers RFC and Strathmore Leos RFC (12th) to be followed by another mid-table clash involving hosts Top Fry Nakuru RFC and Menengai Cream Homeboyz RFC

NAIROBI, Kenya- Defending champions, Kenya Commercial Bank RFC (KCB),are looking forward to extend their good run in the Kenya Cup as they plan to take on hosts Blak Blad at the Kenyatta University Grounds in Nairobi this Saturday.
KCB assistant head coach, Mshila Lilako, is leaving nothing to chance in the contest despite his side being the favorites.
"We all know everyone is out to ruin our title defence, so we have to train harder and make sure that we outfox the opponents," Lilako underlined.
The bankers head to the encounter buoyed by a 50-3 thrashing of newcomers Mean Machine last weekend,but Lilako is not taking any pride from the huge victory.
"We are back in training at Ruaraka where we are correcting some of the mistakes we made in our last game. We have to be flawless if we want to retain the cup this season," Lilako underscored.
KCB captain, Curtis Lilako says their aim is to defend the title unbeaten, a reason which has made them concentrate on one fixture at a time.
"We are wary of Blak Blad after seeing the way they gave Homeboyz RFC a run for their money at Jamhuri Grounds the other week, we will strive not to give them room to make any meaningful chances on our end," the skipper highlighted.
The other game, which will be part of the double header fixture at the venue, pits unbeaten Kabras Sugar RFC against Nondies RFC.

Nondies moved up a place in the standings after a slim 22-20 win over Resolution Impala Saracens RFC at the RFUEA Grounds last week and their hope is to replicate that against leaders Kabras who have opened a five-point margin at the top, with KCB in second.
Nakuru Athletics Club will be the location for the crunch tie between 10th placed Menengai Oilers RFC and Strathmore Leos RFC (12th) to be followed by another mid-table clash involving hosts Top Fry Nakuru RFC and Menengai Cream Homeboyz RFC.
Kenya Cup Week 7 (Saturday) Fixtures :
Menengai Oilers RFC vs Strathmore Leos RFC - 2:00pm NAC
Top Fry Nakuru RFC v Menengai Cream Homeboyz RFC - 4:00pm NAC
Blakblad RFC v KCB RFC - 4:00PM Kenyatta University
Mean Machine RFC v Kenya Harlequins RFC - 4:00pm University of Nairobi
Stanbic Mwamba RFC v Resolution Impala Saracens RFC - 4:00pm Railways Club
Nondies RFC v Kabras RFC - 4:00PM Jamhuri Grounds
Championships Week 7 (Saturday) Fixtures :
Resolution Kisii vs Ngong Warriors - 4pm Gusii Stadium
Western Bulls vs Mombasa - 4pm Bull Ring Kakamega
Kisumu vs CUEA Monks - 4pm Kisumu Poly
UOE vs USIU - 4pm UOE
Masinde Muliro vs Egerton Wasps - 4pm Kakamega ASK