Kenya, Uganda Set To Renew FIM Motorsport Rivalry At Jamhuri Park
Dec 04 - by Erick Ochieng for SportPesa News
Lady rider, Maxine Wahome, is expected to lead a strong local challenge in the second leg of the competition in the MX2 Class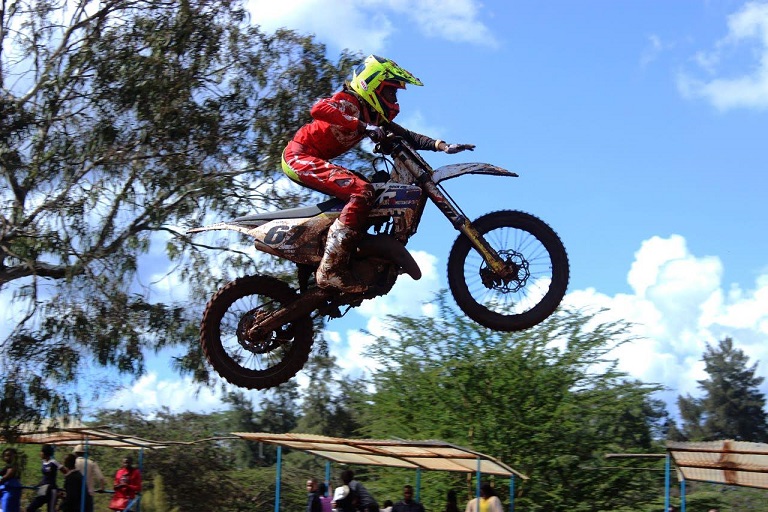 The event is crucial to Kenyan riders as

it is part of the ninth and last round of

Kenya Motocross Championship circuit
Experienced Ngugi Waweru will be Kenya's sole participant in the MX1 Class.Waweru has taken part in a number of continental and regional motocross events which gives him an edge over other

rivals
All contenders

will

experience the track on Saturday ahead of the first heat

later in the day with the last two heats

will be contested on Sunday
NAIROBI, Kenya- A fierce rivalry is in the offing between Kenya and Uganda in the second leg of the Fédération Internationale de Motocyclisme (FIM) Central Africa Motorsport challenge at Jamhuri Park in Nairobi this weekend.
The event is crucial to Kenyan riders as it is part of the ninth and last round of Kenya Motocross Championship circuit.
Kenya is seeking to overturn Uganda's lead in the regional showpiece following the latter's victory in the opening round held at Busika racetrack in Kampala early in the year.
Maxine Wahome will lead the Kenyans in the MX2 Class with her KTM 250 machine. Other local competitors in the category are Elias Sherman, Ethan Nyachae and Rolf Kihara.
Gisa Benzinge, Thuka Waweru, Hannah Nyambura, Jonross Nyachae and Dylan Hatanga will mount the challenge for the Pee Wee Class. Kenyans in the MX50 Class are Atete Benzinge, Wahome Mutai, Trey Garner and Zawadi Nyachae.
Experienced Ngugi Waweru will be Kenya's sole participant in the MX1 Class. Waweru has taken part in a number of continental and regional motocross events which gives him an edge over other rivals.

Uganda is expected to field the Orland and Van Pee siblings who gave Kenya a hard time in Busika.
The two families are no strangers to the Jamhuri Park racetrack having dominated previous regional extravaganzas at the location.
Team Kenya have been upping training at the venue ahead of the contest while Team Uganda is expected in the country later in the week.
All contenders will experience the track on Saturday ahead of the first heat later in the day. The last two heats will be contested on Sunday with the current torrential rains pounding the city expected to spice up the occasion.
Team Kenya Riders
Pee Wee Class: Gisa Benzinge, Thuka Waweru, Hannah Nyambura, Jonross Nyachae, Dylan Hatanga.
MX50 Class: Atete Benzinge, Wahome Mutai, Trey Garner, Zawadi Nyachae, Simran Choda, Mathenge, Nathan Kamau.
MX65 Class: Kit Garner, Tanav Choda, Rendy Magara, Alex Njoroge, Brian Kinuthia
MX85 Class: Dylan Mutahi, Vince Schrier,Tai Wahome, Dekker KIhara, Mali Nyachae, Nandi Kiplagat, Neo Wahome, Samwel Magwa, Rafe Garner, Peter Magwa, Lester Ndirangu, Alex Kandie, Zeviyaan Aman
MX125: Kigen Kipagat, Zenni Mokaya, Cghristian Chege, John Shrier
MX2: Rolf Kihara, Alex Moi, Ethan Nyachae, Maxine Wahome, Elias Nyachae, Maxine Wahome, Nave Ben Ari, Tutu Maina
MX1: Ngugu Waweru