Kamura: Leopards Ready To Cage Simba In Titanic SportPesa Cup Quarterfinal
8th January 2019 - by Louis Kalinga
Ingwe captain declares they are on the hunt to erase the disappointment of last year's quarterfinal exit on penalties when they face home favourites and beaten finalists Wekundu wa Msimbazi in Dar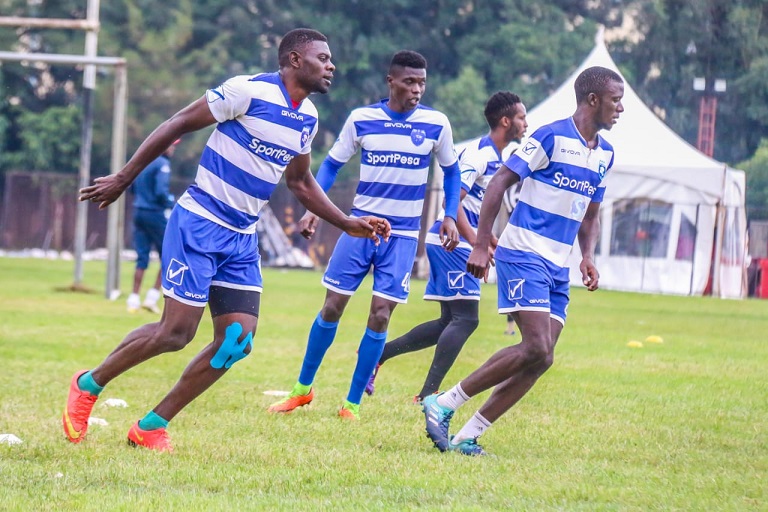 SUMMARY
The Leopards and Simba showdown will be the highlight fixture of the opening round of the third edition of the eight-team tournament at the National Stadium on Wednesday, January 23 with the 12-time Kenyan league winners hoping to go all the way to trophy match in Tanzania following their 2017 heroics
Simba went down 0-2 to champions Gor Mahia FC with Rwanda internationals Jacques Tuyisenge and Meddie Kagere, who now plays for the Tanzanian powerhouse on target during the June 10 final last year at the Afraha Stadium in Nakuru and have been installed among title favourites this term
I'm doing all I can to motivate the younger players in the squad and with the hunger being shown in training, Simba should prepare for a tough encounter- Kamura
NAIROBI, Kenya- AFC Leopards SC captain Robinson Kamura has assured their success-starved supporters they are prepared to topple Vodacom Premier League Champions and home favourites Simba SC in their glamour 2019 SportPesa Cup quarterfinal as they hunt a first title in the regional knockout competition in Dar-es-Salaam, Tanzania.
The Leopards and Simba showdown will be the highlight fixture of the opening round of the third edition of the eight-team tournament at the National Stadium on Wednesday, January 23 with the 12-time Kenyan league winners hoping to go all the way to trophy match in Tanzania following their 2017 heroics.
Simba went down 0-2 to champions Gor Mahia FC with Rwanda internationals Jacques Tuyisenge and Meddie Kagere, who now plays for the Tanzanian powerhouse on target during the June 10 final last year at the Afraha Stadium in Nakuru and have been installed among title favourites this term.
Kamura, who took over the captaincy after Duncan Otieno left the club, has insisted that Leopards are all set and prepared to cage Simba when the two sides meet later this month in a repeat of the 2017 semi .
"We are looking forward to the tournament and we will take the match against Simba just like any other. Training has been going well and we know what is at stake when we travel to Tanzania. We will give it our best and I'm sure that if we stick to the plan, we will emerge victorious," Kamura told SportPesa News on Tuesday.
Leopards, the 2017 beaten finalists were stunned on post-match penalties by Tanzanian side Singida United FC at Afraha putting paid to their hopes of winning the USD30,000 winner's prize and the chance to face English Premier League side, Everton FC at Goodison Park in Liverpool.
Whyvonne Isuza who ended as their top scorer last season saw his penalty saved in regulation time by goalkeeper Peter Manyika in a barren draw during regulation and Kamura insists they have sharpened their spot-kick skills ahead of the week-long tournament to avoid another heartache from 12 yards.

"Last year we were unlucky. Penalty shootouts are like the lottery, you never know what could happen," he added.
The teams are no strangers to each other, having played in friendly matches but the stakes in Dar will be higher with Leopards out to repeat and better their 2017 performance in Dar where they shut out Singida and Simba's sworn enemies Yanga SC in the quarters and semis in that order.

Yet again, the winner of the tournament will host Everton in their second visit to East Africa after their first tour of Tanzania in 2017 where they played a friendly with Gor, with the English side prevailing 2-1 at the National Stadium.
"This year will undoubtedly be more competitive because all teams saw Gor travel to the United Kingdom to play at Goodison Park.
"I'm certain every team has set their sights on the ultimate prize, it's up to us to show how badly we want to experience such an atypical opportunity," Kamura stated.
"Tournaments like the SportPesa Cup are welcomed by our players since it gives us an opportunity to display our talents and maybe even get scouted.

"I'm doing all I can to motivate the younger players in the squad and with the hunger being shown in training, Simba should prepare for a tough encounter," the Leopards captain cautioned.