Kaheza, The Simba In Leopard Spots Out To Mug Parent Club
20th January 2019 - by Louis Kalinga
Wednesday SportPesa Cup glamour quarterfinal will have the added spice of on-loan forward drooling at the chance of facing his employers at the National Main Stadium in Dar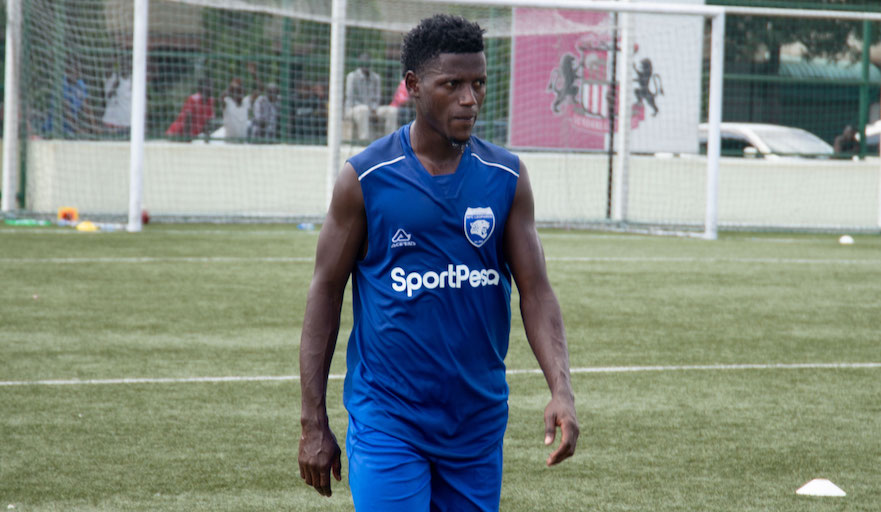 SUMMARY
The fixture will assume greater significance since it marks the first meeting of Simba and Leopards who share 30 domestic and 11 regional titles between them in what will be a landmark occasion in East African football
"I'm proud to be here as a Leopards player because I came here to challenge myself and look for a new place to show my impact as a player," Kaheza told SportPesa News on Sunday after his side's first trainings session since landing in Dar
It will be interesting to see the kind of reception Kaheza will receive from Simba supporters who on their day, can turn the National Stadium into a melting cauldron
DAR-ES-SAALAM, Tanzania- Marcel Kaheza is drooling at the prospect of facing his parent side Simba SC with AFC Leopards SC during the 2019 SportPesa Cup glamour quarterfinal on Wednesday (January 23) at the National Main Stadium in Dar-es-Salaam.
The fixture will assume greater significance since it marks the first meeting of Simba and Leopards who share 30 domestic and 11 regional titles between them in what will be a landmark occasion in East African football.
Kaheza in Leopards spots only adds spice to proceedings but the forward is not fazed about the reception he will get from the passionate and vociferous Wekundu wa Msimbazi red army when they face the 12-time Kenyan league winners at the cathedral of Tanzanian sport.
He is in high spirits and eager to help his current team as Leopards seek to atone for their exit at the same stage of the competition in last year's edition at the Afraha Stadium in Nakuru.
Leopards were beaten 4-2 on post match penalties by another Tanzanian side, Singida United FC to break their fans hearts as they continue their desperate hunt for a trophy.
"I'm happy to be back home, it's great to be here and especially for such a momentous tournament.
"I'm proud to be here as a Leopards player because I came here to challenge myself and look for a new place to show my impact as a player," Kaheza told SportPesa News on Sunday after his side's first trainings session since landing in Dar.
Permanent move
Leopards were the first visiting team to arrive in the Tanzanian commercial capital on Saturday morning and expressed their intent to cage Simba during the titanic encounter that will close the quarterfinal programme.
The five-time Cecafa club champions are under the tutelage of Serbian coach Marko Vesiljevik and his assistant Tom Juma and are looking to replicate or better their 2017 performance in the competition, where they lost the final to eternal rivals Gor Mahia FC.
"Leopards is a great club and I'm happy with the progress that we have been making since I joined.
"There is no doubt that Simba is also a great club and we are aware, though that only motivates us to do better and come out victorious," Kaheza stated.
"Our target is to make it to the final and win the trophy. I will do my best to help the team when called upon and I believe that we will put on a good show," he added.
If Leopards manage to beat Simba, they will face either Bandari FC of Kenya or a third meeting of the competition against Singida, as the two sides are set to get the ball rolling in the first game of the tournament on Tuesday at 2:15pm local time (+3GMT).
The striker, who was speaking at the Jakaya Kikwete Youth Park in the city centre, stated that he is open to a permanent move to Kenya but maintained his focus is on the SportPesa Cup for now.
"I won't rule out a move because it's a great club but for now, winning this trophy is what's important for me and my teammates," Kaheza underlined.
The winner of the tournament will be gifted the opportunity to host nine-time English league champions Everton FC, during their second visit to East Africa.
Their previous visit to Dar ended with a 2-1 victory over Gor, as Wayne Rooney's thunderous strike highlighted his first match since re-joining his boyhood club before Kieran Dowell notched a late winner after Jacques Tuyisenge hauled the Kenyans level.
It will be interesting to see the kind of reception Kaheza will receive from Simba supporters who on their day, can turn the National Stadium into a melting cauldron.