Justice! Kenya's Chebet Is Crowned World Cross Under 20 Queen After Review
Mar 30 - by Mutwiri Mutuota for SportPesa News
Controversy as national champion was initially dropped to bronze in the tightest of finishes but her victory is reinstated after appeal in dramatic conclusion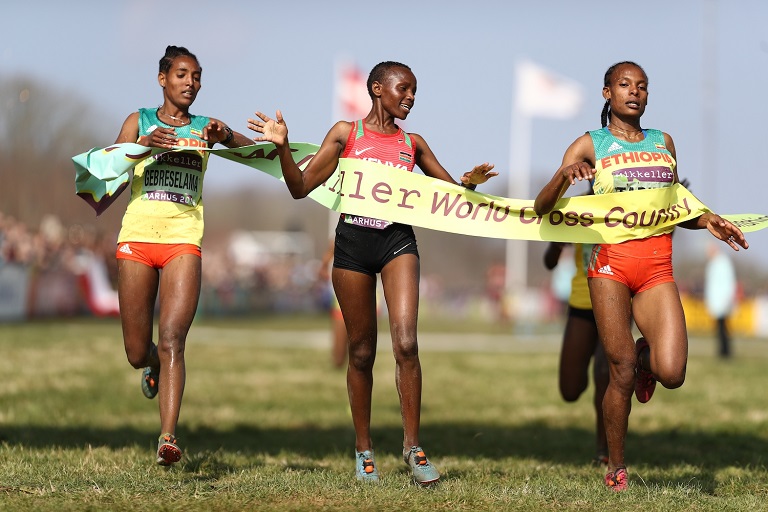 As they approached the final straight, Chebet and Tariku attempted to make a break but Chelangat and Gebreselama were not giving up, with Chelangat finishing one second adrift with 20:51 in fourth, having made much of the running.
For the Ethiopians, they were unanimous about the most difficult element of the two-kilometre loop – the mud. "It was a hard course, with the uphill, but the mud was the hardest bit," they both agreed
Kenya took silver, with Japan edging Uganda by one point in the race for bronze, led by Ayuka Kaama and Ririka Hironaka in 14th and 15th
AARHUS, Denmark- For a moment after what was one of the most dramatic finishes to a race, Kenya's Beatrice Chepkoech was in tears at the mixed zone.
The World Under 20 track 5000m titleholder was as stunned as everyone when initially, it appeared as if her hard-fought victory at the Aarhus 2019 IAAF/Mikkeler World Cross Country Championships had been 'stolen' from under her feet.
Television images appeared to show the Kenyan breast the tape first in a sensational finish to the race but on both flanks, Alemitu Tariku and Tsigie Gebreselama of Ethiopia were initially credited with eclipsing Chebet to take gold and silver in 20:50 for the Ethiopians and 20:51 for Chebet in the tightest of finishes.
DO NOT MISS: Ugandan Cheptengei Ends Kamworor World Cross Senior Men's Reign
However, on review, the Kenyan was handed the title in the most anti-climatic conclusions to a showdown that attracted 104 runners from 28 countries
"At first I was disappointed, as I was told I was third and I thought I had won, but now I am happy," said the 19-year-old, who was the dominant winner at last month's Kenyan trials.
"I felt strong when I sprinted to the line. My country will be happy and celebrating that I have won."
DO NOT MISS: Hellen Obiri Powers To History In Brutal Women Senior 10Km Battle
It did not take long for Ethiopia and Kenya to stamp their authority at the head of the field.
However, even though the two distance running powerhouses had won all of the 26 previous women's U20 team titles, Uganda made it clear that they were not going to let their East African rivals have it all their own way, also packing well at the front of the field from the outset.
Difficult element
As they approached the final straight, Chebet and Tariku attempted to make a break but Chelangat and Gebreselama were not giving up, with Chelangat finishing one second adrift with 20:51 in fourth, having made much of the running.
DO NOT MISS: Ethiopia's Milkesa Mengesha Crushes The Men Under 20 World Cross Field
As had been expected, the innovative, man-made course provided its share of challenges.
"It was tough with the obstacles," confirmed Chebet. "There was uphill, downhill, water, mud, sandpits. It was challenging, it was competitive and it was about perseverance. I enjoyed it."
For the Ethiopians, they were unanimous about the most difficult element of the two-kilometre loop – the mud. "It was a hard course, with the uphill, but the mud was the hardest bit," they both agreed.
Placing second, third, fifth and backed up by Mizan Alem in seventh, Ethiopia took the team title, edging another step closer to Kenya in the team stakes, with Kenya boasting 15 titles and Ethiopia now 12 titles.
DO NOT MISS: Compact Ethiopia Dethrone Kenya From World Cross Mixed Relay Crown
Kenya took silver, with Japan edging Uganda by one point in the race for bronze, led by Ayuka Kaama and Ririka Hironaka in 14th and 15th.
-Material from the IAAF used to compile this report
Leading results
1 Beatrice CHEBET KEN 20:50
2 Alemitu TARIKU ETH 20:50
3 Tsigie GEBRESELAMA ETH 20:50
4 Sarah CHELANGAT UGA 20:51
5 Girmawit GEBRZIHAIR ETH 20:53
6 Betty Chepkemoi KIBET KEN 21:03
7 Mizan ALEM ETH 21:09
8 Wede KEFALE ETH 21:14
9 Jackline Chepwogen ROTICH KEN 21:17
10 Lydia Jeruto LAGAT KEN 21:44