July Sports Personality Maria Hails Sister, Targets Tokyo 2020
Oct 30 - by Erick Ochieng for SportPesa News
The swimmer bagged two gold and a silver at the Africa Youth Games held in Algiers, Algeria to receive monthly gong in Mombasa on Tuesday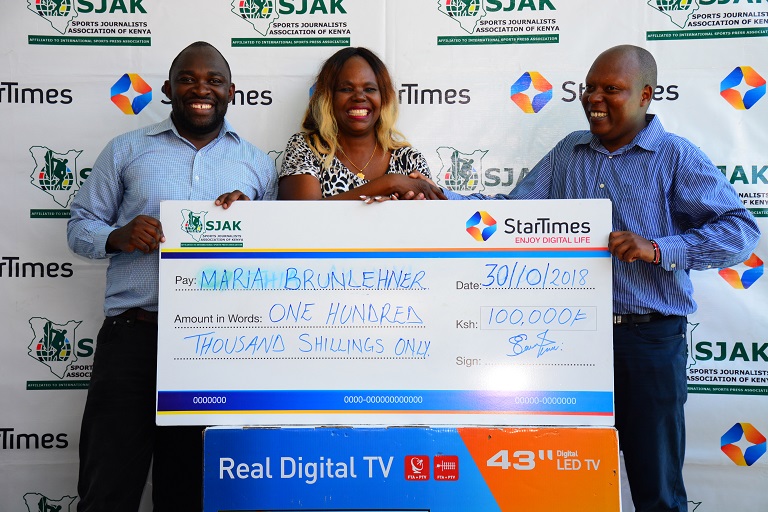 Maria made a splash for medals for her country at the Algiers 2018 Africa Youth Games in Algeria, winning two gold medals in 50m and 100m freestyle and a silver in 50m breast stroke
Apart from bagging the three medals, Brunhelner set a championship record of 26.14 in 50m freestyle and repeated the feat in the longer 100m event where she posted 58.87 in Algiers
She edged out World U20 champions, Rhonex Kipruto and Celliphine Chespol in the final vote for the monthly gong conducted by leading local sports journalists
MOMBASA, Kenya- Maria Brunhelner hailed the influence of elder sibling Silvia for her emergence as a top swimmer on Tuesday after receiving the Sports Journalists Association of Kenya (SJAK)/StarTimes Sports Personality of the Month for July 2018 Award in Mombasa.
Maria made a splash for medals for her country at the Algiers 2018 Africa Youth Games in Algeria, winning two gold medals in 50m and 100m freestyle and a silver in 50m breast stroke.
"I'm so excited to be extended this award, I'm focused on qualifying for Tokyo 2020 Olympics so will be coming to Kenya next year for the national trials," Brunhelner said via Skype from her base in Germany.
"Swimming is fun but it requires a lot of dedication but I thank my sister for always inspiring me," she underlined.
Apart from bagging the three medals, Brunhelner set a championship record of 26.14 in 50m freestyle and repeated the feat in the longer 100m event where she posted 58.87 in Algiers.
She also clocked 34.04 in 50m breaststroke to lose narrowly to Morocco's Imane Houda El Barodi who tapped the wall in 33.03.
Her exploits at the continental games saw her earn a call-up to the Team Kenya that took part at the Olympic Youth Games in Buenos Aires Argentina on October 6-18, 2018.
Maria also earned selection to the CANA Zone Three Championships slated for Khartoum Sudan in November.Brunlehner was rewarded with a 43-inch Digital TV Set, a trophy and KSh100, 000 for her July achievements.
Fastest time
She edged out World U20 champions, Rhonex Kipruto and Celliphine Chespol in the final vote for the monthly gong conducted by leading local sports journalists.
Kipruto bagged gold in men's 10000m with Chespol setting a championships record for victory in women's 3000m steeplechase at the IAAF World Under 20 Championship in Tampere, Finland.
Other nominees included Emmanuel Korir who clocked the fastest time in the two-lap race this year after he registered 1:42.05 at the London Diamond League meeting.
Maria's mother, who collected the award at Mombasa Academy on Tuesday morning, said the recognition would inspire her daughter to work extra hard to be a world-beater in the future.
"It is the very first time that we are awarding a swimmer. This is testament to our diversity in appreciating our sports men and women," StarTimes Director of Marketing and Public Relations, Japheth Akhulia, underlined.