Hull Make Headlines As Adkins, Bowen Win Championship's Top Awards
11th January 2019 - by Louis Kalinga
The Tigers showed tremendous form as they claimed 16 points from the 18 available, with five wins and a draw sparking a rise up the table in a run that included a victory over league leaders Leeds United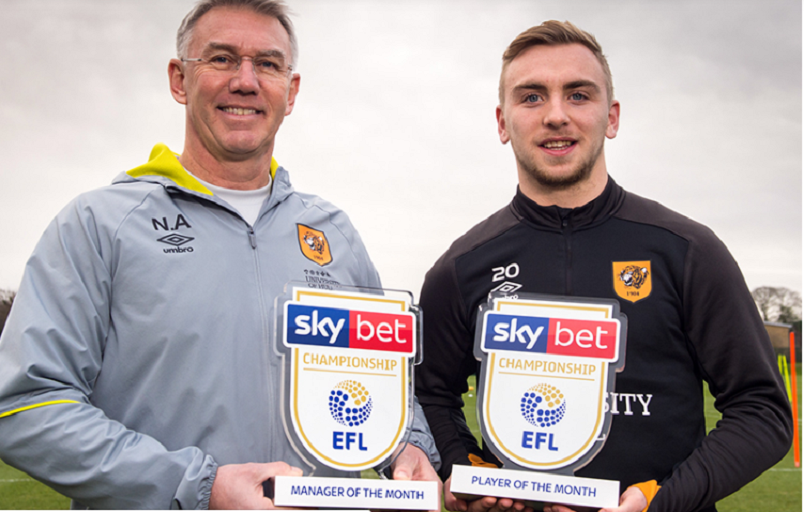 SUMMARY
Hull City FC head coach Nigel Adkins and leading scorer Jarrod Bowen made headlines as they won the SkyBet Championship's top awards for December
With the Tigers going through the month unbeaten, Adkins has been named as the division's Manager of the Month while free-scoring Bowen has landed the league's Player of the Month award
Bowen, meanwhile, scored six goals in as many games last month with match-winning braces against Queens Park Rangers, Swansea City and Leeds United to take him into double figures for the season, although he was also quick to credit others for his personal accolade

HULL, United Kingdom- Hull City FC head coach Nigel Adkins and leading scorer Jarrod Bowen made headlines as they won the SkyBet Championship's top awards for December.
With the Tigers going through the month unbeaten, Adkins has been named as the division's Manager of the Month while free-scoring Bowen has landed the league's Player of the Month award.
Adkins' men showed tremendous form as they claimed 16 points from the 18 available, with five wins and a draw sparking a rise up the table in a run that included a victory over league leaders Leeds United.
Speaking about the award, Adkins was quick to dedicate it to his hard-working players and staff.
"It's great recognition for all of the hard work that the players and the staff have been putting in," he said.
"The run of form that we've been on and the momentum that we have picked up is down to everybody working hard for each other. We have a TEAM ethos – Together Everybody Achieves More – and we have a really good environment in which to work. The players come in and know what is required of them. We have a great camaraderie which is so important, we defend as a team and attack as a team – we are a team."
Bowen, meanwhile, scored six goals in as many games last month with match-winning braces against Queens Park Rangers, Swansea City and Leeds United to take him into double figures for the season, although he was also quick to credit others for his personal accolade.
Six-goal thriller
"I'm delighted to win the award but it was a good month for the whole team and everybody played their part," explained Bowen.
"We won every game with the exception of the draw at Millwall and it's a run that has pushed us right up the table. Everybody has been playing well and there are many of my team-mates that could have been picking up this award as well. We've got some big games coming up this month now and we'll keep working hard and looking to improve."
Adkins was named the Sky Bet Championship Manager of the Month for December on Friday morning, with leading scorer Jarrod Bowen taking the division's Player of the Month accolade, and having kicked off January with a 6-0 victory over Bolton Wanderers the Tigers' Head Coach says the hard work must continue.
"We're going into Saturday's home game against Sheffield Wednesday looking to keep our momentum going," said Adkins.
"We've put ourselves in a higher position in the table than we were, but the focus is only on the next game and making sure our standards are right, our discipline is right, driving performance and keeping the cycle that has got us into this position going.