Exemplary Sigurdsson Double Inspires Everton Happy Return To League Action
27th February 2019 - by Mutwiri Mutuota
Dominic Calvert-Lewin late third gives visiting Blues 3-0 victory at Cardiff in much needed boost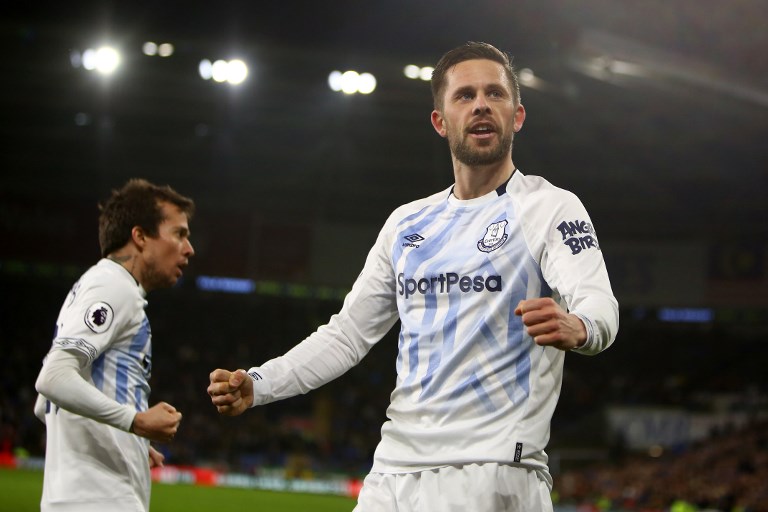 SUMMARY
Icelander Sigurdsson, given the bird by Cardiff City fans owing to his Swansea City past, converted a Seamus Coleman delivery with his right foot to open the scoring four minutes before half-time
And it would soon be the horde of Evertonians behind Etheridge's goal making all the noise, first serenading Bernard – on for Richarlison after an hour – and then lauding Sigurdsson
The all-for-one attitude was epitomised by Dominic Calvert-Lewin, heading out a cross into Everton's box in the final minute of the opening half, having put his body in the line of a thumping drive from Nathaniel Mendez-Laing early in the match
CARDIFF, Wales- Two exemplary strikes from Gylfi Sigurdsson and Dominic Calvert-Lewin's stoppage-time goal ensured Everton's return to Premier League action following a 17-day break was a very happy one indeed.
Icelander Sigurdsson, given the bird by Cardiff City fans owing to his Swansea City past, converted a Seamus Coleman delivery with his right foot to open the scoring four minutes before half-time.
And Sigurdsson crashed his left boot through the ball midway through the second half to put the outcome in South Wales beyond doubt.
Everton move up to ninth in the Premier League table, five points shy of Wolverhampton Wanderers in seventh.
Marco Silva's side took the lead courtesy of a potent combination of quick thinking and smart football. Cardiff defender Joe Bennett needlessly conceded a throw-in and remained out of position while Everton got on with the game.
Coleman surged forward from right-back, running off the back of Junior Hoilett, to reach a pass from Morgan Schneiderlin.
Irishman Coleman cut the ball back for Sigurdsson, striding into the box and swiping his first-time finish across Neil Etheridge and low into the corner.
ALSO READ: Leicester Put Winning Show For New Boss Rodgers, Newcastle Snap Burnley Run
Cardiff goalkeeper Etheridge had watched a couple of previous efforts – both from Theo Walcott - whistle past his goalframe.
Defender Sean Morrison cleared a corner – awarded after the same home player had bravely diverted wide a stinging blast from Idrissa Gana Gueye – but only as far as Walcott. He met the dropping ball sweetly but without achieving the direction to keep his volley inside the far post.
Walcott was soon hurtling forward to receive a return pass from Gana but this time hit a rising ball narrowly over the top.
Cardiff had the game's first opportunity, Lucas Digne reading play brilliantly to recover and intercept Kenneth Zohore's low cross from the left with the ball on its way to Nathaniel Mendez-Laing at the back post.
Calvert-Lewin bravely wore a full-blooded strike from Mendez-Laing after Cardiff recycled the subsequent corner and teed up the winger to shoot.
Tough nut
Cardiff's rugged approach saw Morrison and Leandro Bacuna both in the book inside 14 minutes for fouls on Richarlison and Calvert-Lewin respectively.
ALSO READ: When Messi Talks, You Listen: Barca's Lenglet On Double El Clasico
For all their hustle and bustle, though, Neil Warnock's team were finding Everton a tough nut to crack and openings at a premium.
The best of it for the home side in the opening period arguably came when Zohore controlled Aron Gunarsson's flighted ball on his chest, before spinning and driving wide of the near post.
Bruno Ecuele Manga slid in to tackle Richarlison and apply the brakes to an Everton counter minutes after the break. And Digne was cautioned for upending Zohore as Cardiff countered from the resultant corner.
The locals took heart from that, generating a din as Cardiff mounted a succession of attacks which typically broke down at clutch moments.
Frenchman Schneiderlin tracked back diligently to intervene after Zhore escaped to centre from the left.
And it would soon be the horde of Evertonians behind Etheridge's goal making all the noise, first serenading Bernard – on for Richarlison after an hour – and then lauding Sigurdsson.
Gana was at the root of the 66th-minute move, driving with the ball before feeding Bernard on the left. The Brazilian twisted and turned, Cardiff right-back Ecuele Manga utterly perplexed, then drove in a cross which Etheridge pawed out into a dangerous area.
ALSO READ: Injuries Throw Misfiring Lukaku, Sanchez A Lifeline To Star In Man United
Sigurdsson made the 'keeper pay for erring, the midfielder haring onto the scene and rattling the ball high into the net.
The excellent Calvert-Lewin was marginally wide with a drive from 20 yards as Everton sought gloss for the scoreline.
He was back for more at the death, profiting from some fabulous set-up play from Gana, who evaded a couple of challenges as he powered forward to thread in Calvert-Lewin, running inside Morrison. The forward strode on and caressed the ball past Etheridge to complete a sound night's work from Everton in the Welsh capital.
One-Up
Dominic Calvert-Lewin played as Everton's attacking focal point here and showed up very well indeed.
The 21-year-old changed up his play intelligently, dropping deep and showing strength with his back to goal but also running behind to stretch Cardiff on occasion.
READ MORE: Jose Mourinho: The Next Club I Manage Should Have No Internal Conflicts
He was perfectly prepared to mix it with a muscular centre-back pairing in the shape of Sean Morrison and Sol Bamba, too.
With one out-and-out forward, the onus is on Everton's full-backs and midfielders to help out when their team is on the offensive.
And a few of them did exactly that to ensure it was Everton who scored the crucial first goal.
The visitors returned the ball into play swiftly after Cardiff left-back Joe Bennett dumped it carelessly into touch.
Theo Walcott passed to Morgan Schneiderlin, who converted a slick passage of play into something more threatening with a chip down the line for raiding full-back Seamus Coleman – who had peeled off the back of Junior Hoilett, reacting too late to halt the counter.
Meantime, in the middle Gylfi Sigurdsson was charging into space vacated by Calvert-Lewin.
And when Coleman cut back his cross the Icelander arrived right on cue to sweep the ball first time across Neil Etheridge, who did not have chance of preventing the ball from nestling inside his right-hand post.
A Proper Night's Work
READ MORE: Ex-Liverpool Boss Rodgers Set For Leicester As 'Reluctant' Celtic Let Go
Visitors to Cardiff City must carry out football's more ugly jobs with some efficiency to have any hope of leaving with any tangible reward.
The sight of Lucas Digne making up a half-foot height difference to climb above striker Kenneth Zohore and power the ball clear typified Everton's readiness to get stuck in here.
He leapt above the taller and more muscular Nathaniel Mendez-Laing twice in very quick succession in minute 35, too.
As an aside, Digne really has a fabulous spring and wins any number of aerial duels when he has no right to even be in the argument.
Michael Keane and Phil Jagielka stood tall to repel a number of throw-ins projected into the box by imposing Bluebirds midfielder Aron Gunnarsson.
There was an appetite to fire into tackles all over the pitch, Everton matching Cardiff's intensity and refusing to be intimidated by the Welsh team's physicality
The all-for-one attitude was epitomised by Dominic Calvert-Lewin, heading out a cross into Everton's box in the final minute of the opening half, having put his body in the line of a thumping drive from Nathaniel Mendez-Laing early in the match.
Indeed, Calvert-Lewin was a valuable asset in his own box throughout, rising highest three or four times to direct the ball to safety. The old adage about earning the right to play never seemed more apt.
Chapeau, Morgan
This was a first Premier League start for Morgan Schneiderlin since September 16. In real terms, then, 116 days divided the Frenchman's Goodison Park outing against West Ham and this game at Cardiff City Stadium.
Schneiderlin had played 39 minutes of top-flight football in the intervening period, in addition to a League Cup tie with Southampton.
Operating in a midfield position where everything must be done quickly, Schneiderlin did not have the luxury of time to warm to his task, either. Certainly not against Cardiff City and their harum-scarum, aggressive brand of football.
Schneiderlin's passing was quickly up to snuff, one ball rattled forward for Richarlison springing Everton on the attack, while his movement across the park ensured there was always a white shirt available to receive possession.
There was even one bolt up the right wing to latch onto a pass from Dominic Calvert-Lewin.
Schneiderlin's clipped pass to release Seamus Coleman in the lead up to Everton's breakthrough goal was weighted perfectly and demonstrated splendid vision and technique.
READ MORE: Bandari Hot Shot Hassan Eager To Nail Harambee Stars First XI Place