Everton To Don 'Kits For Africa' Jerseys In West Ham Tie
Sep 14 - by SPN Correspondent for sportpesa news
The game will be broadcasted live and will be watched by millions of football fans globally, with the switch in logo helping to generate international awareness for the kit donation scheme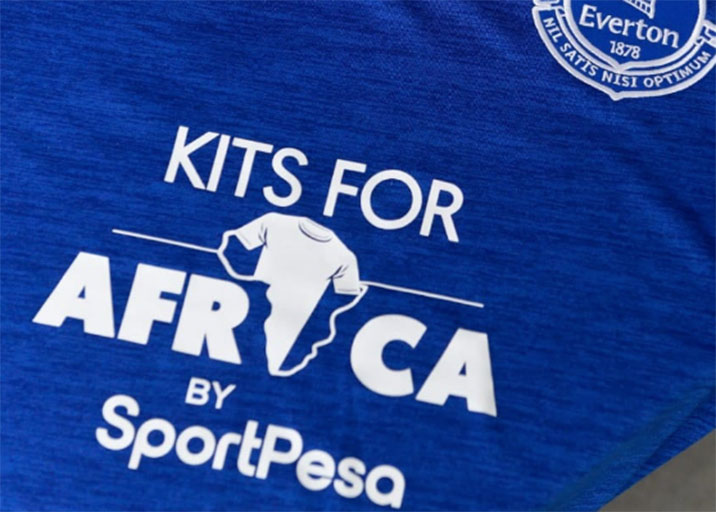 Everton players will be sporting a different logo on the front of their royal blue shirts for Sunday's home game against West Ham United
portPesa and Everton has been collecting kits donated by fans, players and members of the public at home games during August and September and will distribute them throughout Africa
'Kits For Africa' (K4A) is part of SportPesa's ongoing commitment to developing grassroots football in the countries where they operate
LONDON, United Kingdom- Everton players will be sporting a different logo on the front of their royal blue shirts for Sunday's home game against West Ham United. The Blues Main Partner, Betting Company SportPesa, is swapping out their shirt sponsorship placement and replacing it with their own 'Kits For Africa' kit donation campaign for Everton's first fixture following the international break.
The game will be broadcasted live and will be watched by millions of football fans globally, with the switch in logo helping to generate international awareness for the kit donation scheme which will be supporting underprivileged grassroots football teams across the African continent.
SportPesa and Everton has been collecting kits donated by fans, players and members of the public at home games during August and September and will distribute them throughout Africa to less privileged teams and individuals who have a love for playing the beautiful game.
Sunday's fixture against Manuel Pellegrini's West Ham United side is the last opportunity for fans to donate their kits at match days and Evertonians are encouraged to bring old or unused kit to the 'Kits For Africa' collection bins situated at the Fan Zone in the Park End or in store at Everton One.
Accelerating development
The collection bins will be manned by SportPesa staff, who will collect the donated kit ready for it to be distributed to those in need across Africa. Any items of kit are accepted including shirts, boots, socks, shorts and any other sports apparel – the generosity of Evertonians for last season's campaign saw more than three tonnes of kit donated and distributed across Africa.
Fans will be able to continue to donate to the appeal via permanent donation points positioned in both Everton One and Everton Two and you can also send your kits through the post to CSM Live – Kits For Africa, Unit D1, Grafton Way, West Ham Industrial Estate, Basingstoke, RG22 6HY.
'Kits For Africa' (K4A) is part of SportPesa's ongoing commitment to developing grassroots football in the countries where they operate and, since the company's inception in 2014, they have quickly established themselves as a community focused organisation.
As Africa's leading sports gaming platform SportPesa has become known as a 'super brand' in the continent and is changing lives by accelerating development through sports and well-structured community initiatives.
Everton have only managed one win in the embryonic English Premier League but lie in seventh place with six points from four games.