Determined Quins Out To Halt Kabras Unbeaten Kenya Cup Streak
Feb 08 - by Erick Ochieng for SportPesa News
Head coach Charles Cardovillis has instructed his charges to go full throttle in the encounter, play and execute the game plan to halt the Kakamega based outfit unbeaten run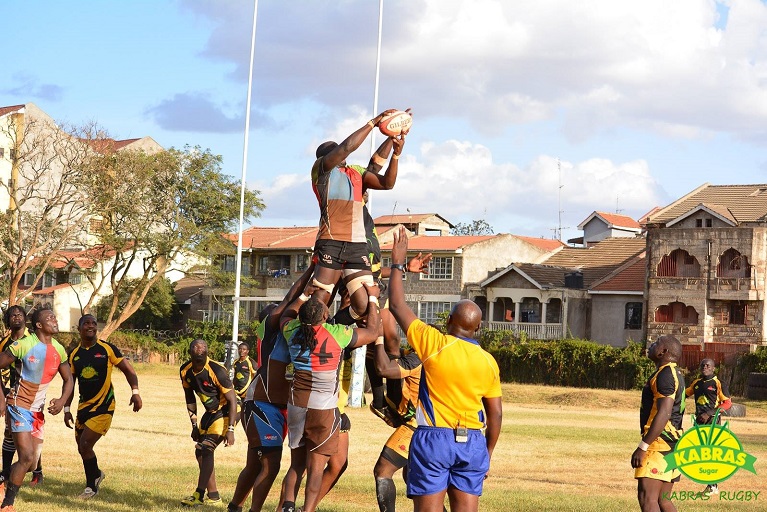 Kenya Harlequins RFC  believe they are the side that will stop Kabras Sugar RFC unbeaten run in  the league as they prepare to host the latter in a Kenya Cup battle at the RFUEA Grounds in Nairobi on Saturday
However, Cardovillis has admitted that their Kakamega based rivals  who arrived in Nairobi on Friday morning a head of the encounter are currently on fire and it will take great load of effort to beat them
Both clubs head into the match buoyed with victories. Kabras beat Stanbic Mwamba RFC 46-15 in Kakamega while Quins overcame Resolution Impala Saracens RFC  37-24 in the 'Ngong Road Derby' at the Impala Grounds on January 26
Elsewhere,eleventh placed Strathmore Leos RFC will host KCB at the Madaraka grounds while sixth place Homeboyz RFC will be hosted by 12th placed Mean Machine RFC at the University of Nairobi Grounds
NAIROBI, Kenya- Kenya Harlequins RFC believe they are the side that will halt Kabras Sugar RFC's unbeaten run in the league as they prepare to host the latter in a Kenya Cup battle at the RFUEA Grounds in Nairobi on Saturday.

Quins head coach, Charles Cardovillis, has instructed his charges to leave no stones unturned in the tie as they seek to narrow the nine point gap between them and the league leaders.
"I hope the boys will come out in full throttle, play and execute the game plan which we feel will inflict the first defeat on our opponents," Cardovillis told SportPesa News.
MUST READ: Kenya Cup: Champions KCB Out For Blak Blad, Nondies Face Kabras
"This is a game that everyone has been waiting for and I expect it to live up to the billing. I know we will be up to the task as we are also unbeaten in 2019, so far I'm happy with our progress," he underscored.
However, Cardovillis has admitted that their Kakamega-based rivals who arrived in Nairobi on Friday morning ahead of the encounter are currently on fire and it will take great load of effort to beat them.
"It's no secret that Kabras players are in very good form, the table speaks for itself. They are the best team in the country at the moment," Cardovillis underscored.
MUST READ: Unlucky Kenya Shujaa Bow Out Of 2019 Sydney Sevens
Both clubs head into the match buoyed with victories as Kabras beat Stanbic Mwamba RFC 46-15 in Kakamega while Quins overcame Resolution Impala Saracens RFC 37-24 in the 'Ngong Road Derby' at the Impala Grounds on January 26.
Kabras rule the standings with 40 points, five above defending champions, Kenya Commercial Bank RFC, who are second in the standings. Quins are third with 31.
The Quins versus Kabras game will be preceded by an early clash pitting Mwamba against Blakblad at the venue that will hold a double header on the day.
MUST READ: Shujaa Outfoxed By England In Hamilton Challenge Trophy Final
Elsewhere, eleventh placed Strathmore Leos RFC will host KCB at the Madaraka grounds while sixth place Homeboyz RFC will be hosted by 12th placed Mean Machine RFC at the University of Nairobi Grounds.
Nondies RFC and Impala will make the two-hour journey to Nakuru for their encounters against Top Fry Nakuru RFC and Menengai Oilers RFC at the Nakuru Athletics Club and Nakuru ASK Showgrounds in that order,.
KenyaCup Day 9 Fixtures on Saturday Januray 9, 2019
Stanbic Mwamba RFC vs Blakblad RFC 2:00pm, RFUEA (Live Broadcast)
Kenya Harlequins RFC vs Kabras Sugar RFC 4:00pm, RFUEA (Live Broadcast)
Strathmore RFC vs KCB RFC 4:00pm, Madaraka
Mean Machine RFC vs Menengai Cream Homeboyz RFC, 4:00pm UON
Top Fry Nakuru RFC vs Nondescripts RFC, 4:00pm Nakuru NAC
Menengai Oilers RFC vs Resolution Impala RFC, 4:00pm Nakuru ASK