Best Of 2018: Kenya International Polo Trophy Win Highlight Of Splendid Year
Dec 26 - by Erick Ochieng for SportPesa News
The national women polo team came from behind to stun powerhouses United States of America 5-4 to lift the third edition of Statehood Day Tournament at in Manipur, India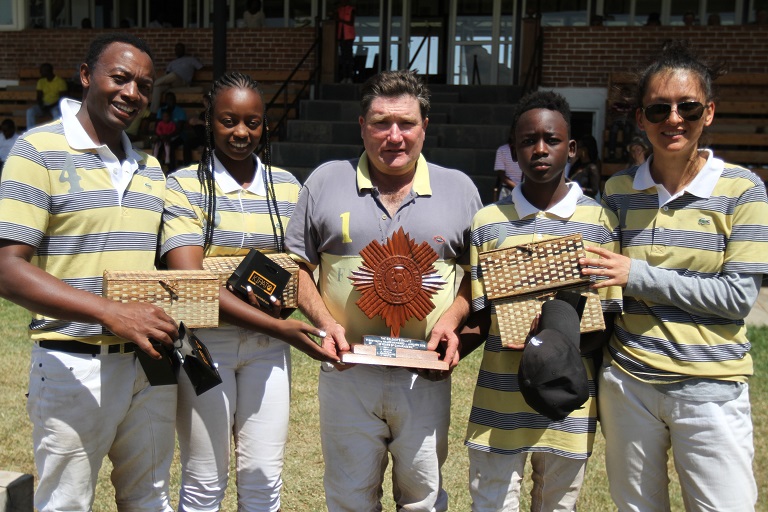 The national women polo team came from behind to stun powerhouses United States of America 5-4 in a pulsating final to lift the third edition of Statehood Day Women's Polo Tournament at Kangjeibung Grounds in Manipur, India, on January 21
There was a six month break before the clubs resumed for the grueling Mugs Mug Cup in July which was won by Stonefish And Urchins who beat Hoof Hearted 6-4
However, Mugs Mug Cup was marked with grief as favourites Samurai were forced to pull out of the competition following the death of star pony Baronessa, ridden by Hiromi
NAIROBI, Kenya- The country had a splendid season in polo in 2018, with major highlights being victories at the Women International Championship in India in January and the Kenya Open International at the Nairobi Polo Club Jamhuri Grounds in September.
The national women polo team came from behind to stun powerhouses United States of America 5-4 in a pulsating final to lift the third edition of Statehood Day Women's Polo Tournament at Kangjeibung Grounds in Manipur, India, on January 21.
The squad, comprising of captain Tiva Gross (2 goal), Nikki Barlow (0.5 goal), Rowena Stichbury (0 goal), Imogen Voorspuy (0 goal) and Kaila Millar (0 goal), was awarded the prestigious Bombay Stock Exchange trophy, a revered royal wedding prize that was presented to the team by Manipur Governor, Najma Heptulla.
The feat saw the players land high profile international friendlies in USA and Australia with some securing fully paid coaching and umpiring courses back in India.
The home nation had another great run at the prestigious Kenya Open International where Samurai, who had started the 14-Goal tournament on a shaky note, bounced back to defend the trophy by thrashing Four Of A Kind, 8.5-4, in a highly charged final on September 23.
"It feels great to shield this cup, we are still motivated to win it in 2019," Samurai captain and Nairobi Polo Club vice chairman, Raphael Nzomo, told SportPesa News after the volatile match staged at Jamhuri Grounds in Nairobi.
Open Upgrade
The year also marked the first time that the Kenya Open International was upgraded from a 12-Goal contest to a 14-Goal tournament,attracting world beaters like Buster MacKenzie (handicap five), and his son Chris (7) and Lance Watson (5), all from South Africa, and other stalwarts from Zimbabwe and Namibia.
It was also the first time that Kenya established an U-18 national side.The team hosted Zambia in three international friendlies which were all won by the hosts at the Manyatta Polo Club in Gil Gil in August.
Ahead of the Kenya Open International, the Raphael Nzomo led Samurai edged stubborn Royal Salute 5-4 to reclaim Maria Bencivenga Cup on January 14.
Nzomo, who has had a 13 year stint in the game and his son, Jadini, scored a brace each as his daughter, Hiromi, added a goal to seal a win for the crown they last won in 2016.
"The victory was in honor of our late player, Maria Bencivenga.She was instrumental for the growth of polo in Kenya at large," Nzomo stated in his speech.
Samurai were at it again a week later, beating Phillip Arunga's led Mombasa Island Cargo Terminal(MICT) 6-5 in a nervy final to retain the Soldiers Salute Polo Cup at the venue on January 21 with Jadini, who struck a brace in the volatile encounter, awarded the Most Valuable Player (MVP) gong.
Humiliated MICT picked themselves in the Chairman's Cup a week later after the Samurai defeat.
Their resilience paid off as they proceeded for the finals where they sliced Royal Salute 5-4, with Arunga's son, Omwakwe, notching a double in the fixture contested under scorching overhead sun at Jamhuri.
Omwakwe won the MVP award with six goals to his name, a feat that earned him a fully paid gun handling and ownership training course at the National Guns Owners Association of Kenya (NGAO-K).
There was a six month break before the clubs resumed for the grueling Mugs Mug Cup in July which was won by Stonefish And Urchins who beat Hoof Hearted 6-4.
However, Mugs Mug Cup was marked with grief as favourites Samurai were forced to pull out of the competition following the death of star pony Baronessa, ridden by Hiromi.
Baronessa collided with another horse and snapped her humerus in the first chukka in their game against Cruise Control.
"I'm an animal lover. I have deep connections with them and Baronessa's death made a turning point for me in polo," underlined Hiromi who escaped with a limp.
Two other competitions, Lord Cranworth Cup and Connaught Cup followed on July 29 and 30 to prepare the local clubs for the Kenya Open International.They were won by Guards and Royal Salute in that order.
2)18 POLO TOURNAMENTS FINALS
Maria Bencivenga Cup- January 14
Samurai 5 4 Royal Salute
Soldiers Salute Polo Cup- January 21
Samurai 6 5 MICT
India Statehood Day Women's Polo Tournament- January 21
Kenya 5 4 USA
Chairman's Cup- January 28
MICT 5 4 Royal Salute
Mugs Mug Cup- July 22
Stonefish And Urchins 6 4 Hoof Hearted
Lord Cranworth Cup- July 29
Guards 7 6.5 White Cap
Kenya International Six-Goal Tournament –September 16
Afrika Aviation 8 7 White Cap Lager
Kenya International 14-Goal Touranment –September 23
Samurai 8.5 4 Four Of A Kind