Bandari Ace Mulumba: Simba's SportPesa Cup Roar Is Mute To Us
24th January 2019 - by Mutwiri Mutuota
Unbeaten Kenyan outfit underline their mission to topple home favourites in the race for Sunday's final in Dar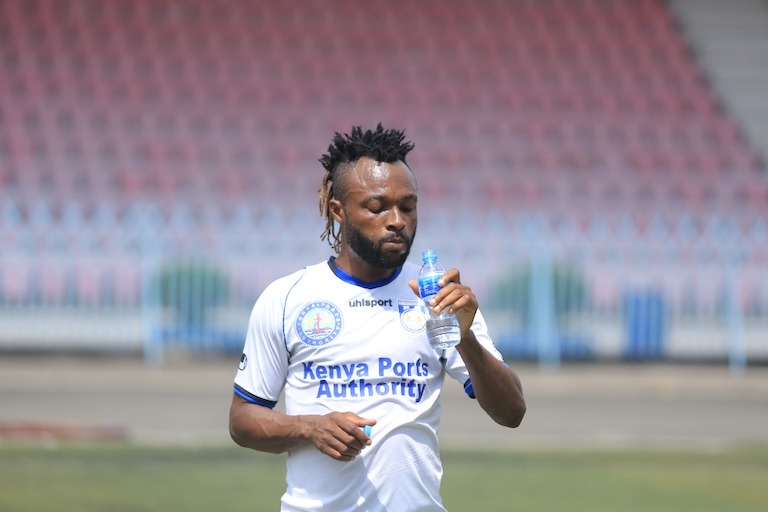 SUMMARY
The Dockers got the tournament underway on Tuesday with a slim 1-0 victory over Tanzanian Premier League side Singida United FC courtesy of a penalty from William Wadri to set up the titanic encounter
Bandari have been in great shape recently and are relishing the prospect of winning the trophy and hosting English Premier League's Everton FC later on in the year
SPL rivals Kariobangi Sharks FC will play Mbao FC in the other semi for the right to feature in Sunday's showpiece where the winner will pocket USD30,000 besides lifting the gleaming trophy
DAR ES SAALAM, Tanzania- Captain Felly Mulumba has made it clear that Bandari FC live for big games as they prepare to battle it out against Simba SC in the first semi-final of the 2019 SportPesa Cup on Friday. 
The Dockers got the tournament underway on Tuesday with a slim 1-0 victory over Tanzanian Premier League side Singida United FC courtesy of a penalty from William Wadri to set up the titanic encounter. 
Bandari landed an invitation to the annual eight-team regional knockout tournament that is being played at the National Main Stadium in Dar-es-Salaam as reward for their best ever finish in the SportPesa Premier League, finishing second behind champions Gor Mahia FC. 
READ MORE: Spot On Wadri Kicks Bandari Into SportPesa Cup Semi Finals
"We have grown into a strong and dependable team and that in itself motivates us everyday to be better. 
"The match against Simba is a huge one but we are ready to beat them and make it into the final," Mulumba told SportPesa News on the eve of their last four showdown against the 2018 losing SP Cup finalists. 
Simba beat 12-time Kenyan league winners AFC Leopards SC 2-1 in the last quarterfinal courtesy of goals by Emmanuel Okwi and man of the match Clatous Chama. 
READ MORE: Mwalala In Nolstagic Return To Dar With Fired Up Bandari
Simba lost 2-0 to Gor Mahia in last years final and currently sit in third on the TPL table, 20 points behind leaders and bitter rivals Yanga SC whilst Bandari who are second in the SPL are yet to lose this season.
"We understand that Simba is a huge club and despite them having plenty of support from the fans, that won't deter us from our main goal, which is to win," Mulumba stated. 
Bandari are under the tutelage of Bernard Mwalala, who is a popular and accepted name in Tanzania, having played for Yanga as well as having a stint as coach of Coastal Union FC. 
READ MORE: Sharks Sink Teeth To Topple Yanga Out SportPesa Cup
The vibrant coach expressed his pride in his players for the performance in the quarters but maintained that there is a lot to be done. 

"It's great to be in the semis on our debut in the tournament. The match ahead is a huge task for us and I believe that we have what it takes to come out victorious," Mwalala underlined. 
He went ahead express his delight in being back in the Tanzanian capital for the occasion, stating that what he misses most about his time here is the passion the football fans display. 
READ MORE: Simba Cage Leopards, Book Bandari SportPesa Cup Semi Date
"In Tanzania, Football is like a religion to the supporters. They love and respect the teams and that's what we need back in Kenya. 
"The fans will be here in large numbers to support Simba but we are ready to play our game the best way we can," he underlined. 
PUT YOUR HANDS UP IF YOU WANT TO PLAY EVERTON: Bandari FC players call to arms following their training session at the Uhuru Stadium, Dar-es-Salaam on January 24, 2018. PHOTO/SPN
Bandari have been in great shape recently and are relishing the prospect of winning the trophy and hosting English Premier League's Everton FC later on in the year. 
READ MORE: Mbao Boss Bushiri Pays Respect To SportPesa Cup Semis Rival Sharks
"A match against Everton is on every team's mind and it's no different for us. 
"It's not everyday you get such an opportunity and we can't let it go without a fight," Mulumba stressed.
SPL rivals Kariobangi Sharks FC will play Mbao FC in the other semi for the right to feature in Sunday's showpiece where the winner will pocket USD30,000 besides lifting the gleaming trophy.
2019 SP CUP SUMMARY
QUARTER FINAL RESULTS
Singida United FC 0 Bandari FC 1
Yanga SC 2 Kariobangi Sharks FC 3
Mbao FC 1 (4) Gor Mahia FC 1 (3)
Simba SC 2 AFC Leopards SC 1
SEMI FINAL FIXTURES (EAT) FRIDAY, JANUARY 25
2.00 pm: Bandari vs Simba
4.15pm: Sharks vs Mbao