Ailing Cavs Fire Smith In Post LeBron Clear Out, Raptors Dilute Magic
Nov 21 - by AFP for SportPesa News
NBA's worst team announce 2016 title winning 33 year-old guard will no longer be with the team, Green inspires Toronto to victory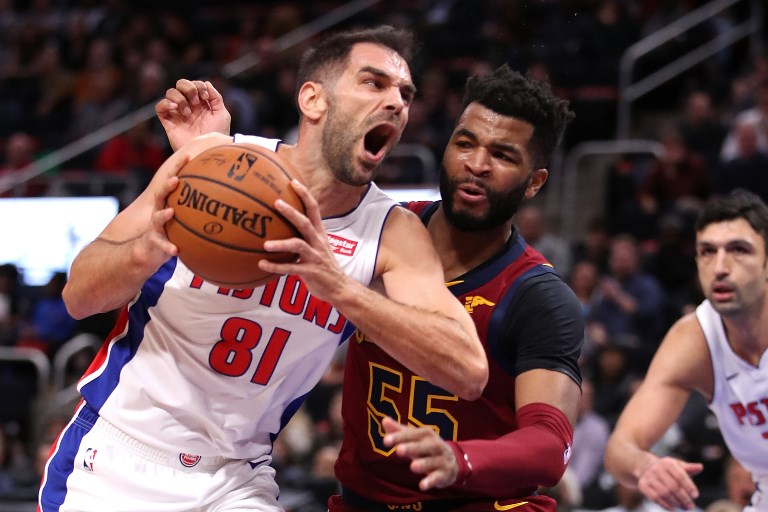 The move comes hours after the release of an interview with Smith by The Athletic that featured him saying the Cavs, 2-13 overall and 0-8 on the road, were trying to lose
The Cavaliers will try to trade Smith and he will work out away from the team until his future is settled. He won't play or attend Cavs games, including Wednesday's return by James to Cleveland
The Washington Wizards, playing without injured center Dwight Howard, rallied from a 24-point first-half deficit with a stunning second-half revival to defeat the visiting Los Angeles Clippers 125-118
WASHINGTON, United States- J.R. Smith, who helped the Cleveland Cavaliers win the 2016 NBA title, will no longer play for the league-worst Cavs as they try to rebuild after losing superstar LeBron James.
The Cavaliers announced that Smith, a 33-year-old guard, "will no longer be with the team as the organization works with JR and his representation regarding his future."
The move comes hours after the release of an interview with Smith by The Athletic that featured him saying the Cavs, 2-13 overall and 0-8 on the road, were trying to lose.
"The organization wishes JR and his family well and appreciates and thanks him for his contributions in the community, to the team and his role in the 2016 NBA Championship," the Cavaliers said in a statement.
The Cavaliers will try to trade Smith and he will work out away from the team until his future is settled. He won't play or attend Cavs games, including Wednesday's return by James to Cleveland with his new Los Angeles Lakers teammates.
Smith joined the Cavaliers in 2015 from the New York Knicks and was a key outside shooter in the team's 2016 championship run, but is averaging a career-low 6.7 points a game this season.
Smith averaged 12.6 points a game in his first 14 NBA campaigns, which included stints at New Orleans and Denver before a 2011-12 season with China's Zhejiang Golden Bulls and an NBA return with the Knicks.
At the same time, Danny Green sank a jump shot with half a second remaining Tuesday night to lift the Toronto Raptors over the Orlando Magic 93-91 and into the Eastern Conference lead.
Winning the dramatic Florida matchup improved the Raptors to 14-4 overall, a league-best 7-2 on the road and one game ahead of Milwaukee atop the East.
Kawhi Leonard led the Raptors with 18 points while Pascal Siakam added 15, Spain's Serge Ibaka added 14 and Green finished with 13.
Wizards rally
An Ibaka jumper put Toronto ahead 91-89 but the Magic equalized on a dunk with 2.3 seconds remaining in the fourth quarter by Evan Fournier, who led Orlando with 27 points.
Danny Green (left) of the Toronto Raptors dribbles the ball in front of Brandon Ingram of the Los Angeles Lakers at Staples Center on November 4, 2018 in Los Angeles, California. PHOTO/AFP

But that only set the stage for Green's last-second heroics.
"I just got a good look and got the shot up. Luckily it went in," Green said. "We wanted to show some character and maturity and somehow find a way to execute. We did that."
The Portland Trail Blazers seized the lead in the Western Conference with a 118-114 victory at New York, improving to 12-5, one game ahead of Memphis and defending champion Golden State.
C.J. McCollum scored 31 points and Damian Lillard added 29 points and eight assists to lead the Trail Blazers while Tim Hardaway Jr. had a game-high 32 points for the Knicks, who lost their sixth game in a row.
At Miami, Brooklyn's D'Angelo Russell scored 20 points to lead six Nets scorers in double figures in a 104-92 victory over the Heat.
Hassan Whiteside had game highs of 21 points and 23 rebounds in a losing cause.
The Washington Wizards, playing without injured center Dwight Howard, rallied from a 24-point first-half deficit with a stunning second-half revival to defeat the visiting Los Angeles Clippers 125-118.
Washington closed the game with a 28-13 run over the final 7:28 to shock the Clippers, Wizards star John Wall shrugging off reports he might be on the trade block to score 30 points with eight assists, two steals and two blocked shots while backcourt partner Bradley Beal added 27.
"It's amazing. All the heart and effort and drive I've had for this team, to hear I might be traded, to hear all those things is kind of funny and frustrating all at the same time," Wall said.
"I just try to stay above all that, doing everything I can to pull it together. It's just about effort. In the second half we played with effort and heart. In the first half we didn't play with any urgency."
Down 20 points in the third quarter, the Wizards saw Jeff Green score 10 of his 20 points in the fourth quarter, including back-to-back 3-pointers and a slam dunk in the crucial closing run.
"We just played harder than them in the second half," Wizards coach Scott Brooks said. "We showed mental toughness and resiliency and just kept after it. They have to do a better job of finding it in them."
Tobias Harris led the Clippers with 29 points.