Agnes Tirop Successfully Defends TCS World 10K Bengaluru Title
19th May 2019 - by Erick Ochieng
The men's category was won by Andamlak Belihu of Ethiopia who ended the tape in 27:56 to emerge champion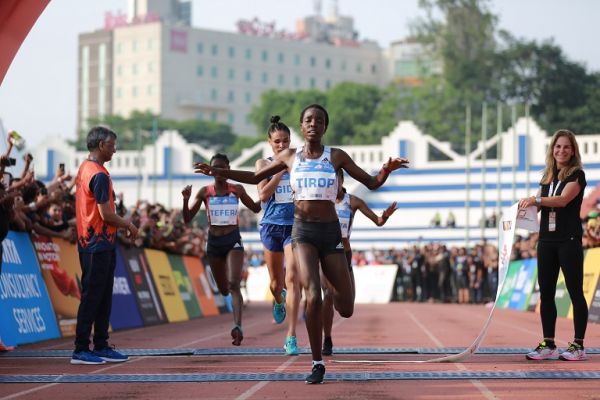 SUMMARY
World 10,000m women bronze medalist Agnes Tirop clocked 33:55 to successfully defend the 12th edition of  TCS World 10K Bengaluru 2019 road race in India on Sunday

Tirop, who declared her ambition to return next year and bid for a hat trick of wins, injected regular short bursts of pace during the first three kilometres but none were sustained, and they did nothing to break up the group apart from dropping Bahrain's 2017 world marathon champion Rose Chelimo

An estimated 25,000 runners took to the roads for five different races in what has become one of highlights of Bengaluru's sporting year
BENGALURU, India- World 10,000m women bronze medalist Agnes Tirop clocked 33:55 to successfully defend the 12th edition of TCS World 10K Bengaluru 2019 road race in India on Sunday.
Tirop who made a winning start to her campaign this season, became the first woman to win back-to-back titles in the competition history.
The men's category was won by Andamlak Belihu of Ethiopia who ended the tape in 27:56 to emerge champion.
MUST READ: Spotlight Firmly On Kenyans Tirop, Tanui In Lucrative Bengaluru 10K
"I would have liked to have run faster and I did my best but no one else wanted to push hard so I was just content with the win," Tirop underlined.
Tirop, who declared her ambition to return next year and bid for a hat trick of wins, injected regular short bursts of pace during the first three kilometres but none were sustained, and they did nothing to break up the group apart from dropping Bahrain's 2017 world marathon champion Rose Chelimo.
Eight women were still closely grouped together at the famous Cubbon Park, and that was still the situation as they entered the stadium for one final lap of the track.
MUST READ: Six Of The Best: Man City Lift FA Cup To Seal Historic Domestic Treble
Ethiopia's Letsenbet Gidey darted into the lead on entering the stadium but, with 50m to go, Tirop still had plenty in reserve and emerged victorious in a thrilling five-woman sprint for the line.
Senbere Teferi of Ethiopia was second and Gidey third, with both women also clocking 33:55 apiece.
Netsanet Gudeta, the 2018 world half marathon champion, was fourth in 33:56 with Dera Dida a second further back in fifth place.
MUST READ: The Mashemeji Derby Story Since Gor, Leopards Signed With SportPesa
The TCS World 10K Bengaluru 2019 has a total prize fund of US$213,000, with the men's and women's winners each taking home US$26,000.
An estimated 25,000 runners took to the roads for five different races in what has become one of highlights of Bengaluru's sporting year.
In addition to the TCS World 10K for elite runners, there was an Open 10K, the Majja Run (5km) the Senior Citizens' Race and Champions with Disability Race
(both 4km).
MUST READ: Undefeated Wilder Retains WBC Heavyweight Title After Brutal KO