ABU Champion Okwiri Feted As BAK Elections Set For Friday
27th June 2019 - by Erick Ochieng
The Olympian floored Hussein Itaba of Tanzania to win the crown at Nairobi's Charter Hall on June 8 elevating his tale of the tape to six bouts including five wins and a draw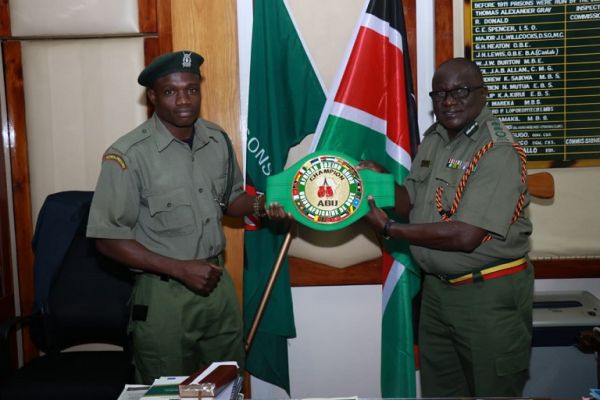 SUMMARY
Okwiri was elevated when he presented the coveted belt he won on June 8 to KPS Commissioner General Wycliffe Ogallo in Nairobi on Thursday
Boxing Association of Kenya  (BAK) will conduct its long awaited election at Moi International Sports Center Kasarani on Friday
The elections were initially scheduled for May 28 but were pushed forward by a month following a request by the Registrar of Sports Rose Wasike to allow the federation to comply wityh the 2013 Sports Act

NAIROBI, Kenya- African Boxing Union (ABU) middleweight champion Rayton 'Boom Boom' Okwiri has been promoted to the rank of Sergeant by the Kenya Prisons Service (KPS).

Okwiri was elevated when he presented the coveted belt he won on June 8 to KPS Commissioner General Wycliffe Ogallo in Nairobi on Thursday.
"Rayton Okwiri Nduku, Kenya Prisons Service pugilist presented CGP the ABU belt he won on June 8, 2019 against a Tanzanian boxer.
READ ALSO: Booming Rayton Okwiri Basks In The Glow Of ABU Welterweight Title
"Okwiri was promoted to the rank of Sergeant on merit for flying both the department and country's flag high," KPS posted on their social media.
"This is a great motivation for me, I'm inspired to work hard to win more titles. My plan is to defend this belt before the year ends," Okwiri underlined.
The Olympian floored Hussein Itaba of Tanzania to win the crown at Nairobi's Charter Hall on June 8. His current tale of the tape stands at six bouts including five wins and a draw.
Meanwhile, Boxing Association of Kenya (BAK) will conduct its long awaited elections on Friday at Moi International Sports Center Kasarani in Nairobi.
READ ALSO: Record-Chasing Uganda Inch Closer To Last 16 After Zimbabwe Draw
The Sports Dispute Tribunal on Tuesday ruled that the elections, to be presided by the Independent Electoral and Boundaries Commission, should go on as scheduled saying its the only way to restore sanity in the sport.
Anthony Ombok Otieno aka Jamal will be seeking to unseat interim chairman John Kameta who has not made it clear wether he will defend the seat.
Jamal has made an extensive countrywide tour to push his now noble "Ndondi Mashinani" initiative he hopes will revolutionise amateur boxing in the country.
"Former boxers have suffered immensely in the game and it has reached a point when someone has to step up to save the sport," Jamal noted.
"Kenya is yet to win a medal at the Olympics since 1988 in Seoul when Robert Wangila became the first African gold medalist. We will gradually regain this lost glory, but not until we bear the change," he added.
READ ALSO: Fearless Rapinoe Ready To Steer USA Over France Amid Trump Backlash
The elections were initially scheduled for May 28 but were pushed forward by a month following a request by the Registrar of Sports Rose Wasike to allow the federation to comply with the 2013 Sports Act.