'Your Whole Body Will Hurt,' Zarika Promises Phiri In Rematch Fight
Feb 06 - by Mutwiri Mutuota for SportPesa News
Kenya's WBC Super bantamweight female champion departs for the UK for training ahead of the March 23 title fight in Nairobi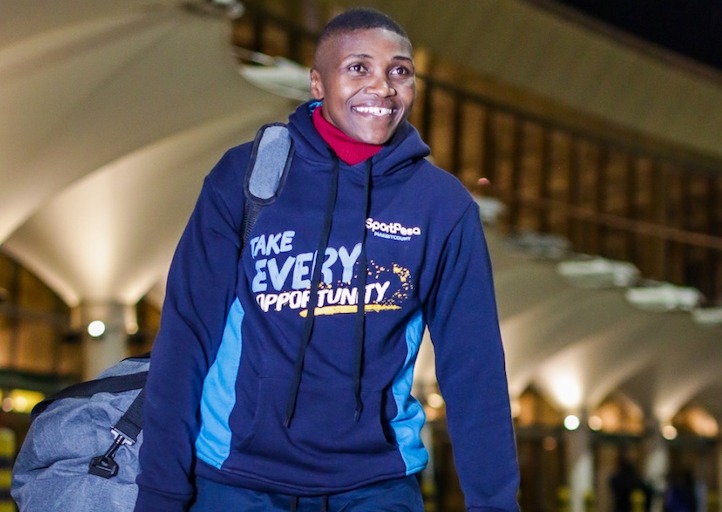 Zarika and Phiri gave boxing fans worldwide the most brutal of fights on December 2, 2017 at the Carnivore Grounds where the Kenyan prevailed on unanimous points decision after she scored 97-92, 98-91 and 99-92 from the three international judges who presided over the fight
In the UK, the 'Iron Fist' will train in the 4 Corner Combat and Fitness Gym under the watchful eyes of coach John Gillies and his team in Liverpool before returning back to the country on March 16
Zarika suffered a cut below her left eye that left a permanent scar when Phiri- who stepped up a weight division to fight the Kenyan- struck her in the fifth round of their ferocious slugfest
NAIROBI, Kenya- "I promise Catherine Phiri that after our bout, her whole body will hurt. She will not eat meat for a week."
That was the stern warning Kenya's World Boxing Council (WBC) female Super bantamweight champion, Fatuma 'Iron Fist' Zarika delivered to her Zambian challenger as she flew out to the United Kingdom on Tuesday night to prepare for their eagerly awaited March 23 re-match in Nairobi.
Zarika and Phiri gave boxing fans worldwide the most brutal of fights on December 2, 2017 at the Carnivore Grounds where the Kenyan prevailed on unanimous points decision after she scored 97-92, 98-91 and 99-92 from the three international judges who presided over the fight.
MUST READ: Best Of 2018: Fatuma Zarika Outclasses Mercado To Retain WBC Title
However, the Zambian's camp cried foul, petitioning the WBC to claim their boxer had won the contest occasioning the repeat fight where Zarika is raring to put the issue beyond doubt.
"She is not the best boxer I have ever faced. I have fought better boxers than her, some even better than me especially when I was fighting overseas.
"The bout was tough and the rematch will be tougher. Catherine believes she was not beaten and she will be coming as a challenger who is determined to take the belt from me," Zarika charged moments before departing for the UK from the Jomo Kenyatta International Airport.
"What I can tell her is that this belt is going nowhere and I will hold it for as long as I want to," the WBC crown holder who stopped Mexican challenger, Yamileth 'Yeimi' Mercado on split-decision to retain her title in Nairobi on September 8, 2018 remarked.
MUST READ: Best Of 2018: Zarika, Waguthii Punch Their Way To Coveted WBC Titles
In the UK, the 'Iron Fist' will train in the 4 Corner Combat and Fitness Gym under the watchful eyes of coach John Gillies and his team in Liverpool before returning back to the country on March 16.
More experience
Kenya's WBC Super bantamweight women's champion, Fatuma 'Iron Fist' Zarika poses on the balcony of her Nairobi apartment ahead of her departure for the UK on Tuesday, February 5, 2018. PHOTO/SPN
"I'm going there to gain more experience than what I got there the first time. They could not believe that Kenya can produce such talent in boxing and also, when they saw how I was training," the WBC champion stated.
Gillies who boasts over 20 years experience in the sport, was in Nairobi to watch the boxer they fondly call 'Zee' take on Mercado in a performance where the Kenyan had to dig deep to prevail.
"Zarika has a boxing brain and we had to train her to distribute her energy evenly through the rounds and towards the end, Mercado tired as we expected she would," Gilles stated after the fight.
Zarika suffered a cut below her left eye that left a permanent scar when Phiri- who stepped up a weight division to fight the Kenyan- struck her in the fifth round of their ferocious slugfest.
MUST READ: Lomachenko Pounds Pedraza To Unify Boxing Lightweight Belts
It is on this account that the Zambian camp argued their fighter should have won via knockout and the bout stopped but the bruised Kenyan continued and eventually, nailed the unanimous victory.
"It is a normal thing that happens in boxing and it cannot keep you down. There was no point in that fight that I wanted to give up. I cannot tell how I got the cut in the left eye because I had trained for this fight and it had never happened to me before," Zarika recounted.
"Even though the first thing that goes through your mind after such a thing is the feeling of giving her a beating she will never forget, the aim will be to avoid getting cut in the ring and work for the victory," the 33 year-old insisted.
MUST READ: Deontay Wilder Rematch With Tyson Fury Sanctioned By WBC
Zarika declared her fight against Phiri would be among her last as she seeks to retire by the end of the year.
"I have about two fights left and I want to leave room for upcoming boxers. I will always be remembered for winning the WBC title and made a name that will always be part of our history," she added.
Zarika indicated she could partner with her coaches in the UK to set up a camp to train young boxers and tap into the rich talent she has exposed to the world.
Kenya's WBC Super bantamweight women's champion, Fatuma 'Iron Fist' Zarika lifts her arms in victory after scoring an unanimous decision against Zambia's Catherine Phiri on December 2, 2017 in Nairobi. PHOTO/File