'We Are No Pushovers' Stars Captain Wanyama Declares; Raila Visits Team In Cairo
20th June 2019 - by Mutwiri Mutuota
Head coach Sebastien Migne calls on Kenyans to tempter their expectations as they prepare for Group C battle at the Egypt 2019 AFCON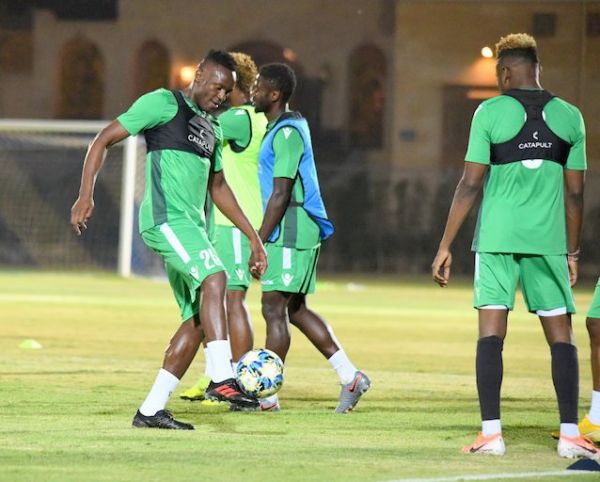 SUMMARY
Speaking after their first training session after landing in Egypt at the 30 June Stadium Complex, Stars skipper, Victor Wanyama and head coach Sebastien Migne declared they were there to make an impression, not make up the numbers
According to the Spurs favourite, qualifying for the AFCON finals for the first time since Tunisia 2004 was the shot in the arm Kenyan football needed in its bid to recover from years of poor results
However, he (Migne) is under no illusion that Kenya will suddenly emerge as a force in the competition, insisting that a lot of work needs to be done for the country to be considered a heavyweight in the African game
NAIROBI, Kenya- "We are no push overs." That was the terse statement of intent delivered by Harambee Stars captain, Victor Wanyama, as the national team got down to business following their arrival in Egypt to take part in the 2019 CAF Africa Cup of Nations.
At the same time, former Prime Minister, Rt. Hon Raila Amolo Odinga, visited the team at their hotel in Cairo on Thursday as Kenya prepares to test their ability against the might of 1990 champions, the Desert Foxes of Algeria on Sunday with home team Egypt and Zimbabwe getting the action underway on Friday evening.
Stars will then take on neighbours Tanzania four days later before wrapping their Group C assignment against the Lions of Teranga from Senegal on July 1.
Speaking after their first training session after landing in Egypt at the 30 June Stadium Complex, Stars skipper, Victor Wanyama and head coach Sebastien Migne declared they were there to make an impression, not make up the numbers.
DO NOT MISS: Posta Rangers Survive Nairobi Stima Power Surge To Retain SPL Status
However, they cautioned local fans against expecting too much on their return to the continental showpiece for the first time in 15 years, noting their presence in Egypt was only a start, not an end to their journey back to the summit of African football.
Wanyama, who recovered from injury to help his English Premier League (EPL) side Tottenham Hotspur FC reach the 2018/19 UEFA Champions League final, declared their Group C rivals should not expect a stroll in the garden when they face Stars.
"It's football but things have changed. We will not be pushovers, we are not underdogs we respect our opponents but it will not be easy," the midfield powerhouse charged.
According to the Spurs favourite, qualifying for the AFCON finals for the first time since Tunisia 2004 was the shot in the arm Kenyan football needed in its bid to recover from years of poor results.
"It has given us motivation since for most of the players, it's their first time to participate and we want to be here more often.
Street slang
DO NOT MISS: Injury Ends Mandela AFCON Dream, Mohammed Out Of DRC Test
"By doing well here, it will give us a chance of qualifying easier. We are here to learn about the importance of this tournament," Wanyama who spoke to reporters in Sheng, his country's street slang added.
He rued the absence of South Africa-based defender Brian Mandela, who injured his knee during their 19-day training camp in France but underlined the Maritzburg United FC man was still an integral part of the squad.
"He is an important part of the team to give motivation and that is why after surgery, he will come here and join us," the former Celtic FC and Southampton FC ace said.
Head coach Migne confirmed Mandela had undergone surgery in France and would fly in to join his teammates later Wednesday or Thursday.
Harambee Stars hurdle after their first training session in Cairo on Wednesday, June 19, 2019 after arriving in Egypt for the 2019 CAF Africa Cup of Nations. PHOTO/Courtesy/FKF

The Frenchman who took over at the helm in May last year echoed his captain but urged football fans to keep the weight of huge expectation in check, terming his player's successful qualification for the Egypt 2019 a 'surprise.'
"We have prepared well for the tournament and in terms of the competition, coming five days before is enough. My friend from Uganda told me it was difficult to have two training sessions in Qatar," the former Republic of Congo tactician highlighted.
DO NOT MISS: VAR To Enter 2019 AFCON Fray From Quarters, FIFA Boss To Help Run CAF
He also regretted the huge loss of Mandela but offered that was not an excuse for poor performance.
"It's difficult to play without Brian, one of my leaders defensively, even more than Wanyama at the back. I'm happy (Joseph) Okumu showed quality against DR Congo," the Stars boss echoed.
Migne challenged his men to seize the opportunity to impress, hinting at using his entire team as Stars attempt to qualify for the AFCON knockout stages for the first time ever.
"I cannot cry about absent players, I need to find solutions and remain positive. Wanyama, (Michael) Olunga and Brian were not there for our second leg against Ghana.
"It will be a good opportunity to know the capability of the team and if we qualify, it will be the squad of 23, not first 11," he urged.
Dignitaries visit
On the state of his team, the head coach was confident he has a team capable of competing well in Group C and beyond should Kenya make the round of 16 in the expanded 24-team tournament that will be played in this format for the first time.
DO NOT MISS: Manvir On 2019 Safari Rally WRC Candidate Event Pole, 51 Entered
"Everybody is available. The main problem is accommodation. (In France) we had Wi-Fi, Internet and Sport Channel was there and when you have a player with only one training session, we need an English Sports Channel to follow the tournament.
With the new generation, if you do not have Wi-Fi, the day is long but I do not like wasting time," Migne reported.
"Everyone is enjoying being on the field. We have a strong team as opponents and we need to try to be perfect and optimise all the conditions in the team."
However, he is under no illusion that Kenya will suddenly emerge as a force in the competition, insisting that a lot of work needs to be done for the country to be considered a heavyweight in the African game.
"I'm realistic, we have beaten Madagascar and drawn against DR Congo where we have a lot of opportunities. We are on our way to challenge these teams, perhaps in three days, two months or two years.
"We should not forget we were so far from AFCON, so far from these teams, we were away for 15 years. Be patient, something will happen and hopefully immediately, the boys surprised us in 14 months and I'm not sure what reaction we will have in the field against a strong team," the Frenchman advised.
DO NOT MISS: Posta Rangers Survive Nairobi Stima Power Surge To Retain SPL Status
"Soon, we shall be able to compete against such teams and get close to the top 10 in Africa," he emphasised.
On Thursday, Raila and a high level delegation at the team hotel in Cairo visited the side that has excited a nation.
Cabinet Secretary, Eugene Wamalwa was among the dignitaries who were presented with the team jersey by Wanyama and the head coach.
Former Prime Minister, Raila Amolo Odinga (centre) is presented by the Harambee Stars jersey by team captain, Victor Wanyama (2nd L) and head coach Sebastien Migne (2nd R) as Cabinet Secretary, Eugene Wamalwa (right and other dignitaries watch on at the team hotel in Cairo, Egypt on Thursday, June 20, 2019. PHOTO/Courtesy