'King' James Leaves Chamberlain In The Shade, Lakers Scorch Blazers
Nov 15 - by AFP for SportPesa News
The former Cleveland Cavaliers power forward scored 44 points, his highest since he joined the Los Angeles outfit, which catapulted him to fifth place in the league scoring rankings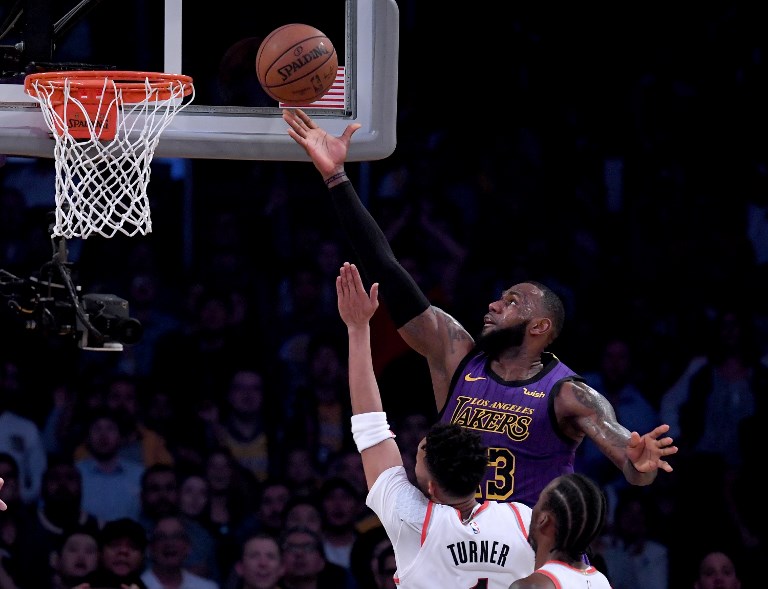 LeBron James poured on 44 points to leapfrog Wilt Chamberlain on the NBA's all-time scoring rankings on Wednesday as the Los Angeles Lakers defeated the Portland Trail Blazers 126-117
Lakers legend Kareem Abdul-Jabbar is the NBA's all-time points leader with 38,387 points, followed by Karl Malone (36,928) and Kobe Bryant (33,643) with Michael Jordan one place ahead of James at 32,292
James' dominant performance also extended to defense. He led the Lakers with three blocks and a steal in addition to his haul of points and assists
Golden State Warriors guard Stephen Curry will miss the reigning NBA champions' next three games while being monitored for a nagging left groin strain, the team announced Wednesday
LOS ANGELES, United States - LeBron James poured on 44 points to leapfrog Wilt Chamberlain on the NBA's all-time scoring rankings on Wednesday as the Los Angeles Lakers defeated the Portland Trail Blazers 126-117.
James' highest points haul since joining the Lakers saw him vault over Chamberlain into fifth place on the scoring rankings, leaving him with 31,425 points from his career.
Lakers legend Kareem Abdul-Jabbar is the NBA's all-time points leader with 38,387 points, followed by Karl Malone (36,928) and Kobe Bryant (33,643) with Michael Jordan one place ahead of James at 32,292.
James's standout night at the Staples Center saw him come within a whisker of a triple double, with the Lakers star finishing with 10 rebounds and nine assists in addition to his 44 points.
The 33-year-old made a point of snaffling the game ball after the buzzer sounded on what was a fourth straight victory for the Lakers, who improved to 8-6 to move up to seventh in the Western Conference standings.
James later paid tribute to Chamberlain when asked to reflect on passing the Lakers icon.
"One of the most dominant forces we ever had in our game, along with Shaq (O'Neal), one of the greatest Lakers to play the game," James said.
"I'm just happy we got another win. But any time my name is mentioned with some of the greats, I always think back to my home town and how far I've come. That's it for me."
James, who had expressed frustration earlier in the season after the Lakers slow start to the campaign, said he believes the team is gradually heading in the right direction.
"It's still a process for us," James said. "We want to try and get better every day. And I believe we've done that since the start of training camp.
"We've got better since September and into October, and now we've got better in November. We just want to try and continue it."
The only downside for the Lakers came with an injury to Rajon Rondo, who faces at least two weeks on the sidelines after suffering a broken hand.
"It's tough," said James. "He's one of our leaders. But it's next man up."
James' dominant performance also extended to defense. He led the Lakers with three blocks and a steal in addition to his haul of points and assists.
Curry out
JaVale McGee supported James with 20 points, while fellow starters Brandon Ingram (17) and Lonzo Ball (11) also weighed in with double-digit tallies. Kentavious Caldwell-Pope added 13 from the bench.
Portland, who fell to 10-4 with the defeat, were led by Damian Lillard with 31 points. C.J. McCollum had 23 points and Jusuf Nurkic added 21.
Meanwhile, Golden State Warriors guard Stephen Curry will miss the reigning NBA champions' next three games while being monitored for a nagging left groin strain, the team announced Wednesday.
Curry has missed the Warriors' past three games after suffering the injury last Thursday against Milwaukee and has been monitored and evaluated by the club's medical staff since then.
The 30-year-old sharpshooter, twice an NBA Most Valuable Player, will travel with the Warriors on their three-game road trip to Texas but he will not play and he will be re-evaluated in 10 days, the team said in a statement.
The Warriors visit Houston on Thursday, play at Dallas on Saturday and meet San Antonio on Sunday.
They also have a home contest next Wednesday against Oklahoma City before a home game against Portland on November 23, the day Curry is set to be re-examined.
Curry has averaged 29.5 points, 6.1 assists and 5.0 rebounds a game for the Warriors over 12 contests this season while hitting 49.2 percent of his 3-point shots.
At 12-3, the Warriors lead the Western Conference and are just behind Toronto (12-2) for the league's best record in the young season.
Times are tougher for the NBA's Texas trio, with expected powerhouse Houston at 6-7, Dallas at 5-8 and San Antonio at 7-5.