'Crawling Runner' Kunyuga Upsets Deep Field For Hangzhou Victory
Nov 04 - by IAAF for sportpesa news
Kenyan wins the men's race in 2:10:37 as Ethiopians shade their arch rivals at the Marathon des Alpes Maritimes in France on Sunday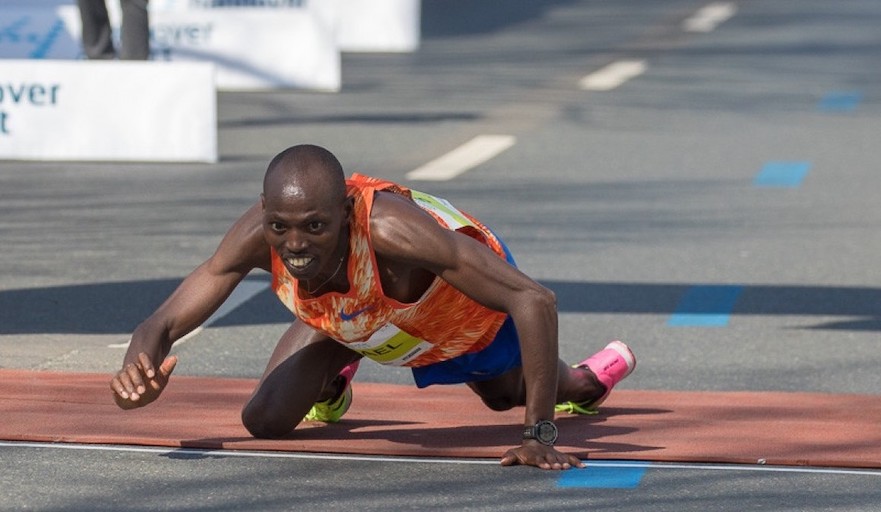 Njenga's winning mark is 21 seconds slower than his career best time set from his second-place finish in Hannover seven months ago
Ethiopians Abrha Milaw and Nurit Shimels claimed the men and women titles at the expense of their Kenyan rivals who settled for the minor podium positions in both races
Changeiywo, who eased off during the second part of the race, finished second in 2:38:17, 6:23 behind the winner, as Kimaiyo wound up third in 2:41:56 for another Kenyan 2-3
HANGZHOU, China- Kenya's Michael Njenga Kunyuga upset a deep field that included 11 men with Personal Bests faster than 2:10 to take the top honours in the men's race of the Hangzhou Marathon on Sunday.
Njenga completed the course in 2:10:37, just four seconds shy of the course record set by Azmeraw Bekele of Ethiopia last year.
Running under cool and wet conditions, a crowded leading group paced the race in the early stages. When they hit the 30-kilometre mark in 1:33:03, the leaders were cut to only 10 men. After another three kilometres, Kenya's Douglass Kimeli first pulled away but was soon caught up by Kunyuga.
After a five-kilometre see-saw battle between Kimeli and Kunyuga, the latter finally pulled clear after 38 kilometres.
The 31-year-old was well on track to assault on the course record when he passed 39 kilometres in 2:00:53.
But it seemed his target was only on the victory, as Kunyuga apparently slowed down in front of the line, waving hands to celebrate his win instead of keeping pushing ahead.
Kunyuga's winning mark is 21 seconds slower than his career best time set from his second-place finish in Hannover seven months ago.
But it's already the third title claimed by the efficient Kenyan, who debuted over the classic distance just last year and was competing in his fourth ever international road race.
Kimeli finished second in a lifetime best of 2:11:06, followed by compatriot Mike Kiprotich Mutai, six seconds in arrears in a Kenyan podium sweep.
In April, Kunyuga made international headlines when he showed superb resilience, finishing the Hannover Marathon in a manner rarely seen among elite runners: he collapsed a few metres from the finish but kept going by crawling over the line to finish second in 2:10:16.
Kunyuga managed to barely hold off his compatriot Duncan Koech who clocked 2:10:19 and his determination was rewarded with a personal best as well as the runner-up spot.
The race characterised by sunny conditions and rising temperatures was won by Ethiopia's Seboka Negusse while Kenyan Agnes Kiprop won the women's race.
In the corresponding women's race at Hangzhou, Ethiopia's pre-event favourite Hirut Tibedu lived up to the expectations as she trimmed nearly three minutes off the course record to take the victory.
Fastest entrant
The top two finishers in the women's race both beat the 2:28:08 course record set by Ethiopia's Muluhabt Tsega last year.
The 23-year-old Hirut, the fastest entrant with a personal best of 2:23:35 set in Shanghai last year, paced the race from the gun to the finish.
She pulled away from compatriot Tsehay Desalegn after 27 kilometres to seize the sole lead and never looked back, sealing a convincing win in 2:25:10.
It is Hirut's second victory in as many marathons this year following her 2:24:08 triumph in Seoul in March.
The 27-year-old Tsehay finished second in 2:27:35, cutting one minute off the PB she set when finishing third in last year's edition of this race.
Sifan Melaku crossed the line in 2:31:47 as the remote third finisher to complete a sweep of the medals for Ethiopia.
Elsewhere at the Marathon des Alpes Maritimes, an IAAF Bronze Label road race held between the French southern cities of Nice and Cannes, Ethiopians Abrha Milaw and Nurit Shimels claimed the men and women titles at the expense of their Kenyan rivals who settled for the minor podium positions in both races.
In the men's race, a group of six –Milaw, Kenyans Nixon Kurgat, Benad Too, Ronald Kurgat, Ben Sowinko as well as Berhane Tsegaye of Eritrea – hit the first 10-kilometre checkpoint in 30:25, suggesting a possible finish time of about 2:08.
At the halfway point, reached by the leaders in about 1:03:45, Ronald Kurgat and Tsegaye trailed behind by 1:34.
At this point, only Milaw, Nixon Kurgat and Too were still in contention for the victory as Somiwko, who was in charge of setting the pace, had finished his work; he would finish seventh in 2:27:20.
Abrha took command of the race, going through 30 kilometres in 1:31:10. His opponents started to drift back as Kurgat was 13 seconds in arrears, and Too 19 seconds adrift.
The gap continued to increase over the remaining kilometres. At the 40-kilometre mark, hit in 2:00:45, Abrha's lead grew to 2:27 over Kurgat and 3:17 over Too.
He did not fade in the waning stages, crossing the line in 2:07:26, 1:14 faster than the previous course record of 2:08:40 set by Kenya's Lukas Kanda in 2008.
Kenyan 2-3
The 30 year-old Ethiopian, who improved his personal best by 20 seconds, notched his second career win over the distance following a success in Stockholm last year.
Kurgat, who was the fastest man of the field with a PB of 2:07:11, held on for second in 2:10:41, as his compatriot Too rounded the podium in 2:11:56.
In the women's race, Nurit Yimam fulfilled her role of favourite to seal an Ethiopian double, as in 2017.
Nurit, whose PB of 2:28:41 was 1:09 faster than Kenya's Doris Changeiywo's, passed the 10-kilometre mark in 34:40, one second ahead of Changeiywo and one minute ahead of Edna Kimaiyo.
Nurit maintained her tempo to hit the halfway point in about 1:13:45, as Changeiywo, timed in 1:13:49, started to struggle with the pace.
Although she faltered during the closing stages, covering the 10-kilometre section between 30 and 40 kilometres in 37:00, Nurit broke the tape in 2:31:54, just 1:17 shy of the course record set by Radiya Adlo in 2010.
Changeiywo, who eased off during the second part of the race, finished second in 2:38:17, 6:23 behind the winner, as Kimaiyo wound up third in 2:41:56 for another Kenyan 2-3.
-Report by Quentin Guillon for the IAAF