Top Five Stories From Wednesday You Must Read Today
Nov 22 - by Erick Ochieng for SportPesa News
KCB FC looking foward for a top 10 finish in SPL as German Sophia Floersch vows to race again after the horrific crash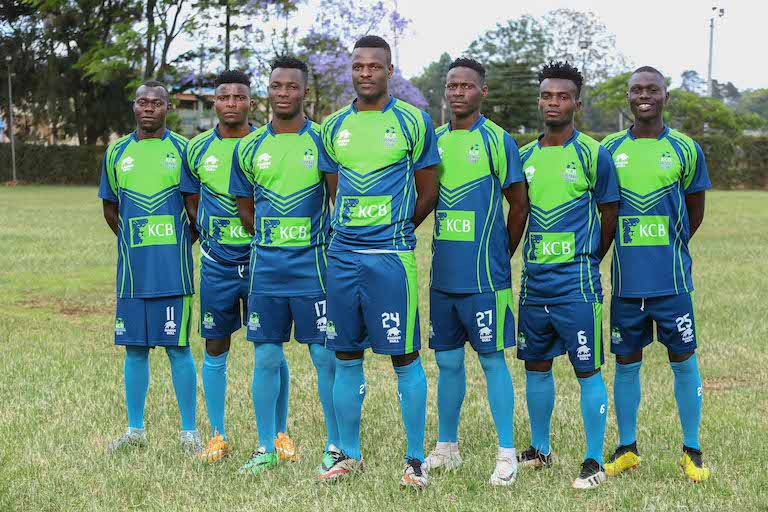 KCB finished second in the 2018 National Super League (NSL) behind Western Stima FC to return to the top flight since their relegation in 2015 with Ouna maintaining they are not in the SPL to just hang on to the competition
German Sophia Floersch flew off the track on Sunday, hurtling into marshals and photographers, before being rushed to a Macau hospital in a stable condition
Raju, a 39-year-old Bangladeshi dressed in the blue overalls that have become ubiquitous in the gas-rich emirate, smiles gently as he talks about his contract finishing in a few months
Before Mulee took over the national team in 2003, he had a 10-year stint with Tusker FC where he won three league titles and a similar number of Cecafa Kagame Cups
NAIROBI, Kenya- After gaining promotion to the 2018/2019 SportPesa Premier League (SPL),newly signed Kenya Commercial Bank (KCB) FC head coach, Frank Ouna, declared on Wednesday that they are here to stay in top flight league that kicks off on December 8.
The former Wazito FC tactician, who has helped the bankers to pen 13 new players,also outlined his ambition which is to finish in top 10 in the new season.
In rugby, KCB RFC intensified training on the day as they look forward for a successive title defence in the Kenya Cup that serves off this Saturday.
The Curtis Olago's side will face newbies ,Menengai Oilers RFC, hoping to put all the skills they mastered at a recent tour in South Africa into use.
Internationally, German Sophia Floersch, A 17-year-old racing driver who fractured her spine in a horrifying crash at the Formula Three Macau Grand Prix vowed to return to the sport after surviving surgery lasting nearly half a day.
Here are the top five stories from Wednesday compiled by that you must read today:
KCB Head Coach Ouna: We Are In The SPL To Stay
NAIROBI, Kenya- Promoted SportPesa Premier League side KCB FC head coach, Frank Ouna, is revving the bankers for a top half finish in the new season as the team unveiled 13 new faces to cash in on their ambitions.KCB finished second in the 2018 National Super League (NSL) behind Western Stima FC to return to the top flight since their relegation in 2015 with Ouna maintaining they are not in the SPL to just hang on to the competition.READ MORE
'I Will Race Again', Floersch Declares After Surviving Macau Horror Crash
HONG KONG, China- A 17-year-old racing driver who fractured her spine in a horrifying crash at the Formula Three Macau Grand Prix has vowed to return to the sport after surviving surgery lasting nearly half a day.German Sophia Floersch flew off the track on Sunday, hurtling into marshals and photographers, before being rushed to a Macau hospital in a stable condition.READ MORE
A Walk With The Ghost: Chronicles Of Ex-Stars Boss Jacob Mulee (Part 2)
NAIROBI, Kenya- The last notable milestone in Kenyan football was at the Tunisia 2004 CAF Africa Cup of Nations (AFCON) where Harambee Stars lined up among 16 finalists at the high table of the continental game.Since then, a near miss in the run up for the Angola 2010 campaign and botched qualification campaigns have contributed to give the football-loving public a decade and a half of heartache as the local game plummeted from the African radar.READ MORE

Ailing Cavs Fire Smith In Post LeBron Clear Out, Raptors Dilute Magic
WASHINGTON, United States- J.R. Smith, who helped the Cleveland Cavaliers win the 2016 NBA title, will no longer play for the league-worst Cavs as they try to rebuild after losing superstar LeBron James.The Cavaliers announced that Smith, a 33-year-old guard, "will no longer be with the team as the organization works with JR and his representation regarding his future."READ MORE
Titleholders KCB Host Promoted Menengai Oilers In Kenya Cup Opener
NAIROBI, Kenya- The 2018/19 Kenya Cup season begins this Saturday with six matches on the cards. Champions KCB get the season underway when they play newbies Menengai Oilers in the 2pm kickoff at the RFUEA Ground.READ MORE