The Ref Should Be Banned- Beaten Wazito Coach Hall Says After Posta Fiasco
28th January 2020 - by Louis Kalinga
The defeat was a seventh straight for the returning Wazito and the wretched run of form leaves them three points above the relegation zone with 11 points from 18 games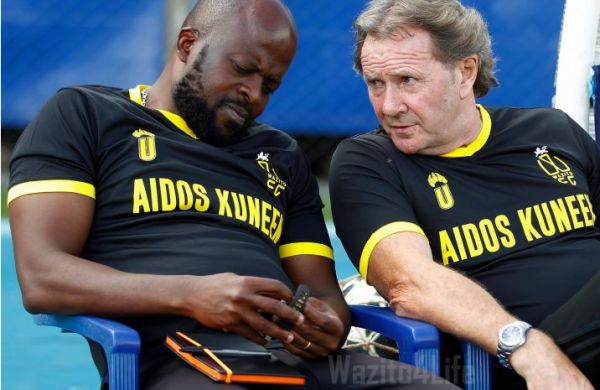 SUMMARY
An irate Wazito FC coach Stewart Hall called for the referee to be banned after his side went down 3-0 to Posta Rangers FC on Saturday at the Kenyatta Stadium in Machakos
The controversy was sparked on the hour mark as former Mathare United FC defender Johnstone Omurwa brought down Ezekiel Okare and the referee pointed to the spot
Wazito need to rediscover a winning touch if they are to avoid the axe and it begins with a next outing against league leaders Kakamega Homeboyz FC on Sunday, February 2

NAIROBI, Kenya- An irate Wazito FC coach Stewart Hall called for the referee to be banned after his side went down 3-0 to Posta Rangers FC on Saturday at the Kenyatta Stadium in Machakos.
The defeat was a seventh straight for the returning Wazito and the wretched run of form leaves them three points above the relegation zone with 11 points from 18 games.
"I have got to say that is the worst refereeing display I have seen in a long time.
"The first goal was a marginal free kick it could have gone either way but the penalty is an absolute joke," Hall told SportPesa News.
Joseph Mbugi opened the scoring for Posta in the fourth minute for a lead Sammy 'Pamzo' Omollo's side held on to until the break.
The controversy was sparked on the hour mark as former Mathare United FC defender Johnstone Omurwa brought down Ezekiel Okare and the referee pointed to the spot.
"Even their bench could not believe it and the fourth official is embarrassed by the decision.
"This is an absolute disgrace and I am sorry for talking about the referee but after that horrific performance, the ref should be banned," an angry Hall stated.
Replays show that it was a harsh call against Wazito but the penalty stood and Mbugi stepped up to score his second of the game.
Former Kenya Commercial Bank FC (KCB) forward Clinton Kisiavuki then rounded up the goals with a 90th minute effort to seal a third consecutive win for the mail carriers.
"We are rebuilding the team; we have released 10 players and signed nine. We have a new team and we know it will take little time but we are on the right path and we will be stronger and better," the former AFC Leopards SC tactician noted.
Wazito need to rediscover a winning touch if they are to avoid the axe and it begins with a next outing against league leaders Kakamega Homeboyz FC on Sunday, February 2.