Top Five Stories From Wednesday You Must Read Today
Aug 09 - by Mutwiri Mutuota for sportpesa news
World mourns hurdles world champion Bett, Kerr unshaken by Gor defeat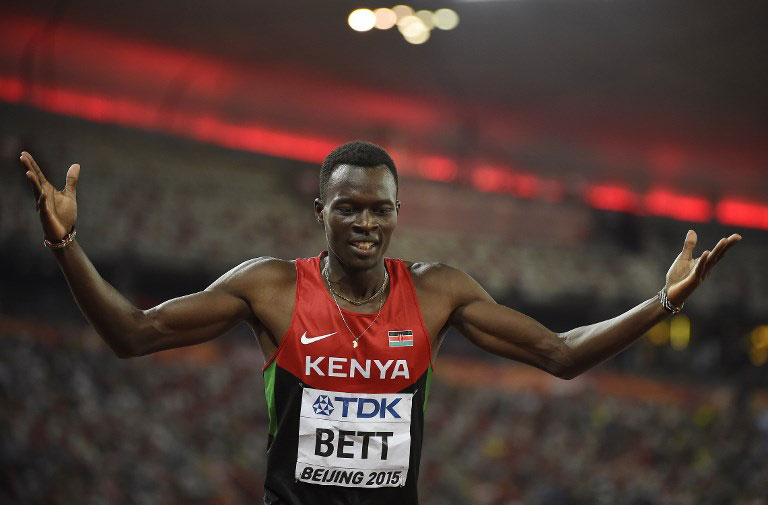 Tributes for the 28 year-old Bett poured from far and wide as peers, friends, family and the country at large came to terms with the tragic news
Gor Mahia FC, are also reeling from losing their first domestic top flight match this season
Everton FC have reason to be optimistic ahead of the forthcoming English Premier League (EPL) campaign
The 100th PGA Championships that tees off today will see heavyweights, Tiger Woods and Rory McIllory tee off together
NAIROBI, Kenya- Kenya and the athletics fraternity across the world was plunged into mourning on Wednesday following the demise of Beijing 2015 men 400m Hurdles world champion, Nicholas Kiplagat Bett.
Tributes for the 28 year-old poured from far and wide as peers, friends, family and the country at large came to terms with the tragic news that hogged local and international headlines throughout Thursday.
SportPesa Premier League champions, Gor Mahia FC, are also reeling from losing their first domestic top flight match this season but on Wednesday, head coach Dylan Kerr maintained their charge for a record-stretching 17th crown was still on course.
Everton FC have reason to be optimistic ahead of the forthcoming English Premier League (EPL) campaign with midfielder Idrissa Gana Gueye relishing his re-union with former Lille teammate, Lucas Digne at the Blues.
On the eve of the EPL transfer window on Wednesday, reports circulated in England that France World Cup winning midfield star, Paul Pogba, wanted out of Manchester United FC to play for FC Barcelona.
The 100th PGA Championships that tees off today will see heavyweights, Tiger Woods and Rory McIllory tee off together as they seek to end their Majors drought to wrap the collection of top five stories from Wednesday in SportPesa News that you should catch up with pronto.
Shock, Grief As World Mourns Fallen Nicholas Bett
NAIROBI, Kenya- Kenyans and the world reacted with shock and heartfelt tributes following the death of Beijing 2015 world champion, Nicholas Bett, in a road accident on Wednesday morning. Tributes poured for the two-time Africa Championships bronze winner who had just returned home after competing for his nation at Asaba 2018 in Nigeria where his twin brother, Aron Koech, minted gold as part of the men 4X400m relay quartet on Sunday. READ MORE
Gor Boss Kerr Unrattled Despite Bandari Defeat
NAIROBI, Kenya- Gor Mahia FC coach Dylan Kerr remains positive despite his side suffering their first league defeat of the season away to 10-man Bandari FC on Tuesday afternoon. The 2-1 win saw Bandari move up to second in the SportPesa Premier League (SPL) standings with 45 points from 26 matches, 11 points adrift of leaders Gor. READ MORE
Digne Everton Re-Union Excites Gana Gueye
LIVERPOOL, England- Idrissa Gana Gueye is excited by the prospect of ex-Lille teammate Lucas Digne playing his "best football" for Everton. Frenchman Digne joined the Blues from Barcelona last week and could potentially make his Premier League debut at Wolverhampton Wanderers on Saturday after playing the second 45 minutes of the weekend's friendly meeting with Valencia. READ MORE
Pogba Wants Out Of Man United To Play At Barcelona
LONDON, England- France World Cup star Paul Pogba is determined to end his fractious relationship with Manchester United manager Jose Mourinho and move to Barcelona, according to British media reports on Wednesday. The 25-year-old -- who scored in the 4-2 World Cup final win over Croatia -- has agreed terms with Barcelona for a deal worth £89.5 million ($115 million, 100 million euros) over five years, according to the Daily Mail. READ MORE
Woods, McIIroy Thrown In 100th PGA Duel Deep End
ST. LOUIS, United States- Tiger Woods and Rory McIlroy, past major winners trying to rise once more from contenders to champions, tee off side-by-side when the 100th PGA Championship starts Thursday. Woods, eight months into a comeback from spinal fusion surgery, and McIlroy, seeking his first major win since the 2014 PGA, will be joined by defending champion Justin Thomas for the first two days over the 7,316-yard, par-70 Bellerive Country Club layout. READ MORE