Shujaa Out To Shatter World Cup Semi Barrier In USA
Jul 19 - by Erick Ochieng for sportpesa news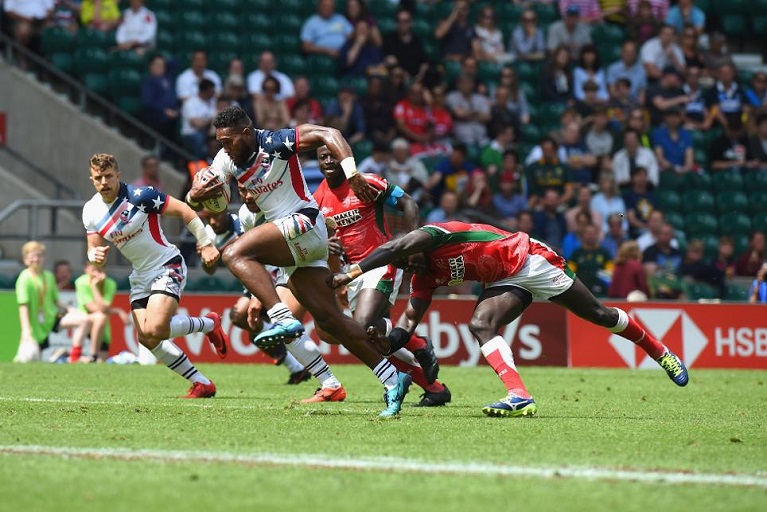 SAN FRANCISCO, America- Kenya Shujaa are out to break the semi-final barrier despite their Rugby World Cup Sevens campaign in San Francisco starting with a pre-qualifier against Tonga in America on Friday night.
Shujaa who are making a fifth consecutive appearance at the global tournament and take on Tonga in a do or die game at the AT&T Park at 11.01pm local time (+3GMT).
Kenya are motivated to scale the heights after an impressive performance in the 2017/2018 HSBC World Rugby Sevens Series where the country made history by finishing eighth with a record 104 points.
Our first game versus Tonga will be very critical. We have to start very well. We have to get the match going.
We have to hit our performance standards very early, get the results that we want and proceed from there, Shujaa head coach, Innocent Namcos Simiyu underlined before the team departed to USA last weekend.
The former national sevens captain who was part of the 2005 team as well as the 2009 line-up that sailed to the historic semifinal in United Arabs Emirates (Dubai), believes he has selected capable players for the task ahead in USA.
We have a very strong squad based on training. The guys have really trained hard and we believe we have selected the best side that can represent the country.
Were looking for good performances from the players and hopefully we can get some good results, underscored Simiyu.
Simiyu is hopeful that his charges will go past the last two semi-final stage realized in Dubai in 2009 and 2013 in Moscow, Russia.
Shujaa exited at the bowl stages on their 2001 debut in Mar del Plata, Argentina and Hong Kong in 2005.
Whoever wins the pre-round 16 fixture between Kenya and Tonga will face Scotland at 5.03 am on Saturday while the loser will drop to the bowl quarters to play against the loser of the Ireland- Chile clash at 11.26pm same day.
A round of 16 win for Kenya against Scotland will set up a potential quarterfinal date against South Africa at 1.32am on Sunday. South Africa are expected to easily navigate their round of 16 clash.
The format of this years tournament has been changed from the conventional grouping to knock-out basis.
It is an interesting setup. This being a knockout contest means that you have to adapt very first to the chaos. You have to keep winning to stay in it, highlighted Simiyu.
Kenya will compete alongside 23 other nations in the new look, high-stakes knock-out system that is bound to leave fans glued to their seats for the entire duration of the three-day competition.
Injeras milestone
At the same time, countrys top try scorer, Injera is set to reach yet another milestone when he becomes the first Kenyan player to feature at three Rugby World Cup Sevens after he was drafted in the USA bound squad.
The Kenyas all-time top try scorer and second overall in the World Series featured at the 2009 tournament in Dubai under then head coach Benjamin Ayimba.
He again featured in the Mike Friday coached squad that reached a second semifinal at the 2013 tournament in Moscow.
Former captain, Andrew Amonde, Eden Agero and William Ambaka will all be making their second appearance at the World Cup.
Selected Rugby World Cup Sevens fixture
Kenya vs Tonga – 11.01pm (Friday night)
Shujaas Rugby World Cup Sevens squad:
Oscar Ayodi (Captain, Menengai Cream Homeboyz), Collins Injera (Stanbic Mwamba), Andrew Amonde (KCB), William Ambaka (Kenya Harlequin), Samuel Oliech (Resolution Impala Saracens), Nelson Oyoo (Top Fry Nakuru), Dennis Ombachi (Nondescripts), Jeff Oluoch (Menengai Cream Homeboyz), Brian Tanga (Kabras Sugar), Eden Agero (Kenya Harlequin), Herman Humwa (Kenya Harlequin), Samuel Ngethe (Menengai Oilers) Management: Innocent Simiyu (Head Coach), Geoffrey Kimani (Conditioning Coach), Lamech Bogonko (Physio), Erick Ogweno (Team Manager).