Shock, Grief As World Mourns Fallen Nicholas Bett
Aug 08 - by Mutwiri Mutuota for sportpesa news
From President Uhuru, the IAAF to Nameless tributes pour for Beijing 2015 champion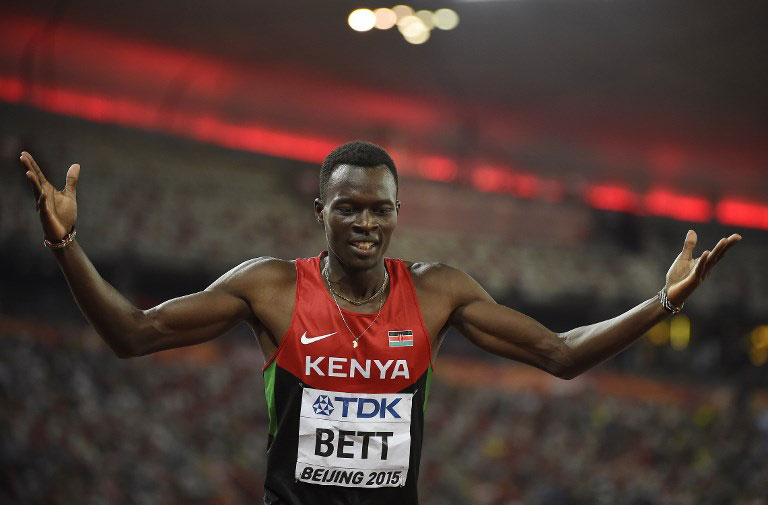 Nandi County Police Commander Patrick Wambani confirmed the demise of his fellow Kenya Police Service officer who was driving alone at the time of the accident at around 6am
Bett produced one of the biggest surprises of the IAAF World Championships Beijing 2015 when he took the gold medal in the 400m hurdles
Tuwei says AK coordinating with national police service and the family to organise a fitting send off for the athlete
Fellow Beijing 2015 champion, Julius Yego, devastated by the loss of roomate
NAIROBI, Kenya- Kenyans and the world reacted with shock and heartfelt tributes following the death of Beijing 2015 world champion, Nicholas Bett, in a road accident on Wednesday morning.
Tributes poured for the two-time Africa Championships bronze winner who had just returned home after competing for his nation at Asaba 2018 in Nigeria where his twin brother, Aron Koech, minted gold as part of the men 4X400m relay quartet on Sunday.
Nandi County Police Commander Patrick Wambani confirmed the demise of his fellow Kenya Police Service officer who was driving alone at the time of the accident at around 6am (+3GMT) having returned home on Tuesday from Nigeria.
His coach and former 400m national champion, Vincent Mumo, added Bett's car, a Toyota Prado SUV, hit speed bumps erected at Lessos Junction along the Eldoret-Kapsabet road before the athlete lost control of the vehicle which rolled before landing in a ditch.

"I'm out of words. We thank God for his life and pray to him to give us strength," his gutted coach who stated Koech was beyond grief said.
His body was removed to the Kapsabet General Nursing home where Koech in the company of other gutted top runners visited on Wednesday as the athletics fraternity reeled in shock.
"The IAAF is deeply saddened and shocked to hear that Kenya's 2015 world 400m hurdles champion Nicholas Bett, 28, died in a car accident.
"Bett produced one of the biggest surprises of the IAAF World Championships Beijing 2015 when he took the gold medal in the 400m hurdles, setting a Kenyan record of 47.79, the fastest time in the world that year," the world governing body, said in a statement.

As a shocked nation woke to the devastating news, Bett became the biggest trending topic on micro-blogging site Twitter and most discussed subject on Facebook as his peers joined celebrities and ordinary Kenyans in paying homage to a life that has been snuffed too soon at 28.
Stranded in Nigeria

"In God I trust. I believe in my self and I believe in God," Bett last Tweeted on May 2 before making the Kenya team for Asaba 2018 where he once again failed to hit the heights of his stunning 47.79 gold medal-winning run at the Beijing Worlds.
He was part of the Kenyan team that was stranded at the Murtala International Airport in Lagos for 48 hours before they travelled to Asaba for the continental track and field showpiece before the country went on to rule the medal charts with 11 gold, six silver and two bronze medals.
"Say what you feel. It's not being rude, it's being real. And don't let's anyone's ignorance, hate, drama or negativity stop you from being the best person. Nigeria is a poor, poor, country," Bett lamented on Facebook after he was marooned with his teammates in Lagos.
President Uhuru Kenyatta, led his compatriots in mourning the fallen star.
"Deeply saddened by the death of former 400m hurdles World Champion Nicholas Bett who died today in a tragic road accident.
"Bett earned the country great honours in his outstanding victories. My deepest sympathies and heartfelt condolences to his family, relatives and friends," the Head of State eulogised.
"Athletics Kenya regrets to learn of the sudden demise of Nicholas Kiplagat Bett through a road accident this morning.
"The late Nicholas was the 400m Hurdles World Champion in the year 2015 and was in the just concluded Africa Championships held in Asaba, Nigeria. Our heartfelt condolences go out to his family and to the entire Athletics fraternity," AK President, Lt. Gen (Rtd) Jackson Tuwei, said in a statement.
Speaking on phone, Tuwei added the federation is coordinating with national police service and the family to organise a fitting send off for the athlete.
"I have spoken to the father and the message has reached home. All plans are in order and we are really mourning the loss. He has done a lot for this country and he was headed for bigger things, he is still a young boy and we will really miss him," Tuwei added.
"Dark morning horrifying news! Can't believe its real but go rest with the angels Nicholas Bett! RIP, I'm shocked beyond words!
"My room mate in Beijing when we won gold together and it was just the other day we were in Nigeria now you no more! Life can be very short RIP bro condolences to his family. Pole sana (deep condolences) Aaron Koech be strong bro," fellow Beijing 2015 gold medallist and African Javelin men champion, Julius Yego posted.
Two-time Olympic gold medallist and men 800m record holder, David Rudisha, was among those mourning the fallen athletes who broke barriers in a country famed for long distance running excellence.
"Former 400m hurdles Champion Nicholas Bett dies this morning in a road accident in Nandi. May he soul Rest in Peace," Rudisha tweeted.
"My sincere and heartfelt condolences go out to the family and friends of Nicholas Bett, the 2015 World 400m hurdles champion.
"It is a sad morning to athletic fraternity following the loss our own Nicholas Bett, former 400M hurdles World Champion. I wish send my deep condolences to his family.
"Our prayers and thoughts are with you during this difficult time," Glasgow 2014 women 5000m Commonwealth champion and former World Under 20 gold winner, Mercy Cherono mourned.
"You made Kenya proud and you will be missed by the entire nation and the Athletics fraternity. We have lost a champion. RIP Nicholas Bett," leading businessman and industrialist Chris Kirubi added.
Great inspiration
Other political leaders hailed Bett who missed the Rio 2016 Olympics and a defence of his title at London 2017 injured with the country's notorious roads that claim thousands of lives each year coming for criticism.
"So sad to learn of the death of Nicholas Bett through a road accident this morning.
A true Kenyan champion who made us proud in the Beijing World Champions, 2015.
May God grant his family and friends strength during this time and may his Soul rest in peace," Machakos County Governor, Dr. Alfred Mutua said.
"So unfortunate that the country has lost another Kenyan in a road crash, Nicholas Bett, an accomplished athlete (400m Hurdles). Very sad. My condolences to his family, people of Nandi County and Nation at large!" Professor James Ole Kiyiapi, a Presidential Candidate in the August 2017 General Election stressed.

"I mourn the passing on of Nicholas Bett. He was a great inspiration to Kenyan Athletes. We must make our roads safe," Bungoma County Senator, Moses Wetangula, who is also the Minority Leader in the country's Senate bemoaned.
"My heartfelt condolences to the family and friends of 400m hurdles champion, Nicholas Bett. It is unfortunate that Kenya has lost a rising star," Baringo County Senator, Gideon Moi, the son of Kenya's second President Daniel arap Moi grieved.
"What a loss to the Kenyan sports fraternity. Rest well Nicholas Bett. Always a champ!" local chart topping pop superstar, David 'Nameless' Mathenge mourned.
The lanky athlete tried volleyball in his days at Cheptil High School, captaining the institution to the regional finals before switching to the Decathlon and 110m Hurdles in athletics that preceded his move to 400m Hurdles.
After winning a couple of bronze medals at the Rabat 2014 Africa Championships, Bett got the inspiration to train for the landmark moment that defined his career at the Chinese capital.