Prinsloo Winners Homeboyz Top Seeds For Sepetuka 7s
Jul 23 - by SPN Correspondent for sportpesa news
Deejays spin their way to early national sevens series advantage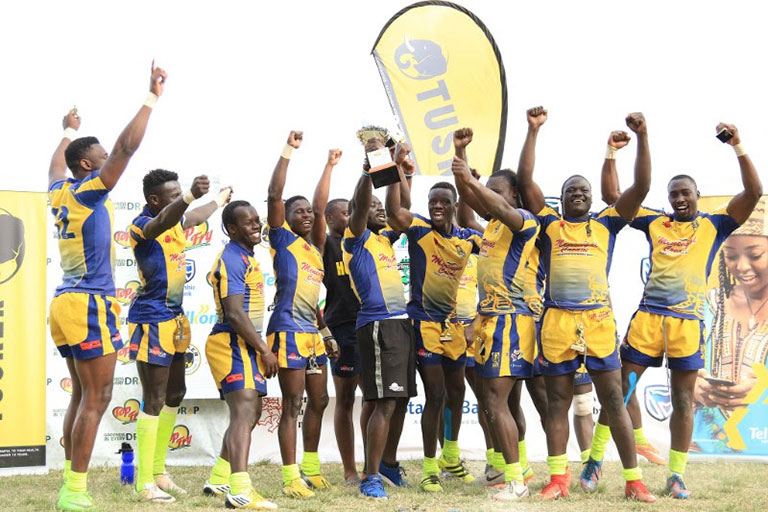 Homeboyz sink Mwamba RFC 19-12 to bag Prinsloo title in Nakuru
Series moves to Eldoret this weekend with Deejays in Pool A
Impala win bronze, Quins finish fifth, Mean Machine take Challenge Trophy, Blak Blad bag 13th-place play-off at Prinsloo
Domestic circuit opens on a disappointing weekend for Shujaa at Rugby Sevens World Cup
NAIROBI, Kenya- Homeboyz RFC are seeded first for the second leg of the Stanbic Bank National Sevens Circuit, Sepetuka 7s in Eldoret this weekend following their opening round Prinsloo 7s victory where they beat Mwamba RFC 19-12 in the Main Cup final.
Domestic series action gave local rugby fan an outlet to forget the nightmare Kenya Shujaa outing at the Rugby World Cup Sevens over the weekend where they let a 26-0 lead slip to fall 26-31 to Scotland in the round of 16.
The deejays are in Pool A with Menengai Oilers RFC, Mean Machine RFC and Masinde Muliro University.
Beaten finalists Mwamba are in Pool B with Kabras Sugar RFC, Strathmore and Kisumu while Pool C features Resolution Impala Saracens RFC, Top Fry Nakuru, Catholic Monks and Blak Blad. KCB are in Pool D with Kenya Harlequin, Nondescripts and Resolution Kisii.
In the Prinsloo final in Nakuru on Sunday, Bush Mwale scored an opportunistic try to put Homeboyz ahead, Michael Wanjala converting to put the deejays 7-0 up.
Alvin Otieno added a second five-pointer, Wanjala's conversion putting further distance between them and Mwamba.
Daniel Taabu raced to the try line, his try providing Mwamba's response before half time.
Mark Wandetto scored a third for the deejays to see them go 19-5 up. Joel Inzuga pounced on a loose ball to race clear and score a second try for Mwamba, Taabu converted but it was too little too late.
Wandetto conversion

Homeboyz reached the final with a 29-12 win over Impala. Wandetto's converted try put Homeboyz 7-0 up.
Wanjala added a second try to put the deejays 12-0 up. Further tries from Otieno and Wandetto who landed his brace saw the deejays lead 22-0 at the interval.
Wandetto landed a third try after the restart, Johnstone Olindi converting to see the deejays go 29-0 up. Impala would score two late consolation tries through Timothy Makiya as the game ended.
Mwamba reached the cup final with a 10-5 win KCB. They went ahead when Ronnie Omondi stole the ball from the lineout to race clear and put Mwamba 5-0 up, the first score of what had been a cagey start to the first half. Mwamba were soon down to six men, KCB making use of the one man deficit to see Jeff Okwach score for a 5-5 score at the interval.
Matt Wanjia, on as a second half substitute, sliced through the KCB defense to score at the corner as Mwamba retook the lead.
They were let off when KCB knocked on with the try line in sight, a cup final appearance at the season opening tournament secured.
Impala secured third place with a 12-10 win over KCB. Shaban Ahmed put KCB ahead with an unconverted try.
Sammy Motari injured himself in scoring Impala's equaliser; Mark Kwemoi's conversion putting the Sarries two points up. Sam Asati then set up Shaban for KCB's second try for a 10-7 lead at half time.
Impala reward
Impala asked questions of KCB and got their reward when Paul Mutsami barged over late in the game to secure the result and third place. Quins scored in sudden death to finish in fifth after beating Top Fry Nakuru 22-17.
Gramwell Bunyasi broke the deadlock, Geoff Ominde converting for a Nakuru lead before Quins responded with a try from Mike Ochieng at the close of the half as Nakuru led 7-5.
Chrissant Ojwang extended Nakuru's lead with an unconverted try after the interval but Ochieng scored a converted try to level the score. Don Aluoch and Ochieng traded tries as the teams went into full tied 17-17.
Blak Blad defeated Kisumu 22-7 to win the 13th place final. Mean Machine later edged out Strathmore Leos 21-14 to win the Challenge trophy.
-Material from Kenya Rugby Union used to compile this report
Fifth place semis
Top Fry Nakuru 26 Kabras Sugar 21
Kenya Harlequin 10 Menengai Oilers 5
Challenge Trophy Semifinal
Mean Machine 12 Nondescripts 7
Strathmore Leos 33 Catholic Monks 19
13th place semifinal results
Blak Blad 31 Regional Logistics Mombasa 12
Kisumu 14 Nzoia Sugar Webuye 12
Cup quarterfinals
Kabras Sugar 5 Menengai Cream Homeboyz 10
Top Fry Nakuru 12 Resolution Impala Saracens 14
Kenya Harlequin 0 Stanbic Mwamba 5
Menengai Oilers 10 KCB 12
Challenge Trophy Quarterfinals
Mean Machine 12 Blak Blad 10
Nondescripts 19 Regional Logistics Mombasa 14
Kisumu 0 Strathmore Leos 38
Catholic Monks 31 Nzoia Sugar Webuye 0