Huge Party In Store For All Conquering Asaba 2018 Team
Aug 06 - by Mutwiri Mutuota for sportpesa news
AK, Ministry of Sports and Heritage to host victorious Team Kenya to dinner party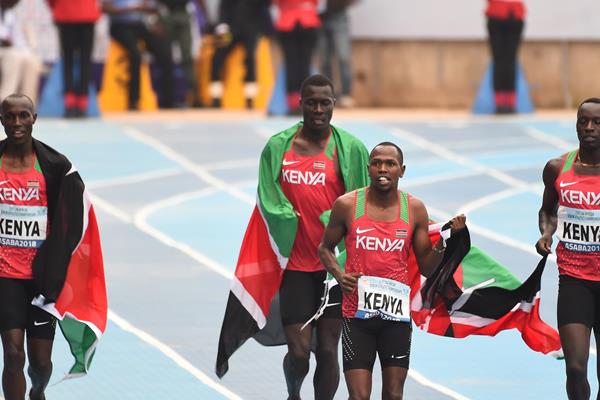 Team Kenya racked up 11 gold, six silver and two bronze medals
South Africa (nine gold, 13 silver and eight bronze) and hosts Nigeria (nine gold, five silver and five bronze) rounded the top three
Kenya captured six more titles on the final day of competition on Sunday to claim bragging rights as the best squad in Africa
Elijah Manangoi, Samuel Gathimba, Edward Zakayo, Beatrice Chepkoech, Julius Yego and 4X400m Relay team made it a golden Sunday for Kenya
NAIROBI, Kenya- The victorious Kenyan team to the 21st CAA Africa Athletics Championships is scheduled to return home to a lavish reception on Monday evening after winning the overall title at the biannual continental event for the first time since 2010 in Asaba, Nigeria.
Team Kenya for Asaba 2018 racked up 11 gold, six silver and two bronze medals to finish ahead of Africa rivals South Africa (nine gold, 13 silver and eight bronze) and hosts Nigeria (nine gold, five silver and five bronze) in the top three.
"Athletics Kenya will today, 6th August 2018 (Monday) welcome home the heroes and heroines who represented the nation at the 21st CAA Africa Athletics Championships that concluded yesterday in Asaba, Nigeria.
"The Kenyan team will arrive back into the country at 7:35 pm aboard Kenya Airways flight KQ 533 through Jomo Kenyatta International Airport. They will thereafter be hosted at a dinner by Athletics Kenya and The Ministry of Sports and Heritage at Weston hotel, Langata road," Athletics Kenya said in a statement.
Kenya captured six more titles on the final day of competition on Sunday to claim bragging rights as the best squad in Africa.
Competing before another raucous near-capacity crowd at the Stephen Keshi Memorial Stadium, Kenya took home titles on the track and on the field on the final day of competition to up their gold medal haul to 11.
Many of those were delivered in most impressive fashion, beginning with the women's steeplechase where freshly minted world record holder Beatrice Chepkoech, clearly in the rarest of forms, led a medal sweep for the east African powerhouse.
The 27-year-old dominated the race en route to an 8:59.88 run, near the top of the short list of fastest un-paced performances in history.
As the field, led by three Kenyans, approached the end of the opening lap, Chepkoech said she had to make a choice: to decide with medal was hers. As she broke away and turned the race into a solo exhibition, her decision became obvious.
Kenyan sweep

"After the world record and now the African title, this will open many doors for me," she said. Behind the first door is a spot on Team Africa for next month's IAAF Continental Cup Ostrava 2018.
Celliphine Chespol was a distant second nearly 10 seconds back, clocking 9:09.61, with Fancy Cherono taking bronze for the only sweep for Kenya at this championship.
Next came the men's 5000m where it was Edward Zakayo, the 16-year-old who emerged prominently on the scene after winning the world U20 title over the distance last month, to take centre stage.
Third at the bell behind Yemane Haileselassie of Eritrea and Ethiopian Getaneh Molla, Zakayo bolted off the final turn to finish unchallenged, crossing the line with his tongue wagging and arms spread wide, in 13:48.58.
Molla was second in 13:49.06 with Haileselassie an exuberant third in 13:49.58 to capture one of Eritrea's two medals at these championships.
"I used the strategy to run with my competitors and maintain the pace, which I did, and then to pull away."
His next aim is, "To win the world championship. But I must work even harder first."
About 20 minutes after Zakayo crossed the line, the gun sounded the start of the men's 1500m, a tactical affair largely driven by Kenyan aces Elijah Manangoi, the world champion, and his training partner Timothy Cheruiyot, this year's world leader who's chiseled together an unbeaten season on the IAAF Diamond League circuit.
Manangoi made his move with about 300 metres to go, unleashing a long, sustained kick that Cheruiyot couldn't meet or beat. Manangoi clocked 3:35.20 to take his first continental title, Cheruiyot 3:35.93. Uganda's Ronald Musagala closed strong to take bronze in 3:36.41.
Meanwhile on the infield, 2015 world javelin throw champion Julius Yego won his specialty with a second round 77.34m effort, defeating South African Philmar Van Rensburg (76.57m) with Kure Adams of Nigeria taking bronze with 75.69m.
It was the 'You Tube Man's' African hat-trick after winning gold at the 2012 and 2014 editions.
Then, an inspired Kenyan quartet of Aron Koech, Alphas Kishoyian, Jared Momanyi and Emmanuel Korir brought the curtain down on Asaba 2018 with victory in the 4x400m relay in 3:00.92, a championships record. South Africa was second in 3:03.50 followed by host Nigeria in 3:04.88.
Kenya's medal haul began in the early morning hours with when Samuel Gathimba prevailed in the 20km race walk, clocking 1:25:14 to beat South African Lebogang Shange by 11 seconds. The battle for second was close, with Shange just holding off Hassanina Sebei of Tunisia. Both were credited with the same time of 1:25:25.
World champion Hellen Obiri (women 5000m), Winny Chebet (women 1500m), Mathew Sawe (men High jump) and Stacy Ndiwa (women 10000m) are the other gold winners from Asaba.
The performance that came on the back of scandalous organisation that saw the team of 100 marooned at Murtala International Airport for 48 hours shaded their previous best showing at Nairobi 2010 when Kenya hosted the event at Nairobi's Nyayo National Stadium where they topped the medal charts with 10 gold, seven silver and eight bronze.
-Material from the IAAF used in this report