Digne Everton Re-Union Excites Gana Gueye
Aug 08 - by SPN Correspondent for sportpesa news
Ex-Lille teammate hails the arrival of Frenchman to Merseyside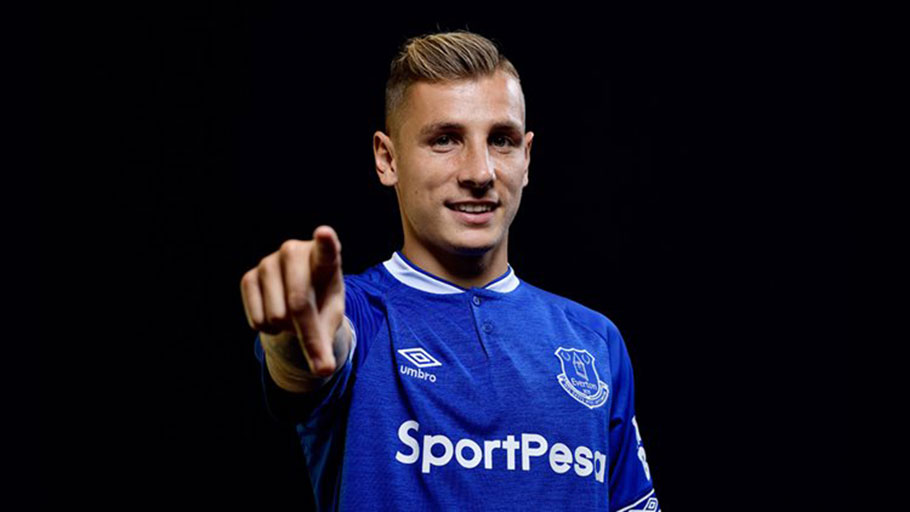 Digne joined the Blues from Barcelona last week and could potentially make his Premier League debut at Wolverhampton Wanderers on Saturday
Played the second 45 minutes of the weekend's friendly meeting with Valencia
The pair were separated when Digne was persuaded to join Paris Saint-Germain's Qatari revolution in summer 2013

Gana admits he could not contain his delight when he heard a reunion was on the cards

LIVERPOOL, England- Idrissa Gana Gueye is excited by the prospect of ex-Lille teammate Lucas Digne playing his "best football" for Everton.
Frenchman Digne joined the Blues from Barcelona last week and could potentially make his Premier League debut at Wolverhampton Wanderers on Saturday after playing the second 45 minutes of the weekend's friendly meeting with Valencia.
Gana was established in Lille's midfield and had watched the left-back progress through the club's academy when an 18-year-old Digne was handed his Ligue 1 baptism by manager Rudi Garcia in 2012.
The pair were separated when Digne was persuaded to join Paris Saint-Germain's Qatari revolution in summer 2013.
But Gana admits he could not contain his delight when he heard a reunion was on the cards, with manager Marco Silva moving to make the effervescent defender his second signing for the Club following the capture of Brazilian attacker Richarlison.
"It lifts everybody to see players of this quality coming in and helps the team a lot," Gana told evertonfc.com.
"We want these types of players to help us achieve what we want this season. We are determined to improve on last year and the manager is strengthening the squad.
"I was excited as soon as I heard Lucas might be coming to Everton. I know him very well from our time at Lille. He is a good young player and, hopefully, he will show what he can do in our team.
Standout feature
"He is a really strong left-back – his standout feature is the quality of his defending. It is tough to dribble past him. He is very good at one-on-one defending.
"He can go forward and be dangerous in attack but he gets back quickly. And his crossing is excellent."
Digne had made two Ligue 1 substitute appearances when Garcia thrust the teenager into his starting XI for a match at Sochaux in February 2012.
His mature display contributed to a 1-0 win and convinced his boss to stick with Digne at a crucial juncture in the campaign, with Lille pursuing Champions League qualification.
They achieved that goal and Digne conjured up a crucial strike against Copenhagen early the following season to seal his team's progress into the group stages.
"He was very young when he first played but he stayed with the team because he was so good," said Gana.
"He did exactly what the manager asked of him. He brought a lot of energy to the side, scored some goals and provided some assists – on top of his defending, which was so good.
"The manager was happy with him, kept him in the team and after one-and-a-half years he was signed by Paris Saint-Germain. That tells you the calibre of player he is.
"You see the other clubs he has been with, Barcelona and AS Roma. He is a top player and will be very good for us."
Professional debut
Digne's professional debut came as part of a Lille side which featured the dashing forward trio of Eden Hazard, Dimitri Payet and Joe Cole.
That introduction would serve as ideal preparation for a career which has hitherto seen him line up with a throng of the game's finest players.
And Gana, who was on the phone urging his friend to come to Everton as soon as he got word the transfer was a possibility, is certain Digne will swiftly bed in at Goodison Park.
He revealed, too, that he is doing his bit to help the 21-cap international feel at home in his new environment.
"You have me, Morgan Schneiderlin and Oumar Niasse showing him around the training centre," said Gana.
"We go out for dinner and have been talking to him about how to settle and have a good life in Liverpool.
"At Lille, I think coming into a team with high-quality players helped him a lot and we hope it will be the same here.
"We have a good team, so hopefully we can help him play his best football, be confident and settle quickly."
-Report by www.evertonfc.com