Berlin Marathon Winner Cherono, Kiplagat In Stern Dibaba Test
Aug 01 - by SPN Correspondent for sportpesa news
Ethiopian distance running queen tipped to chase Radcliffe record in September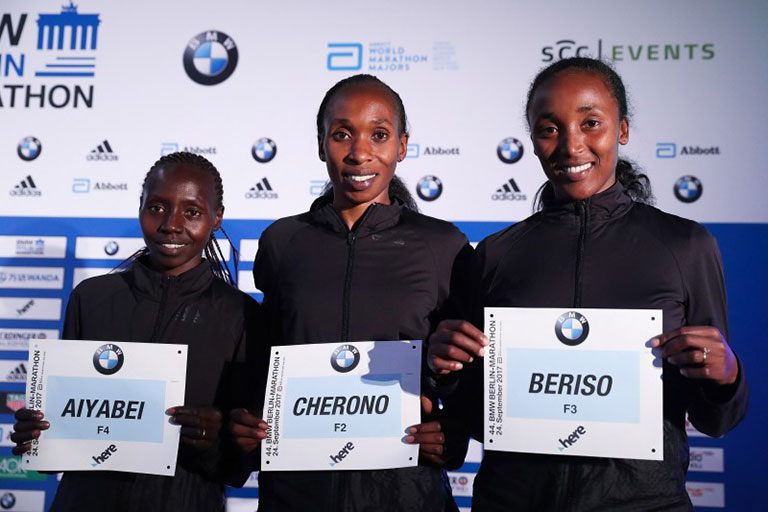 Cherono to bid for a third Berlin crown on September 16
Two-time world champion, Edna Kiplagat also drafted in the field
Tirunesh ran third fastest female marathon of all time in London
Eliud Kipchoge sealed the Kenyan double by winning the men's race in 2:03:32
BERLIN, Germany- Kenyan champion, Gladys Cherono, has all to do in the defence of the women title of the Berlin Marathon when she lines up against Ethiopian distance running queen, Tirunesh Dibaba, on September 16.
Ageless compatriot and two-time world champion, Edna Kiplagat, 38, is also in the loaded field with Ethiopian Tirunesh, the third fastest female marathoner in history, invited to the party in a bid to attack the 2:15:25 world record ran by Paula Radcliffe in 2003.
Cherono, 35, the two-time World Half Marathon champion, regained the Berlin Marathon title last year in 2:20:23, having won in 2015 with a PB of 2:19:25 to seal the Kenyan double with Eliud Kipchoge winning the men's race in 2:03:32, a world leading time.
The 32-year-old Ethiopian, who has three Olympic gold medals and nine world titles on the track and cross-country, has a marathon PB of 2:17:56.
That time, was set when finishing second at last year's London Marathon where Kenyan Mary Keitany ran the fastest ever all-female marathon of 2:17:00.
Kiplagat, 38, won world titles in 2011 and 2013 and nearly picked up a third gold medal in London last year, eventually settling for silver by just seven seconds.
The Kenyan set her PB of 2:19:50 in 2012 and is a previous winner in London, New York and Boston.
Bronze medal
Ethiopia's Aselefech Mergia set her PB of 2:19:31 on the second of her three Dubai Marathon victories.
The 2010 London Marathon champion will be returning to Berlin for the first time since taking the world bronze medal in the German capital back in 2009.
Compatriot Yebrqual Melese joined the sub-2:20 club earlier this year, clocking 2:19:36 to finish third in Dubai. The 28-year-old has previously achieved marathon victories in Prague, Houston and Hangzhou.
Ethiopia's Ruti Aga finished second in Berlin last year in a PB of 2:20:41 and will be keen to improve on that this year.
After running an impressive 2:22:44 on her marathon debut to win in Osaka earlier this year, Japan's Mizuki Matsuda will line up in Berlin for the second marathon of her career.
-Report by organisers for the IAAF